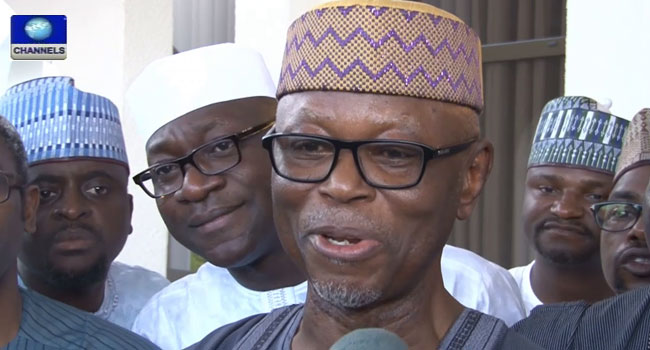 John Oyegun, the national chairman of the APC has denied the insinuation that the National Working of the party voted at a meeting to support or against the report of the Ondo Appeal  panel, saying the allegation from the former Lagos state governor was reckless and baseless.
"According to the minutes of the 18th emergency meeting of the APC NWC held from Monday 19th September 2016 to Thursday 22nd September, 2016 at the party's national secretariat in Abuja, there was absolutely no meeting which I chaired that voted in the manner alleged.
"Clearly, the report on which the media office of Asiwaju Bola Ahmed Tinubu acted was a figment of someone's wild imagination.
"On Thursday 22nd September, 2016 being the final day for submission of candidate by political parties, the NWC discussed the possibility of voting having finished deliberation on the 2016 Ondo state APC governorship primary election appeal committee report because members in support of cancelling the primary results were still strident in their position.
"A member of the NWC however drew the attention of the meeting to its previous decision in which the report of the primary election committee was adopted while the appeal committee was set aside."
He explained that the delegates list was was compiled in strict compliance with the party's constitution, stating that only qualified individuals were included in it.
"The media office of Asiwaju Bola Ahmed Tinubu in its statement alleged that I used a 'prayer interlude' which I initiated to 'secretly excuse' myself from the NWC meeting to submit the name of Mr. Rotimi Akeredolu, SAN, to INEC as the candidate of the party," Oyegun said.
"The allegation is high fiction and an insult to the intelligence and sensibility of the respected NWC members present at the meeting. We do not and have never engaged in prayer interludes/sessions outside the usual opening and closing prayers. The prayer that is being referred to must be the closing prayer for the meeting."
Oyegun further appealed to the party's leaders to explore internal dispute resolution mechanisms in addressing their perceived grievances "instead of resorting to the media to vent their spleen".
"The APC national leadership remains united and solidly committed to the task of winning the Ondo state governorship election to save the people of the state from the misrule of the Peoples Democratic Party (PDP)."