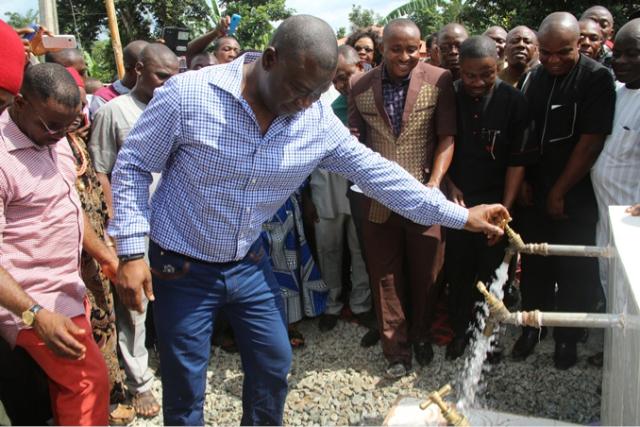 The Deputy President of the Senate, Senator Ike Ekweremadu, says he has forgiven those behind his arraignment for a crime he never contemplated, noting that the larger interest of the country towers above his personal interest and feelings.
This is even as he admonished those in positions of authority to adhere to their Oaths of Office to be just to all.
Ekweremadu made the assertions in a statement he personal signed following the withdrawal of charges of criminal conspiracy and forgery preferred against him, the President of the Senate, Senator Bukola Saraki, and two other former senior bureaucrats of the National Assembly.
The Senator who was later received in Enugu by a mammoth crowd of supporters and well-wishers, urged leaders to always put democracy and national  interest above every other interest.
Recalling events of the day he was arraigned, Ekweremadu said: "I clearly recall stating on that day, my great comfort in the immortal words of late Dr. Nnamdi Azikiwe, that history will vindicate the just.
"Time has indeed vindicated the just and it is victory for democracy. My trust in God, the court, and the overwhelming solidarity of the good people of Nigeria is justified.
"As a Christian, I have forgiven all those behind this, for, ultimately, God is the driver of the destinies of men. I believe that Nigeria has to move on, but on the right path of justice and rule of law. Going forward, we must learn to be just to all in accordance with our Oath of Office".
The Deputy President of the Senate was full of appreciation for Nigerians and members of the international community who stood by him and the other accused person throughout the trial.
His words: "I thank in a special way my constituents, fellow Nigerians, Distinguished Senators, Honourable Members of the House of Representatives, elder statesmen, and a good chunk of the Civil Society and Fourth Estate of the Realm, who stood stoutly in defence of democracy and its blessings, while the trial lasted.
"I deeply appreciate members of the international community, especially the Parliament of the United Kingdom, Parliament of the European Union, and the Inter-Parliamentary Union for their solidarity messages.
"I also appreciate the professionalism and conscientiousness of the Private Prosecutor, Mr. Aliyu Umar, SAN".
The Deputy President of the Senate, however stressed the need for government to "put politics behind and let us join hands in governance, especially now that our country is challenged on different fronts".
"As leaders at this critical juncture of our history, we must work together in the best interest of our people", Ekweremadu stressed.