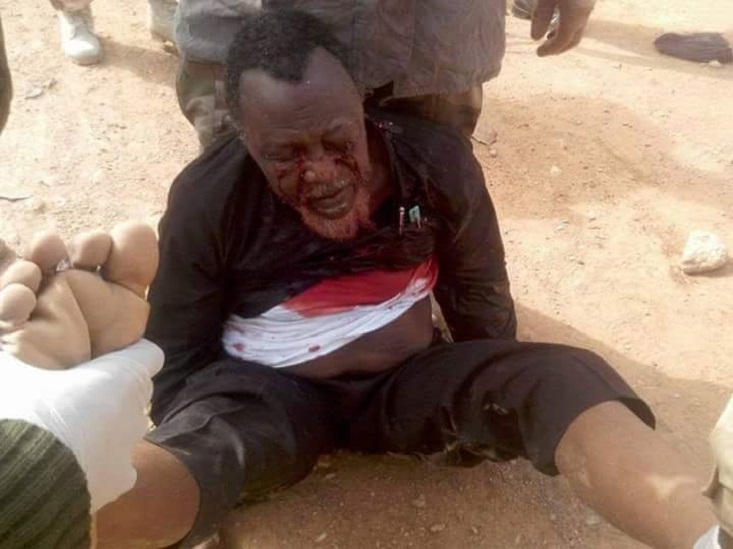 …want him prosecuted 
Another civil rights organisation, Nigerian Youths Collective Against Violence and Terrorism in Abuja
on Thursday
protesting against the role played by the Islamic Movement of Nigeria led by Ibrahim El-Zak Zakky during the attack on Chief of Army Staff, General Tukur Buratai by members of his sect.
The incident took place in December 2015 when members of of IMN led by El-Zak Zakky attacked the convoy of Buratai in Zaria, Kaduna state.
The protest came barely 24 hours after group of protesters under the aegis of Sovereign Rights Coalition, called on the Federal Government to severe diplomatic relationship with Iran over the same allegation of sponsoring El-Zak Zakky.
During the protest which lasted for about three hours in the premises of the Ministry of Foreign Affairs and office of the Attorney-General of the Federation and Minister of Justice, Mallam Abubakar Malami (SAN), they called on the Federal Government to prosecute the Shiites leader, for acts of terrorism against the country.
The Coordinator of the group, Smart Aigbomian, warned the government against repeating the Boko Haram mistake.
He said, "Nations of the world watched in silence as Nigeria used domestic template to battle what was to become the monster – Boko Haram. In using local politics to resolve what was seen as just another problem, mistakes were made.
"These mistakes must be not be repeated by Nigeria same as the mistake of keeping a un benefitting silence must not be repeated by the world. In the interest of humanity's collective safety and Nigeria's continued harmonious existence as a nation, the past must not repeat itself.
"In the past we made mistakes and we are still paying for it dearly for not diligently prosecuting those who went on to become Boko Haram Terrorists."
According to him, Nigeria is suffering the failure of the federal government to prosecute members of Boko Haram before it escalated into a strong terrorist group.
Aigbomian said, "This same mistake is being repeated by not prosecuting members of the Islamic Movement in Nigeria for their acts of violence against the state and against citizens of Nigeria. 
"The group's members have mirrored every single crime committed by Boko Haram in its formative years yet nothing significant has been done to put its members on trial for breaching the peace in manners that resulted in the loss of life and properties.
"We have not seen the authorities arraign Mr. El-Zakzaky for the crimes committed against the nation. We have not seen any of his followers that actively took part in unleashing violence on the Nigerian state being put on trial."