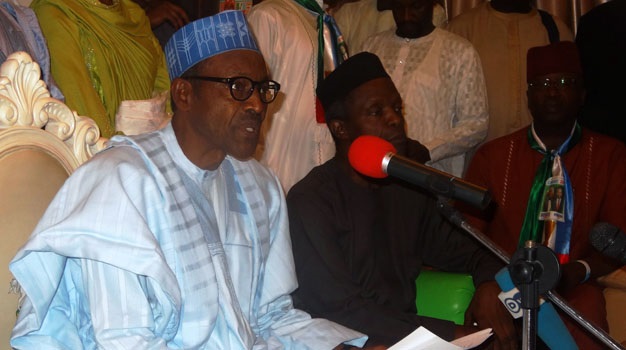 The acting national publicity of the All Progressives Congress (APC) Comrade Timi Frank, has written another open letter to President Muhammadu Buhari, demanding immidiate resignation of his national chairman Chief John Oyegun.
He warned in the latest letter that if Oyegun is allowed to continue as chairman, APC will soon witness massive defection to opposition party which he believe will affect the futunes of the party in future elections.
In an open letter dated 02/10/2016, addressed to Pressident Buhari was tittled "an urgent  appeal to save our party", Frank said since APC came to power and started having problems, Oyegun led National Working Committee (NWC) has not been able to resolve any.
He also reminded President Buhari of his (Buhari) experience in the defunct All Nigerians Peoples Party (ANPP) under Oyegun as the national chairman which he said led to Buhari' exit from the party.
"Chief Oyegun has shown that he lacks the capacity to resolve all the crisis currently rocking our party in nearly all the states of the federation. Not even personal grudges and rifts between party members, eg Senator Shehu Sani vs Gov. El rufai in Kaduna, or Senator Kwankwaso vs Gov Ganduje in Kano, Senator Goje vs Senator Nafada in Gombe, and lastly the rift between late Chief Audu's family against  Gov. Yahaya Bello of Kogi state . The crisis rocking the Bayelsa state APC which is also divided against itself as well as Delta, Ondo and Ogun states are visible examples to mention a few.
"Mr. President sir, I'm aware you may not have forgotten hurriedly your experience under Chief Oyegun's chairmanship in the defunct All Nigerians People's Party (ANPP) that eventually led to the series of events which saw your exit from the party, and this same man is at it again.
"It is said that 'A stitch in time saves nine'. I recall how we raised similar concerns when the PDP was still PDP under Alhaji Bamanga Tukur. This warnings were of no effect even as things got worse daily, suffice to say that the appeal from party leaders to former President Jonathan to act yielded no result as he acted rather late and the result is the very obvious which is still bedevilling the PDP up until this day.
"It is no longer news today that so many leaders of the APC are aggrieved as a result of the handling of party affairs by Chief John Oyegun. Injustice has become an order of the day, whilst so many leaders and party faithfuls might be contemplating an exit of the party if nothing is being done urgently to salvage the already soar taste. I'm aware that in a swift reaction to Sen Bola Tinubu's outburst, former Vice President and chieftain of the APC Alhaji Atiku Abubakar, pointed out vividly that the party leadership is expected to be guided always by respect for the rules, fairness, equity, neutrality and respect for democratic consensus. We must therefore be bold to say that these principles may not be found in the dictionary of Chief Oyegun."