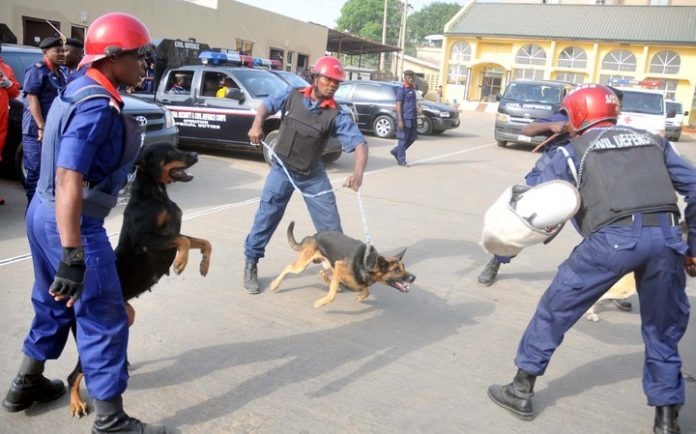 By Ogbonna Casmir
Officials of the Nigeria security and civil Defence corps (NSCDC), has arrested one Clement Atuma Njoku and Jude Njoku for alleged vandalization of pipeline in Enugu.
Loading ...
Parading the suspects Thursday at NSCDC headquarters in Enugu, the state commandant, Mr. Steve Amoga said the vandals who both hail from Ikwo local government Area of Ebonyi state, where arrested along the NNPC pipeline between kilometer 196 and kilometer 196.5 all in Ogboshinne community, Akpugo, Nkanu west council area of Enugu state.
who hails from   that specialized in pipeline vandalisation in Enugu.
Amoga while warning the Nigerian youths to desist economic sabotage stated that the command has re-emphased her commitment in bringing the nefarious activities of vandals to a halt in the state.
The commandant who expressed dismay that despite all efforts of the command to discourage the citizens from engaging in the act of economic sabotage, some unscrupulous elements have refused to desist.
According to Amoga, since the vandals are not ready to desist from their evil acts, the corps would continue to mark them one on one until they are all cramped into prison, insisting that the activities of vandal have contributed significant to the economic downturn the country is facing now, promising harder measures to frustrate them out of the state.
Items recovered from the suspects include 650 litres of Automated Gasoline oil(AGO)known as gas concealed in 24 jerry cans,loaded in a yellow Mitsubishi L300 bus with registration number Enugu XW 353 ENU.
Other items recovered from the suspects also include 14 empty jerry cans, one bucket, one funnel and one big bowl.
The suspects according to the commandant, would soon charge to court at the end of their investigation into the act.