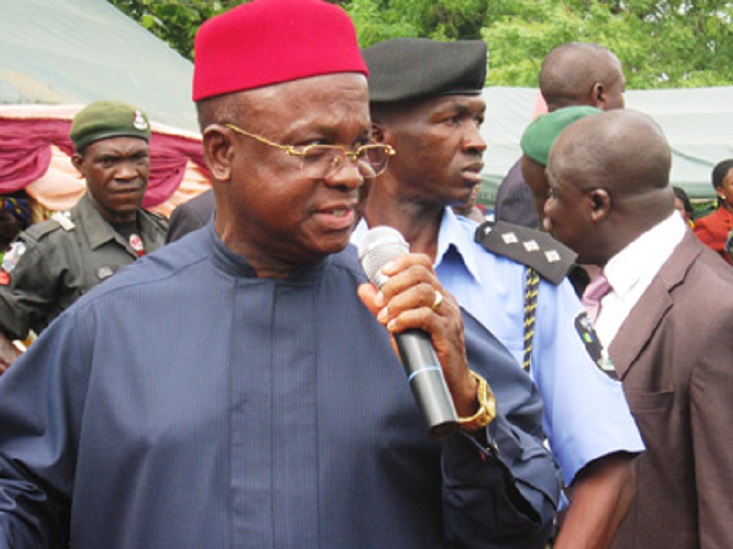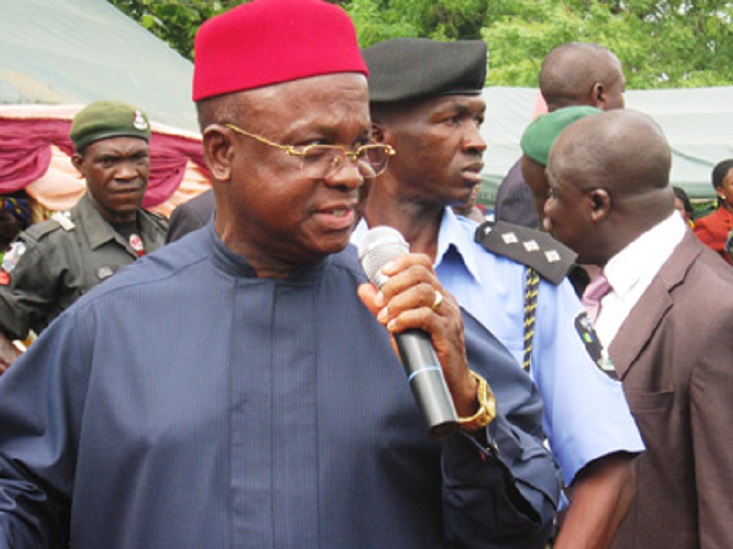 Immediate former governor of Ebonyi state, Chief Martin N. Elechi went for a thanksgiving church service in appreciation of God's kindness to him and his family, especially after eight years in office. The event which was organized by members of his former executive council, was proceeded with a press conference in which the former governor, for the first time after leaving office since May last year bared his mind on so many unanswered questions. Ogbonna Casmir was there for 247ureports.com.
Excerpts:-
You are talking about thanksgiving, are there specific things God has done to you and your family that you want people to know of?
Yes I'm going to thank God and as you will see in the brochure, I have many, many things to thank God for. But you can't thank God for everything. I know the circumstances of my birth, sub-human condition, how I survived is still a mystery to me. That is the key thing. That we were born in such unhygienic, terrifying condition, environment; we never believed we could survive. I can't say everything, there is no time for it. I remember that in primary school, I used to lie down on a football field and drink water direct from the portholes in the football pitch. That was the only way I cloud find water to drink. Why did I survive it? And the first thing you read from the brochure, and this happened 60 years six days ago to be exact; we were coming home on Easter holiday and bus we were in, we were 25 in the vehicle, the driver lost control when he got to Ufuma. And the vehicle somersaulted several times and when it stopped, the four wheels were facing up, the roof was hanging, and all 25 of us came out safe, even though the vehicle was wrecked beyond repair. The drum of petrol in it did not open. You can imagine what could have happened if it had opened. So that was when we started the analysis and what I suffered in first week of my admission into the university, I also had an accident, diving in a swimming pool and broke my waist. It was very painful and people thought I would expire but two weeks later I recovered, started attending classes. The economic difficulties I faced, secondary school, Senator Chris Nwankwo, as mentioned in the book, was one of those who helped to assuage my difficulties as he was my financial assistance. Nobody knew I could make it. Then I got American scholarship, USAID scholarship to the university and at the time I graduated, the scholarship was not exhausted, I still had options. I was to go either to Diplomatic Academic in Vienna for Masters Degree in International Relations or go to Strafford University in the US for Post Graduate studies in Economics. All these I stood down because civil war was building up and I wanted to be home to witness things first hand. And then during the war, the menace of BOFF, you know what BOFF means? Some of you were born after the war, Biafran Organisation For Freedom Fighters. This were guerilla fighters , they were chasing us everywhere, luckily we did not continue the run into the secessionist enclave. They kept chasing us and had several encounters with us. And I count myself lucky that I survived them because they killed many people, sometimes they went to houses, people were inside they set the house ablaze, at day break you wouldn't see any remains again of human beings. They did that, they pursued me severally and didn't succeed. When I was in Afikpo recruiting workers, one of them came with a hand grenade, you know what that means, confessed that he was a suicide bomber, but why God made me see him as I was ascending a staircase, he was opening his handbag and I sighted the hand grenade, that was miraculous. We put him in protective custody until the war ended. And my first son, how he escaped death by bombing, bomb landed 25 feet away from him when he was only four months old. Neither the shock nor the vibration destroyed him. Then in the East Central State we served for 62 months, at the end of which we had chain of inquisition. I faced five different boards of enquiry. Five- three administrative and two judicial. Three police arrests and two law suits, the trial of which lasted seven years. Non of this found me guilty, and so on and so forth. If you are talking of my wife, she too had childhood health challenges as related to her by her mother. The fact that she survived and went to school and in the end, became the founder of the Mother and Childcare Initiative that became an institution for remedying the afflictions of Nigerian women from over 20 states. If all these Ladies and Gentlemen are not miracles, what else do you call miracle, that is why we feel we should thank God and these are only a tip of the iceberg.
And by the end of July last year, the number of petitions against me with the EFCC I was told 54 and every other month, more petitions are going in. I'm still waiting, they have interrogated me severally, I'm on bail. I'm not a free citizen. But some of the things allegedly done by me are laughable. So people are uneasy that as long as I'm a free man, that is just it. In conclusion if I should expire today preferably in EFCC cell, then some people will breathe sigh of relief. I have a lot to thank God and the joy in my heart cannot be rigged by any electoral officer.
You are one of the founding fathers who led the fight for the creation of Ebonyi state, looking at the state today, are you satisfied with the present development of the state? the APC has accuse the PDP of being the cause of the present economic situation in the country, do you agree with that assertion? Finically as an economist, what is your advice to the president and the APC government and the way forward?
You know I'm not a political adviser, and if I should be one, I won't do it probono. You have to pay something (laughter). President Buhari has not asked for my advice and if you say what should be my advice to him, you are indirectly admitting that the accusation of the APC against PDP is valid. That is the implication. Let me start from the last question. APC is accusing the PDP government of being responsible for the present economic situation just as PDP in Ebonyi state is accusing PDP former in Ebonyi state of being responsible for all the ills in Ebonyi state. If the rain does not fall when you expect it, it becomes Martin Elechi had some juju in his hands that affected the flow of cloud in the hemisphere. If there was an accident its because Martin Elechi and Edward Nkwegu went to tribunal, court of appeal and that's why people who should have been sleeping in their houses had to enter buses that were involved in an accident. If things are not working well its because the type of teachers recruited during the reign of Martin Elechi were useless. You can go on and on, multiply these allegations. I distance myself from all of them.
For one thing, economic cycle, that's the correct terminology; recession, down trend, the upward climb again. Its called economic cycle, it is a global phenomenon. No country can single handedly stop it from happening or solve the problem when once it has come. I was lucky my Professor in economic cycle happens to be the first president of the World Bank. He was 86 years when he was teaching us, if it were here you would have told Martin Elechi he is too old even to teach. He explained these things and we got the grip firmly. It is a global phenomenon just as you have the rotation of the earth resulting into day and night and the sun rises in the East setting in the West, you cannot stop that by any mathematical arrangement or permutation as the president or as a cabinet of a country. It must happen because the interdependence of different countries go beyond the abilities of those countries. There are other factors that influence the relationship between A and B outside the control of A and B. I'm talking generally, if there is a fall in oil price, it can't be because of the government of the countries that produce the oil. It has to do with the consumption of the quantities of oil available globally. And when that changes the pricing will also change. Irrespective of what the countries do. That is my simple explanation of this cyclic movement; I will not blame any country or any government for being responsible for it. Much as there may be truth in particularities, in other words how did you use the funds available to you in year X, how does that affect your investment in year Y? These are different issues but willy-nilly, all countries of the world are bound to face the consequences of this cyclic movement called recession, down trend and upward rise again. Though Buhari is not in need of an adviser and what to do, he knows what to do and I believe he has advisers. If you think I should be one of them, eh eh (no), lets settle on my fees first.
And am I satisfied with the state of affairs in Ebonyi state that was your first question. In every regime, you have people who say this is the best ever and others who will say this is the worst ever. But its for Ebonyi people to judge. Having been an actor myself, its not for me to say whether things are happening the way they should or not. The only thing I can say is if I were there I would do things differently. Differently underlined, but I wouldn't contradict myself in what I said earlier the right of choice, the right to differ, the fundamental human right. You have to differ based on your own conscience and your convictions.
What is your private life now? Again some people believe that South East has not been given full appointment at the federal level, I don't know whether this is true or not but I just want to hear from you sir? Finally the fight against corruption, do you think the president is winning the fight?
I requested at the beginning that I should not be dragged into the murky waters of national politics and the turbulence that goes with it because I was preparing for a family thanksgiving but I can see I'm losing the battle. That is as it should be but we should moderate it. My private life, yes, I have been available, I sleep here except when EFCC invites me to Abuja, then I sleep in Abuja, otherwise I have no business in Abuja. I'm here most of the time and I thank God for his mercies. I'm a pensioner without pension. That is my experience and we are adjusting and we thank God. If we had been living the type of lifestyle that some of us in Nigeria engage ourselves in, in public office, maybe I wouldn't have survived till today. I have to moderate myself.
South East; again the issue is this, you do not judge a regime in one month, in one year. Judge a regime after the full span of that regime. We are always in a haste to condemn if what we want today does not come today we say this government is useless. You have to wait patiently, know the plan of the key actors. One appointment may be more important than 12, 20 others. It is in the fullness of time of that regime that the judgment comes more appropriately. For me, if you give me 10 special advisers as an option or give me 20 kilometres of road well built, I may prefer the 20 kilometres of road because for me it is for everybody. The 10 appointees may be serving themselves. Admittedly they contribute to national debate but at the end you find that their contributions could have been made equally by other people. But what benefit the particular geographical area he comes from may not be his political appointment, it may be an infrastructural amenities and things like that. So it is too early for me to join the chorus criticizing Buhari in terms of his appointment of South Easterners. Looking at the figures as they are, people may be justified in shouting saying they have not been well looked after but the right judgment will be at the end of the regime not now.
Corruption: it is not what you exterminate in one stroke because even the definition of it is a big problem. I read an article many years ago written from Bigard Memorial Seminary on corruption and it makes sense to me; namely that in African contest, the phenomenon of corruption may vary from what the world thinks of it. In our African belief, the community such as our own is protected by a number of gods, because we don't belief in the Supreme Being, we have some gods guiding us and those gods define the moral contour of the people they are guarding. If you go out of our community and steals and come home, those gods will bless you, your people will crown you, they make you a hero because stealing from another community is not an offence. But should you steal from your own community, it becomes an offence and morally despicable. So that concept lives with us in Africa and in Nigeria. That you are serving at the national level, people talk of sharing the national cake, you want to go and get your share of the national cake by hook or by crook. You steal, you come home your people crown you, they don't ask you how did you make your money. You are a hero, whereas a humble civil servant comes home with any money around him, he is called names, he is called a full, mumu, he doesn't know the game. The other one who managed to steal is eulogized as a hero. That is the problem. The difference being that we have not accepted the entire geographical space called Nigeria as our community that anything we do wrong against Nigeria is against the dictate of the gods of Nigeria. And unless and until we do that then everybody will be saying but others are doing it why shouldn't I. My home is my only place of respect, everywhere else in Nigeria should be destroyed so that my home or my family or community will survive. That is the wrong concept. And so unless and until we accept that the entire country is our home, is our belonging, is our property, is our birthright, which should be protected by us, the same problem of fighting to get everything, corner everything for ourselves, not left for the other will continue. That is why Buhari should be supported in every way, why he should also be pitied if the result people expect don't come the time to expect those results. And don't forget, we are talking of rule of law, what he did as a military leader, military head of state he can't do today, he must go by the due process of law, subject whoever is accused to fair trial and that takes a long time. These are some of the problems we are facing as we fight corruption. You the experts can know whether the weapon fashioned against it will succeed or not (laughter).