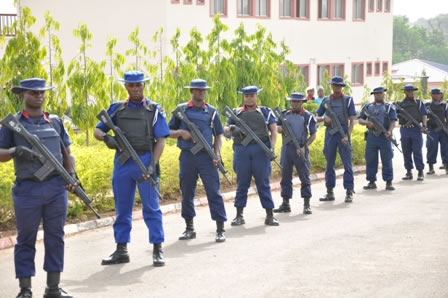 Volunteers of the Nigerian Security and Civil Defence Corps (NSCDC), Delta State Command, are currently gnashing their teeth over what they described as 'extortion' been melted on them by their trainers in the state Command's headquarters, Asaba.
Loading ...
The volunteers which comprises of males and females pays the sum of N100 daily fromMonday to Friday, making it a total of N500 weekly to their trainers who are personnel of the Corps as feeding allowances.
Some of the trainees who confided on our correspondent said the training they have received so far was made possible because of the money they are paying as their colleagues in other states with particular reference to Kastina State are yet to get to arms-training where those of them in Delta have gotten to.
They said the training at a time was very slow because they (trainees) were going for break to eat but the trainers were not, "they told us to pay N100 daily for their feeding, so when we discovered that they were no longer ready to give us the required training, we decided to be paying the money for their feeding", some of them spoke on condition of anonymity.
A female trainee (name withheld) told our correspondent that she bought her slot with the sum of N300, 000 while some others bought theirs between N200, 000 and N300, 000 just as it was reliably learnt that a male colleague of hers who do not also want the name on print took ill over the weekend after doing brick layer job to be able to meet the N100 payment and transport fare from Agbor.
According to our checks, the trainees where supposed to be in the camp for their training but are currently receiving training at Peoples Club, a bar located at the street where the Corps headquarters is situated at Ezenei Avenue, Asaba, while they are also left to feed and look for accommodation for themselves as it was alleged that some who do not have any of their person (s) residing in Asaba are presently squatting with Good Samaritans while others sleep at petrol stations.
Investigations revealed that N22, 000 has been allocated for the about 22 trainees to pay as money for the NSCDC complete kits which includes; a belt, cap, beret, boot, combat uniform among others which the Corps allegedly said was more expensive to make. However, after a meeting which was allegedly conveyed by the management team and their trainers on Monday 18th April, 2016 the money was reviewed downward to N18, 000 payable on or before Friday 22nd April, 2016.
It was gathered that the Federal Government has made provisions for their kits, feeding and accommodation but that personnel at the Delta State Command has allegedly syphoned the monies into private pockets even as some of the personnel are engaged in the sales of kits to the trainees.
Meanwhile, it was alleged that the Delta State Commandant Mrs. Beatrice Irabor, on April 2nd syphoned N350, 000 from the N500, 000 given to the Commission by the governor of Central Bank of Nigeria (CBN), Godwin Emefiele to provide security during his late mother's funeral at Agbor.