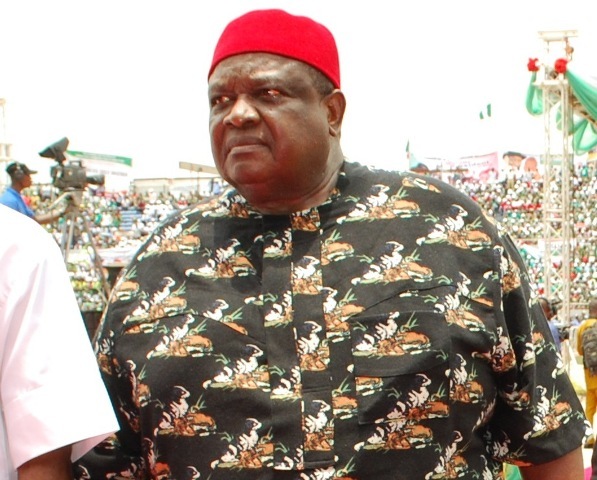 Following the recent attack and gruesome killing of dozens of indigenes of Ukpabi Nimbo community in Enugu State by Fulani herdsmen, Elder statesman, Chief Emmanuel Iwuanyanwu has raised an alarm about a possible collaboration between Boko Haram fundamentalists and the Fulani herdsmen to attack and put the country in more severe security threats.
Loading ...
This is even as the elder statesman  has called on President Muhammadu Buhari to accord the victims of the herdsmen attack in Enugu State and other states in the country the same treatment the federal government was giving to the victims of Boko Haram in the North East, because the victims had lost everything to the attack.
Speaking at a press briefing in Owerri Friday, Iwuanyanwu said the matter of herdsmen attack should no longer be treated with levity but regarded as a matter that could seriously affect the peace, unity and economic progress of Nigeria.
He expressed shock at what he described a new phenomenon about the cattle rearers, because as he recalled, "For many years the Fulani herdsmen have co-existed peacefully with the rest of Nigerians. They have done their done their businesses and reared their cattle without any harassment or raping".
Iwuanyanwu called for the law enforcement agents to find out if the so-called herdsmen were actually Nigerians because according to him, their behavior was completely strange.
He stated that the greatest injury one could inflict on an Igbo man was to attack and kill him in his home, saying it was even worse when the man's property, was destroyed, some lives lost while their women were brazenly violated.
Loading ...
The elder statesman lamented that the action of the herdsmen had resulted in poor agricultural production in Igboland and other parts of the country where they were invading.
He stated that though president had directed the police and other law enforcement agencies to crack on the herdsmen, the truth was that the matter had assumed a dangerous dimension.
He expressed doubt that with police workforce overstretched, it was impossible to get enough policemen to police farm lands in Igboland and other parts of the country where the herdsmen were rampaging.
Iwuanyanwu urged the federal government to launch investigations to find out where the herdsmen got the automatic weapons because by the laws of the land, individuals were not allowed to carry automatic weapons.
He also demanded to know why there had been no arrest or prosecution or conviction against any of the rampaging herdsmen since the invasion, kidnapping and raping by the herdsmen started.
While expressing confidence in the ability of the president to the matter urgent attention it deserved, bring the perpetrators to book and ensure that those who lost the lives of their loved ones and property were adequately compensated, Iwuanyanwu called on the Ohaneze youths and other Igbo youths to exercise restraints and avoid reprisal attack on the herdsmen.
This, he said, would jeopardize the life and property of many Igbo dispersed all over the country.