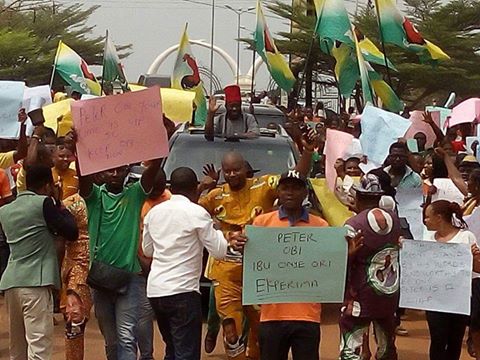 By Joe Chukindi, Awka
Candidate of the APGA in the postponed Anambra Central senatorial rerun election and former national chairman of the party, Chief Victor Umeh has said that the state governor, Chief Willie Obiano facilitated his prompt release by men of the department of security services, DSS.
Isaac Boro Fought With Nigeria Against Biafra. Was He a Legend or A Betrayal To The People Of Niger Delta
Betrayal (69%, 414 Votes)
Legend (31%, 183 Votes)
Total Voters: 597
Loading ...
Umeh who was speaking in a phone programme on Rhythm FM, Awka, titled View Point and monitored by our correspondent said it only took a call from the governor to the DG DSS and vouching for him and he was released immediately after interrogation.
Umeh said he is innocent of the charges against him, as he has never supported or financed the activities of both IPOB and MASSOB, but has remained consistently opposed yo the treatments meted our to them.
"My view and opinion on this has remained the same. These people are unarmed protesters, and am opposed to the security agents using arms on them.
" What the federal government should be doing is to look for a way to grant them amnesty as was done to the Niger Delta people. These are young men who have an orientation that is different from others and need to be integrated into the society and rehabilitated."
Umeh thanked the governor for intervening in his arrest and also commended him for the marvelous work he has done under 2 years, saying that in four years Obiano will surpass the eight years of his predecessor.
He insisted that Obi when he was governor would not put in any effort to save a party man, and that if he was in obiano's shoes he would have kept quiet and seen him thrown behind bars.
He added that the kind  of reaction and sympathy he got from the people over his arrest has further strengthened him, and also assured him that he is very much sought after.
" As I speak with you, I have over 300 unread text messages of people trying to identify with me or sympathise with me on what happened to me.
"This has shown me how highly I am regarded, and one promise I want to make is that I will never disappoint them when I get to the senate."
The red cap chief who was also bombarded with calls on his feud with Obi who he accused as a co sponsor of his arrest revealed that Obi has sponsored petitions against him even when he was still governor of the state and still in APGA.
He challenged Obi to a debate on the #75billion he allegedly left behind in the coffers of the government before he left office.
He said Obi received nothing less that #1trillion from local government and state allocations in eight years, despite the numerous excess crude revenue and internally generated revenue