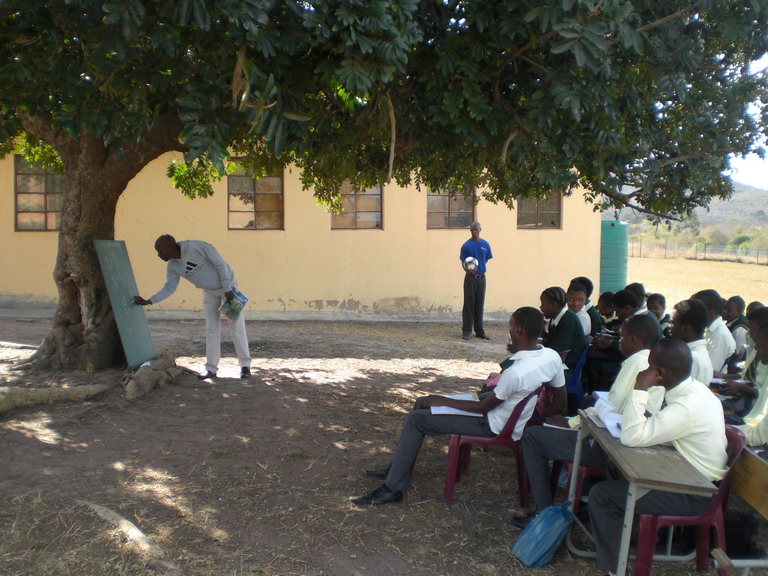 Your Excellency Sir,
Let me presume that you are not really aware that the state has not paid many primary school teachers their salaries some of which accumulated to 6 months, some even 8 months. This has had plunged them into unfortunate situation of accumulated debts both in the markets where they normally collect goods on credit and in their homes where they settle their family obligations.
As your fan Sir, I have taken an untenable position of giving you a benefit of doubt even when I know it will be extremely difficult to say that you are not aware of this as a chief executive. In fact I even looked foolish at the eyes of some of these teachers when I told them that it might be that you are not aware that they have not been paid for that long.  I even ran short of words also in appealing to these people to exercise more patience that very soon everything will be alright.
Your Excellency Sir, it is better for one to imagine than to feel the terrible conditions of these teachers today in the state as a result of nonpayment of their salaries. And one can only empathize with them if he is a civil servant or was once one.
And truth must be told that your popularity in their eyes has reduced drastically. In other word Your Excellency Sir, you have lost popular appeal in them, some of whom are regretting voting for this "Change". That shows how extremely important it is to pay civil servants their salaries as and when due.
More confusing for these primary school teachers is the fact that they went to their respective banks for enquiries if the delay has to do with the verification exercise, their banks told them it is from SUBEB, they go to SUBEB and the officials told them it is not from them either. That is why they are suspecting the problem to be from you Sir.
The untold hardships are too glaring from their faces and it has started changing their mode of thoughts about this mantra of change. To them the "Change" doesn't make sense if it cannot improve the calendar of their salaries from the last administrations that usually paid them every month and their Leave grants every October of the year.
Salary payment is not a privilege but an inexcusable right of the civil servant, and any attempt to temper with it, will automatically reschedule the spending calendar of the civil servant, especially a primary school teacher who lives a hand-to-mouth life.
I have travelled across the state over the weekend and met some of them who told me the pathetic situation they are now due the nonpayment of their salaries. Most of them had exhausted their credit limits from their debtors in the market, some sold their motorcycles, and some sold their cloths to use the penny to transport themselves to their schools while some simply resort to begging.
I also met one primary school teacher who looks jaded and dejected, when I inquired he lamented to me the terrible situation he is both mentally and physically. This man is now suffering from high blood pressure, not really because of nonpayment of his salary, though it is part and parcel of it but because since October, when last he received his salary he always receives alerts thinking that it's a salary or leave grant allowance alert, but only to open the phone to see these unsolicited adverts from telecoms. The anxiety of suspense is what caused him the ailment. He has six children and his food stuff has since finished. There was a day he went to teach his pupil without taking a breakfast, and just fainted in front of his students.  I know there are many like him who are worst hit by this nonpayment of salaries. But now they feel relieved with the coming of free feeding program, as they too go with their bowls and join the queue together with their pupils and collect the foods also.
This is where my major concern is your Excellency Sir. As much as you know that there are many saboteurs of this your free feeding program, but having teachers now sabotaging the program is too risky and too cost to afford to let it fester. The best custodians and sustainers of this program are no less than the teachers themselves. But in a situation whereby they join the queue to collect the food based on the reason that they cannot teach while they are hungry and they cannot buy food stuffs because they are not paid their monthly salary, then your Excellency, there is problem because one day they can even connive with the cooks not to bring the food to the school at all and divert the money.
Primary school teachers are the superstructure upon which the prospect of the state lies, and by extension the prospect of the country because they build the foundation of children toward becoming relevant in the society.
But in a situation where their salaries are not always paid in time it will mean they cannot concentrate on their work and also the free feeding program will be a waste.   
Mukhtar Garba Maigamo, a public commentator,
is a Credit Officer in the Unity Bank Plc, Kakuri Branch