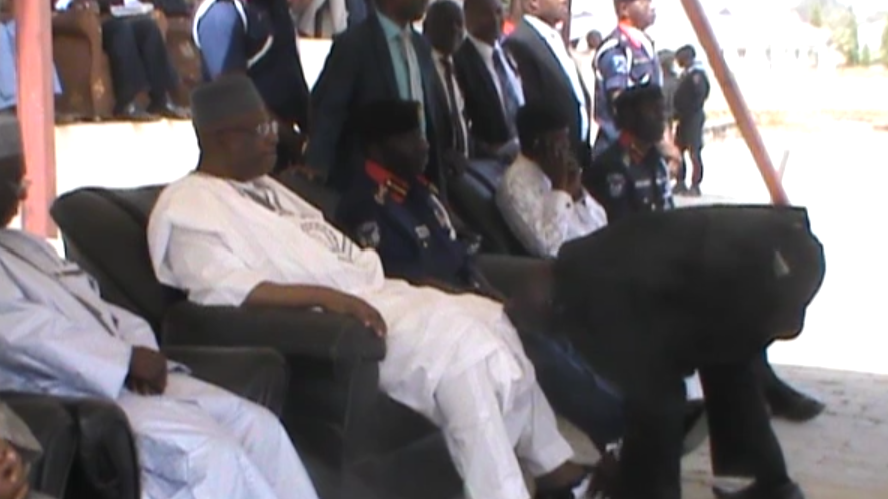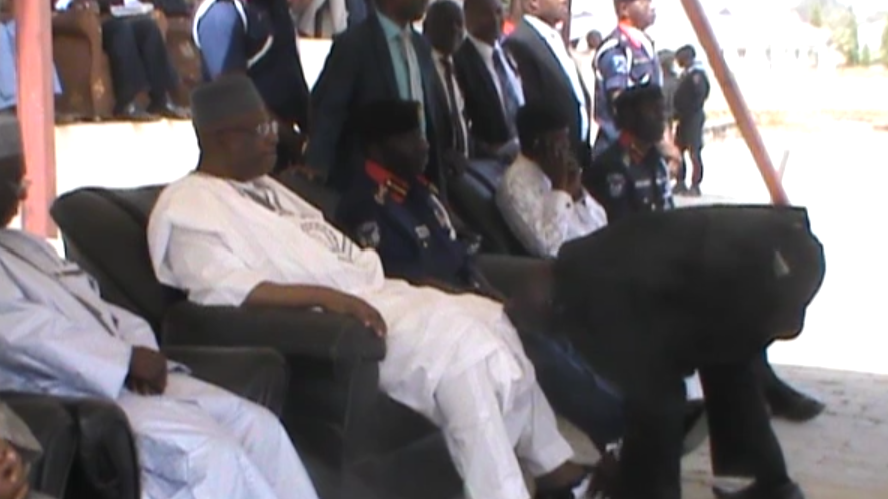 "See what your friends are writing"
"Who?"
"Your fellow columnists. See how they are attacking the Minister of Interior, General Abdulrahman Dambazau, just because an orderly helped to shine his shoes in public."
"I really don't see what the hoopla is all about"
"Me too"
"I think many of our people just like to talk about shoes. For five years, Nigerians kept talking about how former President Goodluck Jonathan had no shoes as a child."
"But he was the one that started it. Last week or so, the former President was again talking about  shoes. In America."
"I think people love shoes. That is why they won't also allow Dambazau to rest over his shoes."
"Read what your friend has written here. He says the orderly was subjecting himself to indignity by bending down to shine his oga's shoes at a public ceremony."
"He doesn't understand. Many of the commentators are probably thinking of their own type of shoes. When you see some shoes, you'd certainly not want a speck of dust anywhere close by. There are shoes and there are shoes. All these people making noise, have they seen some shoes?"
"Someone once showed me his pair of shoes which he said he bought for 2, 000 pounds. I swear I'd gladly clean such shoes even if it is at a solemn funeral."
"Do you have any idea the type of shoes the Minister was wearing?"
"No. But what does it matter? My point really is that people should stop blaming the Minister. Look when you are in public office, things like that happen. It is the duty of your aides to make sure you look good all the time. "
"I agree. A Minister of the Federal Republic must always be impeccably dressed. If you ask me to choose between Minister Dambazau and that one that wears beret and dresses as if he is going for a Man O' War session, I'll choose Dambazau any day."
"My own point is that nobody should blame the Interior Minister. It is not as if he summoned the orderly and asked him to start shining his shoes in public. These things happen.  We should blame the aide. Aides in government corridors are too sycophantic, sometimes, they don't fit the occasion to the act."
"I have seen quite a few of such aides. I once went with someone to visit a state Governor.  The Governor was the only one sitting on a sofa. All his aides including commissioners sat on the floor. I didn't know what to do, whether to stand or join the aides on the floor. "
"Those aides often respond to their oga's body language though. And what did you do?"
"Me? I sat down on the sofa oh. I think it is the aides who are guilty. It is a peculiar kind of ailment: it is called eye service."
"I know. We don't really have a civil service."
"We have an eye service. Anything that will make the boss happy, even if the same aides will later turn around and bad mouth the same boss."
"You know in some government houses, aides behave like robots. When their boss stands up, they also stand. When the boss sits down, they too sit down.  They eat what eats, and when they see the big man's wife, they start grinning from ear to ear."
"I have seen otherwise educated aides carrying bags for their Oga's wife."
"And you know they don't need to be forced to do all that. People just do it. It is a way of showing loyalty"
"But I think your friend's point in this article is that the big men should discourage such behaviour."
"Have you not seen where people kneel down to talk to their boss? Even when they are asked to stand up or sit down, you'd see adults saying, let me remain on the ground sir.  I am fine sir, Your Excellency. I am afraid one of these days, you'd see an aide prostrating publicly to make their boss feel good. Don't blame the boss, blame the aide."
"I still believe that some big men actually enjoy it. An old friend lost his job as a commissioner because he had developed the habit of arguing with the Governor at Council meetings. He refused to behave like other commissioners, the oga-is-always-right crowd."
"Any boss that is always right cannot get it right."
"You know, the guy told me that at a particular Council meeting, one of his colleagues stood up and told the Governor, sir in fact, I have been meaning to tell you, I don't know how you do it, you are the wisest man I have ever seen, the best strategist in the world, the best thing to have ever happened to our state. Then, he asked other council members to give the Governor three gbosas. Our friend said he was shocked."
"So, did he expect the Governor to sack the praise-singer?"
"That particular commissioner always got anything he wanted.  Someone like that would willingly clean the Governor's shoes, he'd in fact gladly do it. "
"I imagine that it is the same in the corporate world. Some company executives behave like houseboys."
"It is a Nigerian thing, then. I am sure if General Dambazau had asked that guy not to shine his shoes in public, he would have been very upset. He would think he has fallen out of favour. He was happy serving the boss, the same way policemen are happy to carry bags for other people's wives.'
"It's human nature. It's this whole thing about the survival of the fittest."
"Like surviving Lassa fever?"
"My brother! That's frightening. I understand up to about 63 people have died already in 17 states, and that more may die."
"The Minister of Health, Professor Isaac Adewole says the Nigerian Government will write the obituary of Lassa fever by April."
"I hope so. If it is possible to do it before April, that will help, because the way Lassa fever is writing the obituary of so many people, it may turn out to be worse than Ebola virus."
"I think the Minister and his team, and the various state governments are doing a good job of alerting the public to the dangers of Lassa fever. Even government agencies like the NYSC have deployed public enlightenment teams to market places."
"One man ran away from a hospital while being treated for Lassa fever. May be government should begin to quarantine people. These days, when I see anybody looking sick, even if it is ordinary fever, I start by imagining the worst and I keep my distance."
"I hear some people eat house rats."
"What?"
"Then, public enlightenment should become even more vigorous. Eat rat? How can anybody eat Okon Calabar?"
"Who is that?"
"Okon Calabar. That's what we called rats when I was in school. You know some of these big rats that don't run away from human beings. When they see you, they actually act like they want to jump on you. I believe those are the real multi mammate rats."
"I have asked somebody to help me buy two cats."
"You have rats in your house? What kind of house is that? Where do you live?"
"I live in Babana Island."
"Babana Island.  Not Banana Island? Oh, Babana. That island that is around Abule Egba, close to one refuse dump"
"You no well."
"When your house is dirty, and nothing is well kept, you'd breed rats, of course."
"I don't live in dirty surroundings. I am just taking precautions. And take my advice, also try and buy cats. Let's kill all the rats in Nigeria."
"I like that. Let's kill the rats and save lives. But you don't need cats, get a fumigator to drive all dangerous things away from your house: rats, cockroaches, mosquitoes."
"The cost of fumigation has gone up. I hear fumigators are making serious gains now."
"Very soon, the cost of cats will also rise. "
"Cats?"
"Yes. Don't you know that everything is business in this country?"
"There are too many human rats out there ready to take advantage."
"What do you mean human rats?"
"You don't know some human beings are like rats, causing fever?
"You are speaking in tongues.  Okay, name one human rat that you know."
"I am looking at one right now."
"Me?"
"Yes"
"No. I am not. You should be talking to those militants in the Niger Delta who are again sabotaging the country by blowing up oil installations, and giving the Federal Government conditions."
"The Port Harcourt, Warri, and Kaduna refineries have been shut down due to pipeline vandalism. At this rate, we 'd soon buy fuel at N200 per litre."
"God knows we can't afford another round of Niger Delta militancy. We have Boko Haram. We have the Biafra "secessionists."  And now Niger Delta militants are back to the creeks and trying to reverse the gains of the amnesty programme. In the end, we will all suffer for it."
"Don' t worry, those boys will be dealt with."
"At what cost? It is better to nip the crisis in the bud."
"How? By begging the militants? The Federal Government has made it clear that it will not succumb to blackmail."
"Who is talking about blackmail?"
"Wahala today. Wahala tomorrow. This Nigeria sef."
"Yes oh.  They are even saying we will now pay stamp duty on all monies paid into our bank accounts once the amount is over N1, 000.  When you add that to other bank charges, how much is left?"
"My friend, it is just N50."
"It is not just N50. Why must I dash government money? Is government now begging for alms? Is it that bad? If I want to give anybody alms, it should be my decision."
"There is a law called Stamp Duties Act. They want to enforce the law."
"So, a bank is now a branch of the Post Office? If anybody posts money into my account, government will force me to buy stamp? And yet we want a cashless society? Very soon, people will stop doing electronic transfers."
"Don't be stingy. Be a good citizen."
"N50 on every transaction. For people who run active accounts, that could amount to very heavy tax by the end of a month. You know what? I think they should just re-name the banks and call them post offices, since they are now selling stamps."
"As in?"
"As in Zenith Post Office"
"Diamond Post Office"
"Union Post Office".
"Na wa oh."