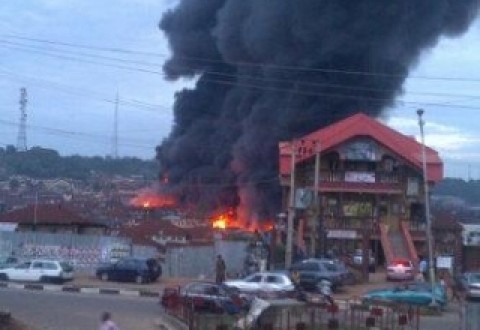 *Insists Uwazuruike remains leader
The leadership of Movement for the Actualization of Sovereign State of Biafra (MASSOB) on Friday distanced itself from Tuesday's violent clash which erupted in Onitsha.
Men of the Joint Military Task Force (JTF) comprising Army, Navy, Police and Civil Defence troops had last Tuesday killed nine of the protesters and injured 18 in Onitsha, the commercial city of Anambra State following the stubborn disposition of the pro- Biafra agitators, who blocked the Niger Bridge Head and refused to give way to motorists.
But, in a statement jointly signed by Chief Canice Anojuru and Okechukwu Nwaogu, the Owerri zonal leader and member elders' council MASSOB respectively and made available to newsmen in Owerri, the MASSOB stated "MASSOB principle is anchored on non-violence, and as such cannot be linked with any form of violence, and non-violence is the only panacea for the realization of independent state of Biafra''
The statement added explained that Nnamdi Kanu, the leader of Indigenous People of Biafra (IPOB) and Uchenna Madu have been sacked from MASSOB.
In a press statement, the group condemned violent approach being adopted by faceless pro-Biafra groups.
According to the statement, "Mr Nnamdi Kanu ex-director of Radio Biafra London was expelled from MASSOB due to his violence-related offence, while Uchenna Madu was also sacked on August 30, 2014 due to same violence-related offences.''
The statement added that the two expelled members of the group are now being used by yet to be unmasked persons to promote violence protests across the South-East zone.
On the insulation that Chief Ralph Uwazuruike, the leader of MASSOB has been expelled by the Madu-led group, the statement urged the public to discountenance the report.
"Uchenna Madu's claim of MASSOB leadership is laughable because it was manifestation of self elevation and self imposed power that does not have the backing of any known member of MASSOB and such claim is null and void.
"MASSOB is however using this medium to inform the public to disregard such claim as there is no crack in the leadership of MASSOB, and  Chief Ralph Uwazuruike is still the leader of MASSOB'', the statement concluded.