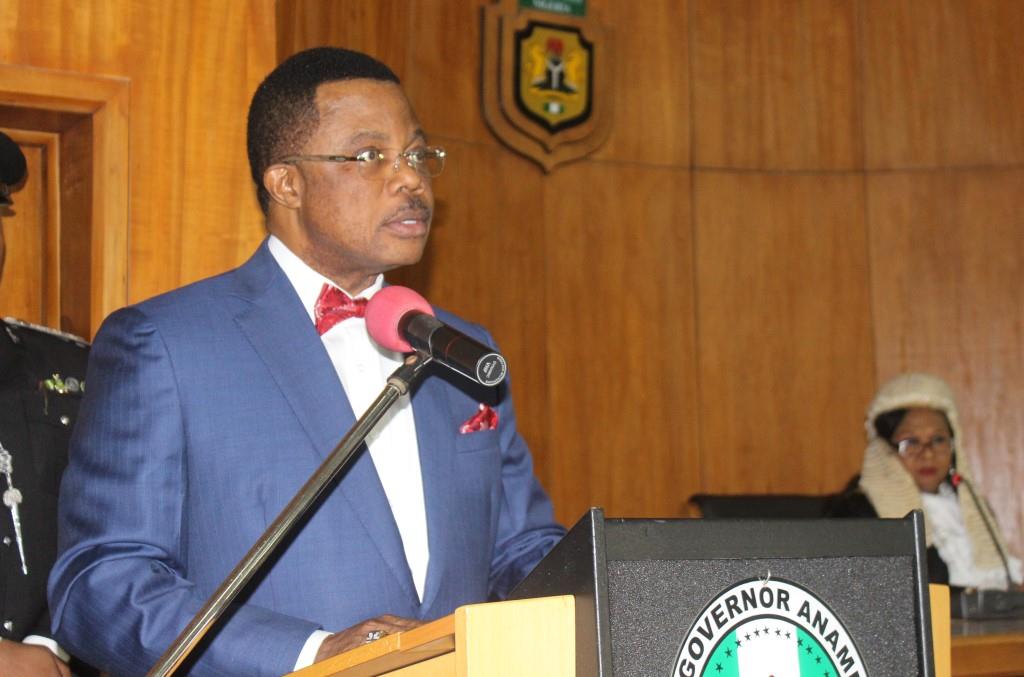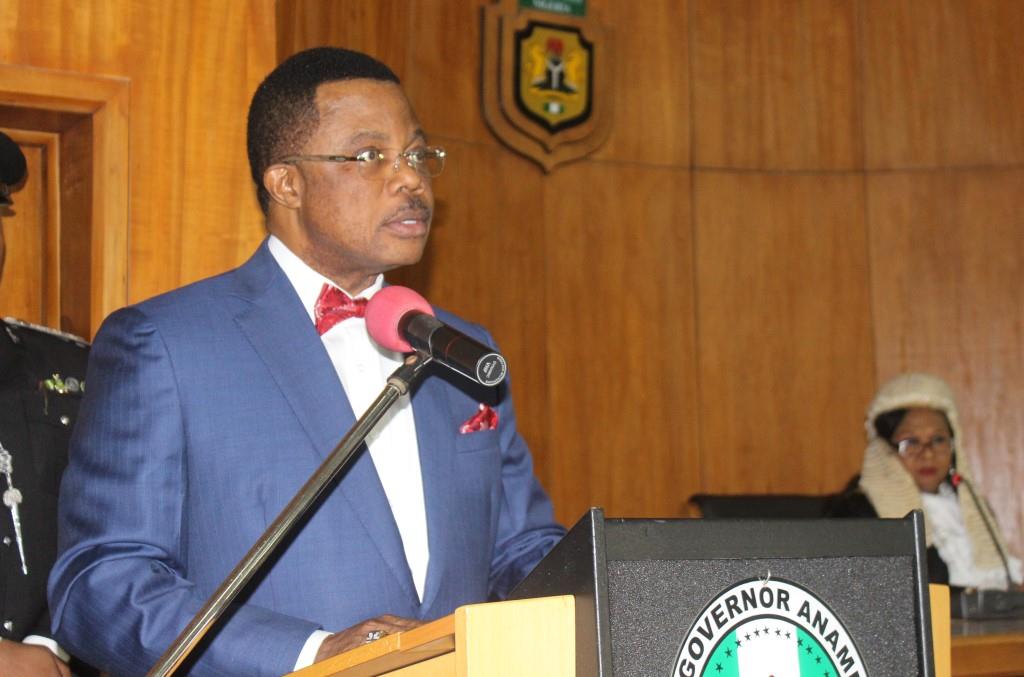 By James Eze
The governor of Anambra State, Chief Willie Obiano has tabled a budget of N101.4bn before the Anambra State House of Assembly for the 2016 fiscal year.
Titled "the Budget for Efficiency, Optimization, Productivity and Job Creation," the proposal is made up of a capital expenditure of N52.8bn and a recurrent expenditure of N48.6bn respectively.
The budget reflects the prevailing economic meltdown in the country as it represents a significant 38% dip from the 2015 budget, implying a capital to recurrent expenditure ratio of 52:48 as against 67:33 in the 2015 budget.
Presenting the budget to the lawmakers on Thursday in Awka, Governor Obiano noted that the significant decrease further stresses the need for prioritization and a strict adherence to his administration's mantra of "doing more with less."
A breakdown of the Budget shows that Works and Infrastructure commands the lion's share of N30bn or 57% of capital expenditure in the coming fiscal year. It is a reflection of the administration's determination to effectively lay the foundation for a dogged pursuit of its Four Pillars of Development which are expected to unleash boundless prosperity on the state on full implementation.
Explaining the rationale for the bias for Infrastructure, Governor Obiano said it was due to a number of factors, namely: "the resolve to complete all on-going road contracts awarded by the last Administration, to ensure that we keep to our promise of providing road infrastructure to further unlock the economic potentials of the State and finally to fulfil our investment obligations with Public-Private-Partnerships."
According to him, the next priority areas of the budget are Education which attracted N3bn, Health N2.45bn, Public Utilities N1.8bn and Agriculture N1.2bn respectively.
Governor Obiano further explained that his 2016 Budget is anchored on the assumption of a crude oil price benchmark of US$40.20/bbl and an average production rate of 2m barrels per day.
Speaking further, he noted that "due to a drop in consumption levels across the country as acknowledged by the proposed initiatives of the FIRS, we project the impact of the above to have a zero sum effect on VAT revenues, hence, we assumed VAT revenues equivalent to our 2015E monthly average of N743m."
Governor Obiano also anchored his budgetary hopes on the likelihood of aggressive elimination of leakages in the system that would shore up the state's Internally Generated Revenue to N2.2bn per month, representing an 80% increase from its current level. He however quickly assured that his administration would not increase taxes, rates and levies in the 2016 fiscal year.
Obiano however noted that limited resources arising from declining oil revenues, large portfolio of legacy projects and soaring expectations of citizens that seem out of sync with the parlous state of the economy are some of the challenges his administration would have to overcome to make the 2016 fiscal year a memorable one for Ndi Anambra.
Concluding the governor noted that, "this budget captures the hopes and aspirations of every citizen of our great state. It belongs to the farmer in Ayamelum, the trader in Onitsha main market, the young entrepreneur in Mgbakwu, the elderly and the less privileged. Yes, we are faced with challenging economic conditions, but history suggests that times of adversity often give birth to boundless opportunities. My administration has a responsibility to transform these opportunities into real prosperity for all."