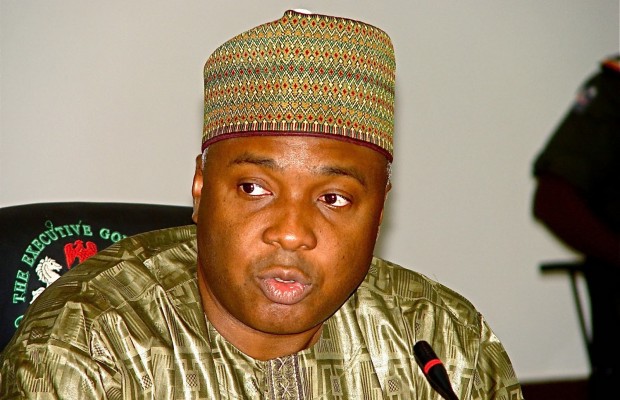 Internet is the bearer of world's largest and greatest democracy, that is Social Media. Social Media is the habitat of billions of freedom lovers who want to share and exchange their thoughts, opinions, experiences and even ideas with individuals, groups and businesses across countries and continents
Faisal Mushtaq
We have always known that the Senate President, Mr Bukola Saraki is a thief, rogue, fraudster, looter, criminal and pen robber, but we never knew that he is also a fool, scared of his own shadow and ready to kill anyone who disagrees with his criminal method of thinking.
Wait, if we are just getting to know that Saraki is an imbecile, not even fit to hold a councillor position in Nigeria for being an indigene of another country, we now know that he has a partner in one moronic animal, called Ibrahim, Na'Allah who is a Senator representing Kebbi South in Kebbi State. Just like Saraki, this bastard unfortunately given birth to is alleged to be a drug dealer. Gosh, did I just type "alleged"? No friends, he's a certified drug dealer as a former custom officer, and to think that he is the majority leader of the corrupt red chambers is enough for us to weep for Nigeria.
Here is Ibrahim who should be behind bars for stealing illicit drugs nabbed from Joa Brown Akubueze. This criminal remains a drug trafficker who stole over 270 kilograms of Heroine when Mr Baffa Jumare held sway as the Executive Chairman of Natonal Drug Law Enforcement Agency (NDLEA) in 1993. He alongside nine others sneaked into the office of their boss to steal the hard drugs at the headquarters of the agency and using some African magic on the case, it died a natural death, despite it still pending in court. Unfortunately, he made it big and now representing a section of his state who blindfolded sent him there.
The moron Senathief instead of sponsoring a bill to enable his constituents live good lives decided to waste the allowances meant to develop his area to sponsor a bill where social media users will be jailed for two years or option of N4 million fines, when they post what is unfavorable to these fools who rigged their way into office. We understand that he has been on the negative radar of social media users of late, for calling for his head when he arrested a lecturer in his state and threw him into the cell. Just when the heat was about to cool down, we descended on him for dressing like an ancient baboon just released from the wildlife park.
Nigerians are right in lampooning him for dressing like a fool that he is. How can he be collecting millions for wardrobe allowance and yet dress worse than the mad man on the street? Is it our fault that we decided to become his fashion police? Instead of the animal and bastard to be happy that we are correcting him; the drug dealer decided to stand before the unholy chambers to move a motion to silent us.
The Senate President, who should know better that no amount of bills can stop Nigerians from taking to social media to express their views, opened the latrine he called a mouth to express support for his fellow looter, stating that the bill will be passed no matter our cry. Nigerians, our patience has been tested for long and our quietness mistaken for foolishness. This is the time to march in millions to the National Assembly and pull out those thieves representing us and assented to the motion by the foolish Ibrahim, then beat the living daylight out of them. What insolence!
Before the bill is passed, I'm going to pour out my mind and insult both Saraki and Ibrahim till I am satisfied with my conscience. Nobody can jail any part of me, not even the President whose party men are promulgating this law. Mr Muhammadu Buhari cannot claim to be ignorant of this bill, neither will the All Progressive Congress (APC) also feign ignorant. For crying out loud, this is the same social media where former President Goodluck Jonathan and his men were judged, crucified and even though the clueless man from Otuoke assented to a bill of this nature; it was never put into practice until Buhari came in to office.
This is the same social media, where Nasir El Rufai told lies upon lies and yet no one called for his head. Did he just tell lies? No, he instigated his followers against the past administration and no one even dared to move a motion against him and many of us. Ibrahim the fool must be told in clear terms that the age where he can silence critics died with his father and we will be ready to confront him and his President supporting him.
Whenever this law is passed into law, be rest assured that most of us will leave the country to the United States and other countries and then launch verbal missiles and inciting messages against the government of the day. We will not just do that, we will ban every Nigerian politician, especially the thieves in the Senate and House of Representatives from coming to the countries we are domiciled, as we shall embarrass them and hurl stones and dangerous instruments at them.
For the ugly baboon called Ibrahim, he should consider himself a public enemy of the angry Nigerian youths already, for he shall henceforth feel our wrath on the social media, and dare him to arrest us. We need not talk about the dishonorable thief, Saraki, who ought to be facing the gallows now, but walking free in a shameless country called Nigeria, simply because he has been able to manipulate the judiciary to dance his cause. The Nigerian youths and social media users will go all out for him, demanding accountability for every action he takes, and not a single penny of this nation must miss under his watch.
The filth of a being named Ibrahim should move a motion for jailing of Senators who dress clumsily like him, despite collecting jumbo pay for wardrobe allowances. He should move a motion of death penalty for him and his evil types who loot the national treasury and not social/online media that painstakingly expose their corrupt practices. You stole my yam and you expect me to keep quiet; rape my financial vault and you expect us to clap for you. Never! We will rather die fighting this cause than bow to the laws of the oppressors.
How did we get to this stage in the first place where dirty pigs not fit to lead us end up becoming people who make laws for us, when in their houses; they are unable to make laws for their children and family? Pardon my curiousity on how the wife of the ape called Ibrahim allows him to make love to her, considering how irritating he will be in sexual pleasure. The wife or wives must be going through emotional tortures and who knows, always covering her face with pillow, as he bears the thrust of the gorilla she unfortunately married as a husband.
We are gradually going back to the era of dictatorship where Buhari suppressed the freedom of the press, and sadly enough, he's doing same again through the backdoor, using his party men to waste precious time in sponsoring a bill that will end up backfiring. For me, I will not stop expressing my views on the social media; neither will I succumb to this political blackmail by the looters of my treasury to cow me. I will rather go the prison, which I'm not new to than allow some bunch of nonentities, charlatans, pedophile, and wives snatchers who unfortunately found their way into the National Assembly take away my freedom in a free society.
We brought them to power through the instrumentality of the social media, and we will also use the same manner to talk to them. Any action to gag us will be resisted with the last blood of our lives. Saraki and Ibrahim ought to products of wasted sperm that their mothers should have flushed down the toilet than allow to walk this earth than tormenting men of value.
I have insulted them enough and now bid the prison doors to be open.
These little things matter…
–
Fejiro Oliver is Editor In Chief of Secrets Reporters News, Investigative Journalist, Media Consultant and Human Rights Activist can be reached on +2348022050733 (SMS ONLY) or secretsreporters@gmail.com. Engage him on twitter on @fejirooliver86.