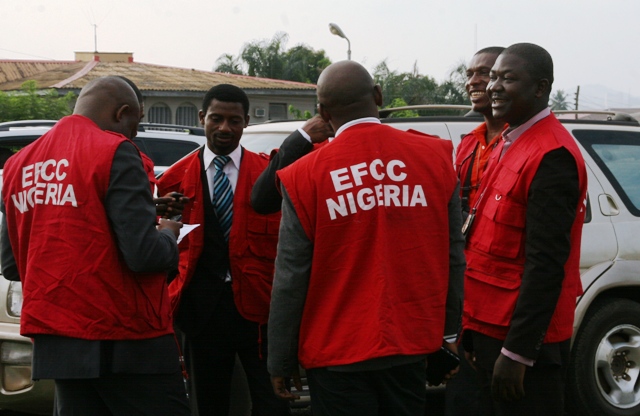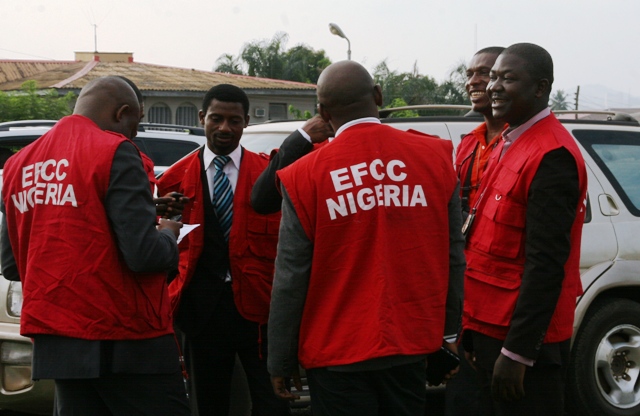 By Chuks Ehirim
Does Buhari Have A Plan To Improve Nigerian Economy?
No (70%, 1,107 Votes)
Yes (30%, 465 Votes)
Total Voters: 1,572
Loading ...
The allegation of N45million theft being leveled against a retired Navy Captain Jerry Ogbonna, purportedly by the Economic and Financial Crimes Commission[EFCC], has taken a new shape as the ex-naval officer has alleged that the anti-graft agency is in the business of shielding officials of the Department of Petroleum  Resources[DPR], who have corruption charges hanging on their neck.
Navy Captain Ogbonna[rtd] who, two weeks ago, reacted to allegation in the media that he was being arraigned by EFCC, denied ever being invited by the commission. A Lagos based newspaper however, reported on Wednesday, that the case came up at a Lagos High Court the previous day.
Reacting to the latest story through a press release made available to journalists in Abuja, Ogbonna again denied being involved in the said case as nobody had ever invited him to answer for any charges. According to him, "my Attention is again drawn to the publication on Vanguard Newspaper stating that the matter came up in Ikeja High court where I should have been arraigned. I was not summoned or invited for any case. All I have seen is the libelous publication in the pages of blogs and social media.   I will ordinarily have ignored this press smear campaign against my person. I am referring to the publication that EFCC has filed a case against me at the Federal High Court Ikeja.
"It appears that whoever published the last campaign  has now aligned with my first press statement that I was paid mobilization of N90 million for the contract I have with Ministry of petroleum Resources for the lease of helicopters for DPR. The last publication has exposed the falsehood and lies from the team  that are engaged in a media war against me".
He accused the EFCC of turning their search light on innocent Nigerians while at the same time, shielding officials of some government agencies who have cases of corruption reported against them, stating that the anti-graft agency has turned itself into "debt collectors" for some commercial banks in the country.
"I am still at a loss as to why EFCC an agent of government can be used to smear me  in a matter which is purely a commercial transaction.  What interest are they serving in this instance? I will also remind the EFCC that a report of blatant corruption was made to them by me with evidences and they have decided to prosecute me instead of the culprits who should by now be I jail. Maybe that is the era of Lamorde and the last regime. They have also chosen to develop amnesia and claim I should bring the relevant  documents which shows that I reported a case of bribery against personnel of DPR. The documents are in their file and their officer Niyi will show them the file if they decide to ask him.
"It is totally ridiculous that we have an agency that makes so much noise against individuals without achieving any legal success because every action of investigation is geared towards personal benefit. It is clear to me that in this matter EFCC is acting as debt collector for Diamond Bank in a matter which is purely a commercial venture and that is not criminal in nature. As I said earlier I cannot be intimidated by EFCC or anyone whatsoever because I have done nothing wrong. My hands are clean and I have always conducted myself in a most efficient and honest manner in my dealings. In the contract with Ministry of Petroleum I have followed all due process at every stage of the contract.
"What EFCC should be investigating is why N2.5 Billion was disbursed to the Ministry of Petroleum between 2012 and 2014 from Ministry of Finance for this project and all the funds were stolen except the N90 million which was paid to my company . I call on the President to institute a probe into this contract for the lease of 3 helicopters for anti crude oil theft. I have all the evidences with me. EFCC is chasing after the wrong person. I will stop here because all the matters are in the Federal High Court Lagos and International court of arbitration. The President should appoint independent people to probe this contract and recover monies disbursed to DPR"
Efforts to get the reaction of EFCC to this matter did not yield any fruit as its spokesman, Wilson Uwagierin, neither picked his calls nor responded to an SMS sent to him regarding the matter, by this reporter.