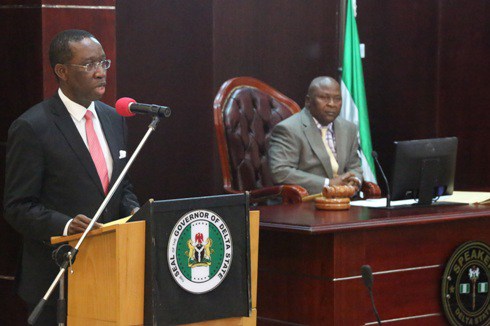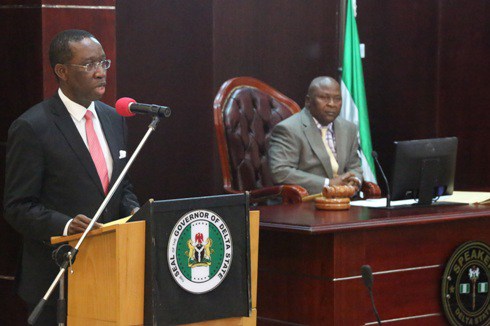 By Amos Igbebe
Governor Ifeanyi Okowa of Delta State has presented a budget proposal of N265.156bn for the 2016 fiscal year to the Delta State House of Assembly.
The Governor said the 2016 budget has N153.136bn for recurrent expenditure while N112.511bn is for capital expenditure.
He said the budget would be sourced from four major revenue sources which he listed to include Internally Generated revenue to the tune of N75.378bn, statutory allocation including mineral revenue derivation at N137.948bn, Value Added Tax at N10.218bn, and other capital receipts at N42.122bn totaling N256.668bn for 2016.
Out of the capital expenditure of N112.511bn, further breakdown shows that economy would gulp N23.8543bn, social services would gulp 17.300bn, environmental services will go for N26. 987bn, general administration for N15.568bn, the Delta State Oil Producing Areas Development Commission (DESOPADEC) will go for N28bn while contingency N800m.
In the budget presentation where the Governor was accompanied by the State Deputy Governor, Kingsley Otuaro and other members of the state executive council, Okowa told members of the House of Assembly that his administration was determined to stabilize the revenue base of Delta so as to ensure the health of the public finances and maintain the state's competitive edge.
Christened, "Budget of Renewed Hope and Inclusive Development," Governor Okowa stated that "this is the first budget that is conceived and put together by this administration; the grim forecasts from these documents place a moral burden on this administration to adopt a pragmatic approach in the 2016 budget estimates, based on prudent management of public finances and our conviction not to raise false hopes or play to the gallery."
Okowa said the budget was presented in an economic environment of anxiety and uncertainty but with expectations for quick results, faster development and the highest levels of discipline, honesty and transparency in government.
He said his proposals provide the roadmap for revitalising the economy, maintaining strict fiscal discipline, creating wealth, promoting employment, encouraging self-reliance, and developing a knowledge-based economy for the people of Delta State.
According to him, the budget contains guidelines to "enhance our competitiveness in areas where we are strong and facilitate the development of our state, foster a clean, efficient and dedicated civil service, support social enterprises, promote investment, stimulate economic growth and articulate the strategies for passing on the benefit of this growth to the common man, woman, youth and child whose quality of life desperately needs to be enhanced".