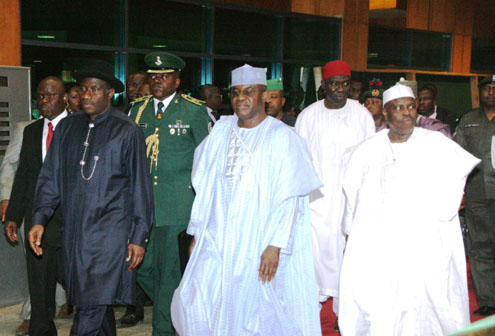 President of the Senate, David Mark, on Monday reiterated his commitment to the creation of Apa state creation for the Idoma people of Benue.
Mark announced the commitment while addressing the electorate in Ogbadibo Local Government Area, Okpokwu Local Government Area and Ado Local Government Area as he continued his campaign tour of Idoma land.
He urged the people to re-elect to him to the senate to enable him to work toward the realisation of creation of the proposed Apa state.
He also charged them to vote for President Goodluck Jonathan and other candidates of the Peoples Democratic Party (PDP), which he described as the future of Nigeria.
The president of the senate pointed out that re-election of Jonathan would hasten the creation of states, including the state for Idoma people.
He told the people that the Federal Executive Council had adopted the resolutions of the Constitutional Conference which recommended creation of states.
While thanking the people for always identifying with the PDP, he advised them not to waste their votes on the All Progressives Congress (APC) ''as doing so would not translate to anything positive''.
Also speaking, the Deputy Governor of the state, Chief Steven Lawani, assured Mark that the people would vote for him, Jonathan and other PDP candidates.
Lawani noted that the Idoma people had never benefitted from any administration at the federal level as they had had in Jonathan's administration.
On his part, the Minister of Interior, Mr Abba Moro, called on Ogbadibo people to persuade Daniel Onjeh, the senatorial candidate of the APC to drop his ambition.
According to Moro, who is Campaign Director of the president of the senate, Idoma people have unanimously endorsed Mark as their sole candidate for the senate.
He urged the people to ignore all the propaganda by the APC and vote for PDP, saying that the party had impacted positively on the lives of the people through appointments and projects.