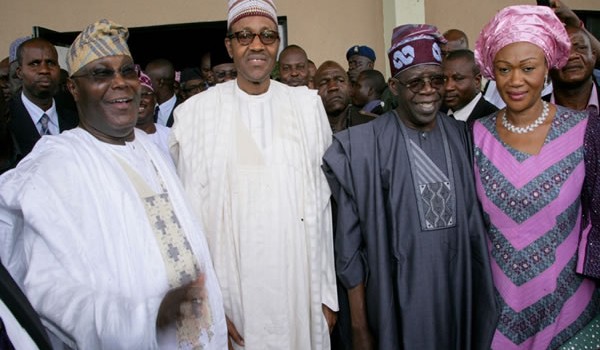 Ahead next month general elections, National Chairman of All Progressives Congress (APC) Chief John Oyegun's residence in Abuja, has been invaded by yet to be identified gunmen in the early hours of Monday.
Director General of APC Presidential Campaign Council (PCC) and the Rivers state governor, Rotimi Ameachi disclosed this at the commissioning of campaign headquarters and inauguration of Presidential Campaign Council where the APC chairman was absent.
Ameachi who disclosed that the attackers tormented Oyegun's family, also explained that: "I have to break the news because we are supposed to be protected by the federal government of Nigeria and if Abuja where you can drive to anywhere at any point in time is no longer save where the APC chairman is attacked, only God knows where next it would happen."
In a statement issued in Lagos on Monday by APC National Publicity Secretary, Alhaji Lai Mohammed, the party said while hoping that a police investigation will unravel what happened, it is either those who attacked the residence at 1.30 am are robbers or assassins.
It said while Chief Oyegun was away attending a previously unscheduled meeting in Abuja when the invaders struck, his wife who was at home was left deeply traumatized by the raid
"The facts of the raid as available so far point to a sinister motive. For example, only Chief Oyegun's room was ransacked in the whole house. Common sense dictates that if the invaders were robbers, they would have ransacked the whole house in search of money and other valuables which they might have believed were in the residence
"The invaders, two burly men, removed the window burglar bars to gain access to the residence from the back, and then made straight for the bedroom of our National Chairman. Police security was in place at the residence when the incident happened," APC said.
The party said while it does not know who was behind the raid, it is worth noting that the angry rhetoric and vitriolic personality attacks that have been directed at the opposition by the top leadership of the ruling PDP and their spokesmen have heightened tension and put the lives of opposition politicians at risk, ahead of the forthcoming elections.
It expressed gratitude to God for saving the lives of the APC National Chairman and his wife, wondering what would have happened if the Chairman had been home at the time of the raid.