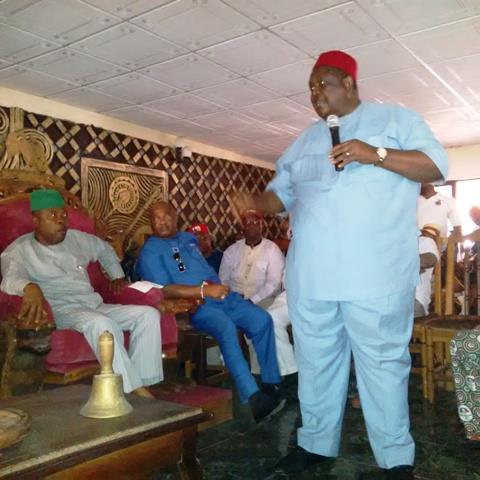 *Ex-Head of State, APC Want To Cause Another Civil War—Udenwa
Elder statesman and member of the Board of Trustees ,BoT, of the Peoples Democratic Party, PDP, Chief Emmanuel Iwuanyanwu yesterday described the All Progressives Congress, APC's presidential candidate, Maj. General Muhammadu Buhari as a core fundamentalist and hard core Moslem that does not believe in Christianity.
He said such a man must not be allowed to be the president of a state like Nigeria.
Loading ...
Iwuanyanwu made the statement when the Peoples Democratic Party, PDP gubernatorial campaign train of the Deputy Speaker of House of Representatives, Chief Emeka Ihedioha paid a courtesy visit to the traditional rulers of Okigwe Local Government Area at the home of the Chairman of Okigwe Council of Traditional Rulers, Eze C Ugochukwu, Akaji Ofo of Okigwe Town.
He said that those who do not believe in Christianity want to use Buhari and APC to achieve their aim in Nigeria, adding that there is on going battle in the world, particularly in America and France where there is a serious problem caused by these fundamentalists who don't want Christians to exist.
"I came out to tell our people the truth and nothing but the truth. The only reason they want President Jonathan removed is because he is a Christian and we will not allow that to happen," he noted.
He called on the Imo citizens to vote for President Jonathan and Ihedioha as governor to serve both the country and the state. "We the Igbo leaders resolved in Enugu that Ndigbo will give Jonathan bloc votes in the presidential election."
Some people are asking what President has done for the Igbo, but when Buhari was the Head of State of this nation, can anybody point at a particular thing he did for the Ndigbo, adding that President Jonathan had built international airport at Enugu, multi-billion naira silo in Okigwe, Imo State, Port Harcourt-Owerri road reaching advanced state of completion, and many others in South East zone.
He also explained that the PDP leaders chose Ihedioha to be the next governor of the state "because we are fed of the lies being told Imo people by Governor Rocha Okorocha on daily basis." He added that Ihedioha is truthful and straight forward, adding that whatever issue arose from the primaries had been resolved internally.
Speaking also, former governor of the state Chief Achike Udenwa recalled that the civil war started by the same antics the APC leaders had indulged in, adding that "we cannot afford another war and that is why we must join hands together to vote for President Jonathan and all the PDP candidate.
He noted that the current administration of Okorocha had coverted all the state property to his private property, acquiring all lands in the state. "If we have done like converting public businesses to private enterprises, acquiring all land would he has seen any state to govern. We must vote him out to serve the state."
Addressing the royal fathers also, Chief Ihedioha said he want to be governor to transform Imo State and make education to have value once again, adding that he would restore the dignity of traditional value.
Also speaking at the rally at police play ground at Okgiwe, the Minister of State for Education, Prof. Viola Onwuliri observed that leaders that want to rule the nation must be able to produce their certificates to the people they want to govern, advising the electorate to consider men like President Jonathan who youthfulness to govern them not "people like Buhari who spelt forces."
92 total views, no views today