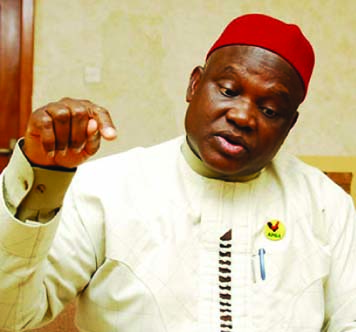 Chekwas Okorie Presidential Campaign Organisation (COPCO)
31st December, 2014
Press Release
A Time To Decide
We are grateful to God for His mercy, guidance and protection throughout the turbulent 2014. It was a year of political upheavals, economic stagnation, industrial actions, socio-religious unrest and unprecedented terrorism.
The famous centenary celebrations were marred by political naivety and leadership fatigue in government at all levels. Nigerians were denied the fruits and dividends of democracy at the altar of political expediency by political buccaneers masquerading as democrats who want to cling or seize power at all cost.
The abduction of over 200 school girls by Boko Haram insurgents at Chibok in Borno State, who have not been rescued till date, was the height of insecurity, terrorism and leadership fatigue in Nigeria. We are shocked by the sabotage and saboteurs in the armed forces that have impeded the war against insurgency in the North East geopolitical zone. It is amazing that Nigerians including some in the armed forces could betray the fatherland and aid rampaging Boko Haram sadists. This madness that has made Nigeria a laughing stock in the comity of nations must stop immediately.
2015 is a year of decision as the electorate decides and chooses those who will lead the nation in the next four years. The February 2015 general election is critical for the survival of our frail democracy. It is time for change. It is time to vote out political office holders who have impoverished the citizenry and shattered the people's hope of a great, prosperous and just democratic nation. It is time to elect visionary, purposeful, patriotic and dynamic leaders that will usher peace, security, employment, justice and improve the people's standards of living.
We urge Nigerians to exercise their franchise and ensure that they vote for candidates of their choice in all elections, and ensure that their votes are counted and count in the overall result. We enjoin INEC to be neutral as an umpire and provide a level playing field to all political parties. The need to conduct free, fair, peaceful, credible and acceptable elections cannot be over-emphasized. The world is watching us, we must prove anarchists and prophets of doom wrong, by being decisive, firm, courageous and patriotic in our conducts and actions ahead of February 2015 polls.
There is a silver lining, comet and hope in the nation's political horizon with the emergence of United Progressive Party presidential candidate, Chief Chekwas Okorie. A man of exceptional patriotism with a burning passion and mission to rescue Nigeria from political imbroglio, economic stagnation, corruption, infrastructural decay, unemployment, terrorism and poverty.
It is time to choose a leader with compassion and competent to pilot the affairs of Nigeria, and restore the dignity of fellow compatriots. It is time to restore the lost glory of Nigeria as the giant of Africa and actualize Vision 20:2020. It is time to provide dividends of democracy, not carnage on our roads, air space, homes, offices, schools, worship places and markets by terrorists. It is time to stop executive jamborees in Aso Rock and other Government Houses and allow the people to run their governments as power belongs to the people.
It is time to vote for credible candidates and build a strong, virile, prosperous nation. 2015 is our chance to restore the glory of our fatherland, battered by incompetent leaders since 1999. A vote for UPP is a vote for greater Nigeria of our dream.
Happy New Year!
CHIEF FLINT OBIEKWE
Chairman, Chekwas Okorie Presidential Campaign Organization (COPCO)