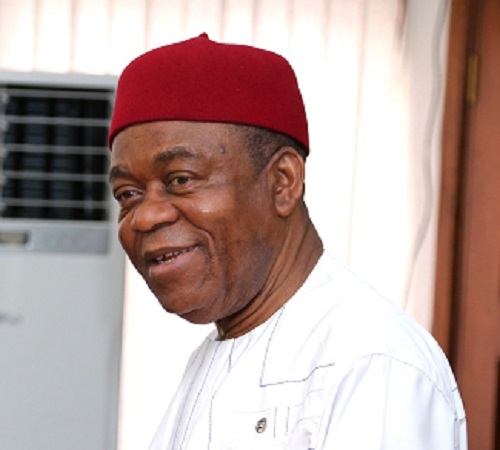 "The taste of the pudding is in the eating' and example is better than precept" are two rhetorical manifestations that stem from pragmatism. Leadership is all about systematically coordinated drive of a people within a given polity to articulate and achieve desirable objectives that essentially propel a comprehensive growth of the people. Leadership does not operate in a vacuum and, so, must be anchored on an individual, who stand tall amongst his peers who share the same vision and mission with him.
It is an age-long fact that no society prospers beyond its quality of leadership. Any human community that is led by a man that appreciates the significance of peace and security will naturally be driven within the ambit of the rule of law, which is hinged on equity, justice and fairness, as to allow equity and justice to reign is to faultlessly import peace and security into the precincts of any given geo-political entity.
As the book of Ecclesiastes in the Holy Bible aptly makes us realize, there is time for everything. Today in Nigeria, what is in vogue is the expression of interest by both individuals and political parties to clinch political power either at legislative or executive level of political engagement.
Within the African context, power is pursued with a whole lot of primordial and selfish considerations. To put it succinctly, power is passionately and not dispassionately pursued in Africa and the third world. This emotional attachment to power has been responsible for all the carnage so far witnessed in such places as Liberia, Libya, Rwanda, Mali, and without excluding Nigeria that is currently eclipsed in insurgency of a heartless order. Any frank attempt to X-ray the causes of political upheaval and its attendant economic destabilization of any of the countries mentioned above, would always reveal materialistic chauvinism of the extreme type, flowing out of its leadership.
Abia, a state that prides herself in the appellation, Gods own state, is, indeed, God's own state. Despite all the political turmoil, tension and explosions, Abia, Gods own state, has remained peaceful, calm and very conducive for her citizens and inhabitants. As a state that believes in the omnipotence of God and efficacy of prayers, her citizens are not, in the least, surprised that God provided a leader of the nature of Governor Theodore Orji at a very critical moment as we are in now.
It is because God gave Abia a leader in the person of Chief T. A. Orji that there is relative peace at this period when almost every other state is singing 'there is fire on the mountain'. If Ochendo were not the God-fearing, humble, considerate, and equity-driven personality that he is, by now the state would have been on fire, as a result of many years of bottled marginalization, discontent, frustration, aggression and attendant irrepressible agitation.
Political economists have always differentiated between tangible and intangible achievements in governance. Any government that is only capable of achieving tangible goals to the exclusion of the intangible ones may likely not be given an overall pass mark in assessment of her performance.
As the people's leader, Chief T.A. Orji has master minded an efficient and effective cross-pollination of both tangible and intangible records of achievement within the period he has held sway in Abia state.
While recent party primary elections in many other states were characterized by violence, brutality and destruction of valuable property, primary elections in Abia, particularly within P.D.P., were very peacefully conducted. Take for instance, the senatorial primary elections of the Sunday 7th December, 2014 saw Governor T.A. Orji being, not only, unanimously but freely and fairly elected to fly the flag of the party in February 2015 senatorial election for Abia-central. As long as the people of Abia central, nay Abia state are concerned, senatorial mandate for Chief T.A. Orji is simply the least way of appreciating a leader that has given his best to his people and a further beckoning on the leader not to rest on his oars.
To crown it all, on Monday 8th December, 2014 more than Seven hundred statutory and adhoc delegates of the People's Democratic Party congregated at Umuahia Township Stadium to freely and fairly, in a hitch-free environment, elect the Governorship flag-bearer of the Party for February 2015 Governorship election.
The election, in the true spirit of Gods own state, produced the most credible electoral result with a renowned academic, erudite scientist, consummate administrator, humble and transparent manager of resources, Dr. Okezie Victor Ikpeazu, emerging as the victor with a landslide margin.
This feat could not have been possible if God had not given Abia state a leader like Chief T.A. Orji at this very crucial moment of the people. God will continue to be glorified.
Now that the Primary elections are over, it is expected that, in the same spirit of Gods own state, all those that contested in the primary election but lost should realise and appreciate the indisputable fact that the Governorship of the state can only be occupied by one person at any given time. None of the contestants should be oblivious of the truth that it is only God that gives power to whomever He desires at anytime. After all, it is purely in vain the watch-man labours without Gods vigilance.
Counting on the dynamism that is inherent in the current leadership of Abia state, it may not be out of place to contemplate that the Principal of the leadership in Abia state, will bring all the gladiators to a round table for purposes of expected reconciliation, truce and reintegration. In party politics, like in any other human engineering, the more united the people are, the better in terms of productivity and result. There is no doubt that Ochendo will, true to his nature and pedigree, continuously prove that the taste of the pudding is in the eating and that surely example will always be better that precept.
–
Chief (Sir) Don Ubani, KSC, JP
(Okwubunka of Asa)