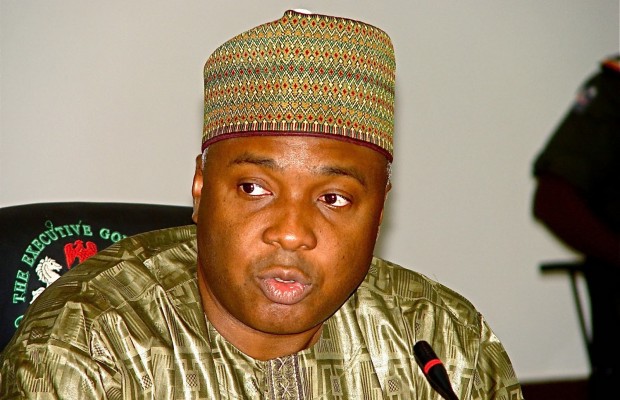 Distinguish Senator Bukola Saraki,
Sir, permit me to greet you like your loyal supporters do, ''Sai leader''.
Before I proceed sir, let me bring your attention to the unreasonable situation within the Kwara state civil service which not only ridicule Kwara as a state, but shows the ruthless caliber of leaders leading the state.
It was gathered that, when a civil servant in Kwara state gain promotion from level 1 to 2, his or her salary only increases by one hundred naira (N100)? (GL01-N18,499.26- GL02-N18,586.63). After many years of hard work, if he gained another promotion to level 3, another two hundred and fifty naira (N250) (GL02-N18,586.63- GL03- 18,865.43) would be added to his or her salary. And it continues like that to the highest level.
I am very ashamed to uncover this embarrassment. I also learn that, from level 1 to 15, no one single civil servant earn up to N85,000 salary, no matter their years of service or qualification. Level 15 civil servant in Kwara state earn N84,114.66 it was gathered.
Additionally, while on the foremost Kwara youth movement, Kwara Must Change online page, which is also the most populated and active kwara page on the internet,I read that you have endorsed Governor Abdulfatai Ahmed for a second term. I am forced to asked that, is this to reward him for being loyal to your selfish interest or for placing the hard working civil servants on the above shameful salary scale like i have stated above? Although, to all keen follower of the kwara political climate,your decision is not unexpected considering the undiluted loyalty shown to you by the Governor.
However, while you believe you have endorsed a governor for second term in Kwara state, Kwarans do not even see Dr. Ahmed as the governor. Many adjectives had been used to describe his role by the populace. Some say he his merely a chief of staff, while others say he his a senior commissioner. Some even went as far saying, he his not a ''Maigida'' (House owner) rather, a ''Mai gadi (guard). All these titles was as a result of his blind loyalty to you.
Dear senator, Without any doubt, you seems to have assumed the role of a godfather in the harmonious state of Kwara and in my opinion, this was the desire of your late father (Dr. Olusola Saraki) as designed by him through a version like contest created between himself and you in the 2011 election, paving way for you to take over from him as the Kwara over lord. And with Governor Ahmed as a figure head, you have successfully wielded unprecedented power of a godfather, far beyond what your late dad could ever imagine.
Even when others believe you fought your late father to install the incumbent, Mr.rights doesn't believe in such a fallacy. I know for sure that it was a game, more like a tactical loss for your father, to gain you a strategic victory. But what ever it is, it is now a story for the gods.
Sir, the question I raised in my LETTER TO GOVERNOR ABDULFATAI AHMED is still valid for you. Is godfather-ism evil or good? I am also asking you since you seems to have become a godfather. Sir, do you think your role (godfather) is good or bad for Kwara?  Without hearing your response, I know you would say its good, just as the state government have been saying, ''its good here''. But for the purpose of reference, let me quote the defination of godfatherism as explained in the letter to your godson. ''A godfather in the developing or undeveloped nations of the world is seen as "a segment of the political process as well as the figure, standing against the intellectual extrapolations originating in, and also sustained by the media". (Quoted from Salawu (2009). Further, in the view of Ukhun (2004), strictly, the godfather is simply a self-seeking individual out there to use the government for his purposes. The cost of this incidence is enormous to the state as what usually obtains is that when the incumbent godson is at pains to satisfy the whims and caprices of the godfather among other competing demands on the scare resources of the government, the interest of the larger number is savagely undermined.
From the above, it could be maintained that, a godfather is not necessarily a bad person depending on the personality of that individual. This brings me to the question dear Saraki, what is your personality? Are you '' a segment of the political process as well as the figure, standing against the intellectual extrapolations originating in, and also sustained by the media''?, A self-seeking  individual out there to use the government for his purposes? Or, a person who '' makes available the wherewithal necessary for his proteges to live a fulfilled life? For your information, only your close aides and benefactors see you as a good figures because they derive from your lick-age, the generality of Kwarans home and abroad see you as a self seeking individual stocking the prospective growth of the state of harmony.
Many in the state watch with amusement, how you extort the state through Governor Ahmed, building a close to N4billion worth of mansion with state fund in the name of pension. They are also aware of the over N100million allowances you earn from the state government,apart from being the DE-facto commander in chief,with Governor Ahmed as your foot soldier. While the state continue to wallow in poverty, you continue to amass wealth unreasonably for pursuing a fruitless journey to be relevant at the national level. The state government continue to cry of low income, yet, you continue to consume the larger percent of the low income of the state. In my view, this is not the way great leaders are made, neither is it a way to be a good godfather. Yes,you may be regarded as Sai leader,but to be honest, you are a bad leader.
Mr. Saraki, looking down memory lane, the first time I saw you was in 2003, when as a young looking innocent man, you came along with your father to my area to campaign for your governorship election. On that faithful day, In you, i saw an innocent man used as a tool to further the desire of his father,but at that time, there seems to be no other choice for your father if he is indeed ready to give it all in the 2003 electoral contest.
Considering how politicians easily have conflict of interest, how can a man spend his entire life fortune in an election on a candidate that could eventually betray him? Certainly not wise, so your father chose you his son as a sure bet. If your father had to go indebted to an extent of folding up a bank (Society General Bank) with depositors fund from poor and rich citizens alike, if he had to sell some of his properties to ensure victory in an electoral contest and if the much touted ''eli na owo mi tan'' no longer became tenable as a result of the monumental challenge that he had to confront, it has to be his child, a guarantee that his investment if successful would be secure without fear of betrayal. And finally, the investment paid, as you emerge governor. Thanks to the political strategy devised by the late Kwara strong man,plus the bank deposits of ordinary citizens. You of all people should know that, if not for the owo alata, owo elepo, owo oni iru and owo oni iyo spent on your campaign, it is very unlikely that you would emerge as governor. So, you should be thankful to those who had to suffer for you to be governor, not pay them with this cruelty and inhuman governance.
While discussing the choice of who should be supported in 2003, an elderly man who make a strong case for your candidature then stated that, he watched a TV programme where you were interviewed on issues and how you intend to pilot the affairs of the state if elected. He noted that,during the programme, you were asked if you understood the problems confronting the state and according to him, since I didn't watch the programme myself, you said, yes. You explained in the programme that, although, you may have not suffered before, you may not have gone hungry due to being born to privilege parents, but certainly, you said you have seen poverty and hunger in its manifestation from people who usually come to your fathers house to eat eba. You promise to alleviate poverty. The elderly man then concluded that, indeed, you understood the problem and for that reason, he would cast his vote for you. I ask you today, did you alleviate the poverty of those coming to eat eba as promised? No.
The elderly man also stated that, you were further asked about the plight of the civil servants which you responded excellently. You stated in the programme that, when you heard that Kwara civil servants earn about N9000 as salary, you inquire if it was a weekly wage or monthly salary, but you learn it was a monthly salary and you condemned the incumbent governor, Late Admiral Muhammed Lawal,lambasting him for paying such a meager income to hard working civil servants of the state. You equally promised to improve the civil servant earning and give them a better life. For this and many more reasons, the elderly man said truly, you are the man for kwara in 2003. However, after you emerged and spent good 8 years as governor of Kwara State, the salary of the civil servants in the state didn't improve by one kobo, instead, it went down through unreasonable imposed taxes. How so Mr Saraki?
Furthermore, having exhausted your 8 years tenure as governor, Governor Abdulfatai Ahmed emerged through your support, but instead of allowing him govern as you did, you choose to be the governor by proxy, continuing your inhuman governance, deciding who takes what, when and how. You decide which contractor is to be awarded, which project to be done, how much to be committed and when it should be paid. Rumor have it that at a time, the incumbent governor could only sign contracts below N10million by himself, anything above that is directly handled by you it was rumored. This is apart from the fact you appointed above 80% of all appointments in the state including those in the Local Government.
Sir, this attitude of yours is said to have constrained the governor, denying him an opportunity to use his God given ability, intellectual prowess, managerial efficiency and discretion to pilot the affair of the state and as a loyal god-son, Governor Ahmed seems to be contented with not trying to govern his way by denying you these unworthy and undeserved privileges to avoid provoking your wrath which may likely disrupt the current fragile peace enjoyed in the state. This docile attitude of his, has not only made him a subject of ridicule before the whole country, it has equally made the state suffer continues misdirection.
According to Salawu (2009), quoting Awolowo, O. opines thus;  '' democracy exists only when the people are free, periodically and at their will, to re-elect or remove those who have been elected by them to administer their affairs. It is when this freedom exists that man can grow into the self-reliant and fearless creature that God intends him to be. But the moment a single person or a group of persons contrive to put themselves in a position where they become a law unto themselves, and are not amenable to the arbitrament of the people under their jurisdiction, they become a menace to their fellow men" (Salawu, 2009).
The above description seems of apply to you when you assume to be a law unto yourself, assuming overlord over the constitutional elected governor and imposing yourself in a manner that deny him a right to lead. And with your greedy accumulation of wealth,consuming what is ordinarily meant for the people, you have now become an unwanted menace in Kwara state.
Again, as part of your fruitless effort to make national statement, you declared you presidential ambition and after about a week of such official declaration, you suspended the ambition. Nothing shows how misguided the Kwara overlord can be. It was expected that, before an important announcement such as a presidential ambition can be made, adequate consultation would have been made, but after you claimed to have made all consultation and declared your interest, one week later, you suspended the plan, portraying you as a man with no purpose or a sense of quality judgement or decision. No wonder Kwara have continue to suffer mis-governance due to your ineptitude and bad decisions.
Sir, let me conclude by tell you that, many among your aides and allies are aware of your destructive leadership, but they are still with you to gain what they can. They know you are misdirecting the state, they know you are not making the right choices for the good of the people, they also know you will not last long if this continues, but they are still with you like those who stayed with Pharaoh until his demise.
Although, I have never written with a golden pen, but my words are golden devoid of pain, hatred and political consideration. Take them and be guided, ignore them and face the consequences. Sir, Stop being a greedy godfather like the godfather of Mobutu Seko of Congo. It was said that, Although, there were many leaders who have bastardized godfather-ism in Congo, the role of Mobutu Tsetse Seko in playing the super-errand boy for his godfathers in the West was damnable. He aided his god-fathers to suck-dry his country's treasury, just like Governor Ahmed is aiding you now, while equally helping himself through corrupt enrichment of his foreign accounts. When his godfathers sensed dangers in their continued fraternization with their godson, and the exposure of their unholy alliance, he was forced into exile where he died ignominiously.
You don't have to die ignominiously like the bad godfather of Mobutu Seko, just be reasonable in your godfather-ism. Chief Obafemi Awolowo who left a legacy of continuity and astounding legacies of institutional structures and men is also a godfather, godfathers don't have to be entirely bad to maintain the status quo.
Abdulrazaq O Hamzat (MR.RIGHTS)