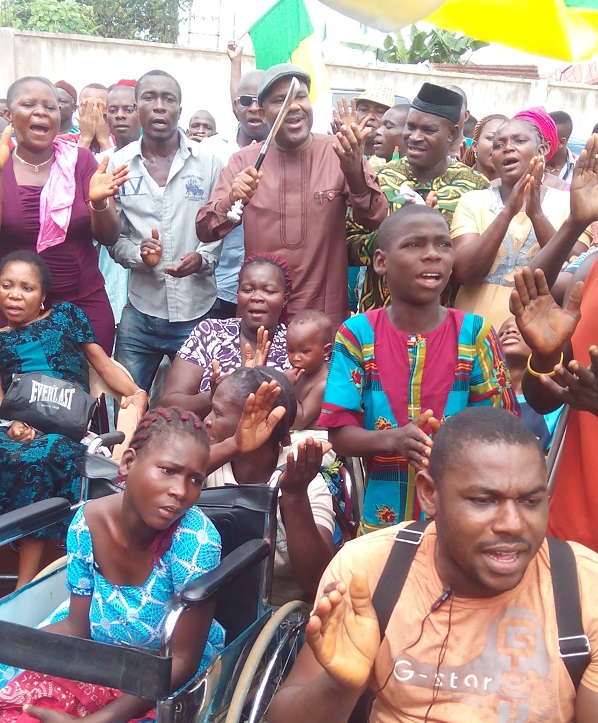 ·  Ngige Extols Lawmaker
BY ABUCHI IFESINACHI, AWKA
The member representing Ogbaru Federal Constituency and Vice Chairman, House Committee on Information, Hon. Victor Afam Ogene has joined the All Progressives Congress (APC) in Anambra state.
Ogene, left the All Progressives Grand Alliance (APGA) with over 1,500 supporters of the party from Ogbaru, during the endorsement of Senator Chris Ngige by his party for second term in Anambra central senatorial zone in Awka.
Also, another chieftain of APGA, Chief C. Anakor from Njikoka and a pharmacist in Awka South local government area, Michael Ozoemene defected to APC with their over 1,000 followers in two in the two council areas.
The chairman of APC National Assembly Primaries Committee, Rt. Hon Gideon N. Sammani, while declaring Ngige winner described the Senator as a grassroots politician and man of the people.
He said, "the other political parties are troublesome ones not only in Anambra but through out the country and that is why APC has come for change in Nigeria"
Ngige, while addressing the crowd at Finotel Hotel field in Awka, said he was humbled by the affirmation vote by the APC members in the central senatorial zone to represent them again.
"I accept this challenge, APC is very much alive in Anambra state, they have done everything possible to kill it, it has not worked"
"APC is battle ready for the elections in the state, not only that we are going to recapture the central senatorial seat, we are going to make forays in so many areas in the state, they have been lobbying us but we will not agree with them"
While responding on behalf of all the APGA decampees, Ogene said that apart from the chieftains of the party already introduced that decamped with him, he said two others prominent indigenes of Ogbaru Evangelist Dan Obi and Steve Nnaemezie were heavy weights.
The lawmaker announced that the two were going to represent Ogbaru I and II state constituencies on the umbrella of APC at the state House of Assembly in 2015.
According to him, "Change has started in the South East, by 2018, APC will sweep Anambra Governorship, and the party will take over Abia, Ebonyi and Enugu states in addition to Imo"
He was said to have been cheated out of APGA during the party's primaries in his area on the orders of the executive.
Meanwhile, the 247ureports.com gathered yesterday that majority of the members of the Peoples Democratic Party (PDP) and APGA are battle ready to quit their parties for APC.
Again, it was said that the aggrieved persons in two of the parties had perfected plans to dump their respective parties for APC before the end of December, 2014.