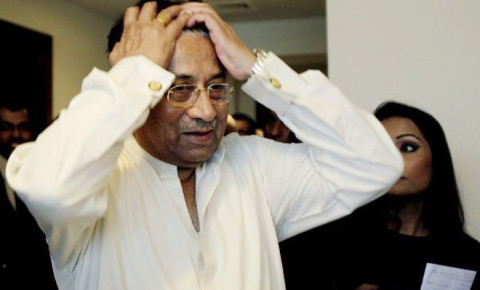 Police say Pakistan's former military ruler Pervez Musharraf has escaped an assassination attempt, with a bomb going off on a road minutes before his convoy's arrival.
The alleged blast took place on Thursday morning, and police official Muhammad Naeem said the explosive was planted under a bridge on Musharraf's route from an army hospital to his house in the capital Islamabad.
"Musharraf was the target and it was a narrow escape," Naeem said. No one was killed or hurt, he added.
Musharraf, who led Pakistan from 1999 to 2008, returned from self-imposed exile in March last year to fight in general elections, but was barred from taking part and has faced a series of legal cases.
He claims to have been receiving several threats to his life since his return to Pakistan and explosives have been recovered from around his farmhouse residence on a number of occasions.
Last month, a court charged Musharraf in a treason case for suspending the country's constitution and putting an emergency rule in place in 2007, making him the country's first army chief to face such a prosecution. He pleaded "not guilty" to each of the five charges brought against him in the court.