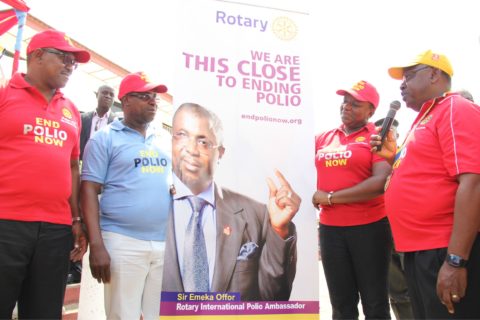 On the 27th November 1999, a house wife in a remote village of Jigawa state, Mrs. Amina Abubakar called on her three year old son, Umar to come down from their old flaccid foam to eat masa, a local stable food. Her son had been down with fever and there was no money for hospital treatment but he appeared to be getting better. The little boy tried to get himself out of the bed but could not and as he continued to try, he found out he had lost the ability to do so and he began to cry for his mother's help. His mother was both angry and concerned that he could not do what he used to do without any stress thinking he wanted to be doted on. As she carried her little poor son out of the bed and dropped him on the floor, his limb went numb and it was polio. She was alarmed and shouted for help because she didn't know what to call whatever that had befallen her son as she had neither heard of polio nor its vaccine.
Umar will be eighteen this year and had since graduated from crying for mother's help to that of the society where he crawls through the streets begging for alms. His destiny, talent, life's dream and whatever contribution he would have made to the development of the society are all crippled by polio which first crippled and terribly twisted his two legs. The distasteful effect of polio is not only physical but also robs one of the stability of his emotion, mind and talent. This is one in thousands of dreams, talents, ambitions and contributions polio have robbed the world of and its undesired effect can never be overestimated.
On Saturday, the 1st day of March 2014, Sir Emeka Offor the founder of Sir Emeka Offor Foundation (SEOF) and Rotary International ambassador in partnership with Rotary International kick started another round of polio inoculation nationwide. The ceremony took place in Oraifite, Sir Offor's country home. A good number of dignitaries participated in the exercise which included Mr. Peter Obi, the executive governor of Anambra state and the state health ministry, former senate president Dr. Ken Nnamani, Sen. Chris Anyanwu, minister of culture and tourism Edem Duke, former minister of defense Adetokunbo Kayode, traditional rulers among others. Children numbering over one thousand were vaccinated by these dignitaries at the ceremony and item seven was not left out from their program with SEOF making sure that every child immunized at the event got #400 each. At the ceremony, Mr. Obi the governor of Anambra state reinstated his support for Sir Emeka Offor and his foundation and asked other rich individuals to emulate him and pick another challenge in the society through the instrumentality of foundation since Sir Emeka Offor has taken on fight against polio. This event was not only to kick start polio immunization but sensitization and awareness which will make sure there will never be another Mrs. Amina Abubakar who never heard of polio which of course the press were on ground to carry out.
It was in this ceremony that Sir Emeka Offor, the chairman of Chrome group answered the question on many minds which has to do with what drives his passion and resolve to seeing that polio is irreversibly eradicated since he was never a victim of it nor anybody in his immediate family and also with the fact that Anambra state is polio free. In his words, "I have been willing to bring joy, happiness and bring relief because polio is a very dangerous disease. I have witnessed from my relationship with the northern part of the country where I was born and where this disease fully exist which has the capacity of making a child unable to walk and the child becoming disabled. When you go on the streets of most parts of this country, those children, those adults you see that crawl on the floor who are considered beggars they are all as a results of polio. That is why I want to make sure that this particular disease is eradicated so that children will be free of polio in this country and in the world.'' He also implored mothers to make sure that their children are properly immunized as the vaccine is not harmful in anyway. All his passion and effort is to prevent our children who are susceptible to contacting polio from falling into the same life like that of Umar mentioned above.
At last, he has told the world why he is so passionate to see a polio free world. Unlike many other foundations, SEOF's fight against polio was not influenced by personal experience or that of close relations but born out of undiluted urge to help the needy. The drive towards achieving this dream has led him into partnering Rotary International in providing them with logistics support and funding making him the number one financier of the club in the entire black race in its 109 years of existence. He has provided them with well over 2.2 million US dollars in the last two years. Apart from making sure polio is eradicated in Nigeria, he wants it entirely eradicated from the surface of the earth especially in Pakistan and Afghanistan, the two other countries where the virus still exist. Apart from polio eradication, SEOF is into various other charity toward a better society like initiatives to enhance maternal and child health, education for literacy projects, peace and conflict resolution studies, book for Africa project, etc. Sir Emeka Offor is a man with inexhaustible desire toward making difference in others' lives especially the less privileged in the society and it will be good, if other wealthy individuals will emulate him.
Obi Ebuka Onochie
mac_godson@yahoo.com
Port-Harcourt.