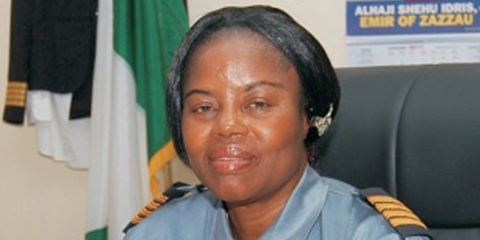 Just this afternoon, we had hardly landed the Sam Mbakwe Airport at Owerri when I spotted an unusually unique aircraft. My amazement increased when I noticed a woman making her way to the aircraft. One of the flight attendants who was my friend of 45 minutes while we were airborne identified the woman as Capt. (Mrs) Chinyere Kalu, the first woman in Nigeria to dare fly an airplane. While I was still relishing those inspiring lines, somebody drew my attention to what eventually killed my joy:, that the Captain was among the 100 Nigerians honored at the  colorful Centenary event in Abuja onTuesday only for her to be sacked on Friday by the same President who accorded her full compliments and accolades not long ago.
Until, Friday the 28th of February, 2014, Abia State born Capt. Chinyere Kalu was the Rector and Chief Executive of Nigerian College of Aviation Technology (NCAT) (formerly Nigerian Civil Aviation Training Center), the largest aviation training institute in Africa surpassing even those of South Africa. Prior to that, she was the Head of the College's Flying School as an instructor on contract agreement.
I am worried. I am confused. I am distraught. I am reviewing Nigeria at the moment and feel like leading a dizzy height protest for somebody to tell me why this honorable Abian, one of Nigeria's 50 accomplished women, proud recipient of the famous Centenary Awards, decorated in England and revered in the Aviation sector would be made to tumble from the highest rung of respect to an unprecedented low life.
What did Chinyere Kalu do to deserve this manner of treatment? Who authored the script that stripped her of her honors? Is there anything about her towering integrity that we were not told? What did she do between 25th and 28th of February to warrant her infamous removal as Rector of NCAT? Did she fly the aircraft that brought the bullet proof cars? Was her College appointed to train the people that will eventually manage the treated cars?. Just too many thoughts running riots in my minds.
I know that Dr. Goodluck Ebele Jonathan is a detribalized Nigerian. I also know he is a foremost friend of Igbo and particularly a friend of  the Government in Abia State led by his bosom right hand man Chief T.A. Orji. I do not want to throw ethnic cards here because I give Jonathan credit for doing his best to spread his appointments across all divides.
I know very well that the removal of Capt. Chinyere Kalu who by the way is a proficient professional; will sure throw up varying emotions. Since Jonathan is not a violent politician, I want to appeal to his emotion at this time. Let him not kill the Chinyere Kalu dream, let him not prematurely extinguish the pride of women, Ada Ugo Abia, hope of the weak and an inspiration to the girl child. The Chinyere I saw at Owerri Airport on the 6th of March is a priceless Eagle who deserves more than being a group victim of reorganization in the Aviation Sector.
GEJ has the character of always going the way of spirited Nigerians. I will appeal to him to look closely at the Captain's matter and do the very needful. Capt. Mrs Chinyere Kalu is an ardent believer in the Nigerian Project. Let us not extinguish her prematurely.
Franklin James Nwankwo writes from Enugu