Loading ...
The Presidential elections have come and gone, leaving in its trail a lot of dust. Gratefully our Presidential flag bearer, His Excellency, Muhammadu Buhari, GCFR, emerged victorious in a keenly contested election. Like in every contest there must be victors and losers. We felicitate with him and all APC candidates that won seats in the National Assembly and State elections and give kudos to those who tried but were not lucky this time around. One thing pretty clear is that those that lost put up a good fight and they live to give another shot at it in the near future. To God be all the glory!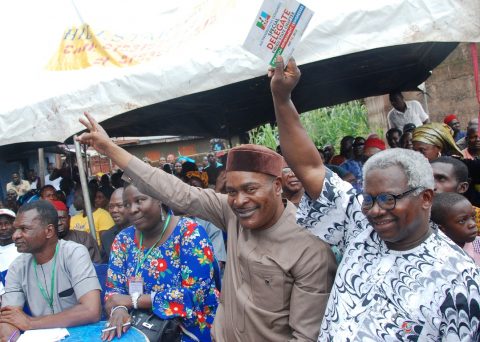 Now election is over the question now is: what is the fate of APC Enugu state chapter, as the dust of the Presidential, National Assembly , Gubernatorial and House of Assembly elections in the state settles down? Put differently, what are the chances of APC in Enugu state going by its poor outing in the state where the APC Presidential candidate could not garner the mandatory 25% of votes cast, lost Guber , National and State Assemblies seats 100% to PDP?.
Anyone's guess is as good as mine but the fate of APC Enugu state chapter is indeed disheartening. As a dedicated Party person, I recall the zeal and commitment exhibited by all authentic APC members and supporters in the state prior to Sen. Ayogu Eze appearing on the APC scene. The APC family in Enugu state was cohesive and hopeful of a good showing in all her elections until Sen. Ayogu Eze, an erstwhile PDP stalwart and an Abuja Politician, deceived our Party leaders to allow him join the party on the pretext that he has the financial muscle and popularity to deliver Enugu State to APC in the February/ March 2019 elections. Since Ayogu Eze joined the party, APC has not remained the same again. His politics is divisive and acrimonious and his penchant to grab everything has alienated the vast majority of APC members in the state which triggered widespread disenchantment amongst APC supporters and hence the poor showing of the party during the Presidential and National Assembly polls.
Going down memory lane, I joined APC out of my desire to impact my community and change the conditions of living of my people whom I cherish so much. It was a very difficult decision but I was determined to make a difference. I personally spent my hard earned money to stage an impressive open declaration to join APC Enugu in my hometown of Amoli Enyimba in Awgu LGA, promoted our party APC in a remarkable way and this singular action of mine incurred the wrath of AIT TV management who frustrated my ongoing TV programming with them by altering my airtime from Saturday 10pm to Thursday 11:30pm without notice, which caused me to loose so much viewership and customers which I am yet to recover till date. Finally, AIT increased the cost of my airtime astronomically in order to frustrate me from airing the program in response to my joining a rival political party.
Secondly, in my quest to represent the good people of Awgu/Aninri/Oji River Federal Constituency I committed my personal resources to visiting all the 41 wards in my constituency; visited the LGA Executives of the party in the 3 local government Areas; organized a football championship for the youths of the 3 local government areas; organized an exercise/health delight for women in my Constituency, held an impactful summit and football championship for the youths of my constituency. Furthermore, I organized numerous other events to promote our party in the state, attended several party events in and out of my constituency and senatorial district to enhance the visibility of our party. All these were at the great expense of my business, which I abandoned for weeks in order to participate in the ward, local government and state congresses.
Needless to say I ran my race for the position of House of Representatives for Awgu/Aninri/Ojiriver Federal Constituency with dedication, vigor and determination only to be asked by the party leaders in the state to step down for another candidate and inspite of my soaring profile as a grassroots mobilizer I agreed to allow peace to reign. However, I felt betrayed when my ticket was handed to an unknown person who had just joined the party with Ayogu Eze contrary to my understanding that the ticket was to be given to the candidate from Aninri LGA. This was the beginning of backstabbing and erosion of confidence, which was perpetrated by Sen. Ayogu Eze and his camp of traitors. Atleast, if you have an agreement with someone courtesy demands that you honor it and if there is a reason to change same it is only proper that you inform such a person.  The one that finally broke the camel's back was that I was informed by APC Enugu State leadership that I was being strongly considered for Deputy Governorship slot to challenge the rival Party's Man/Woman ticket in the state only to be shortchanged in the process for an unpopular man as the Deputy Governorship slot without dialogue. But as God would have it I was sought after to deputize a man who values competence above mediocrity, Barr. George Tabugbo Ogara. When God does a thing he does not share his glory with anyone!
Since joining APC in the State Sen. Ayogu Eze has never taken steps to unite the party. He has rather fuelled crisis and divisiveness, via an unholy alliance with Mrs Juliet Ibekaku Nwagwu. With Juliet who was the leader of the Okey Ogbodo faction where I proudly belong now, Ibekaku was appointed to by the Minister of Foreign affairs, Mr. Geoffrey Onyeama to attend a negotiation meeting with Ben Nwoye faction so they can arrive at an agreement that will end faction in APC Enugu but Ibekaku in her desperation negotiated only to secure her senatorial ticket abandoning her group, therefore truncated the Minister's desire to end faction. Ayogu made sure that the two factions in Enugu widened irretrievably. He joined the party with some of his friends from PDP and arm-twisted the party to allocate tickets to some of these friends of his who had contested primaries in PDP and lost before defecting to APC. These are the people now working against our party in the state and causing us electoral misfortunes. The authentic APC members in Enugu state were sidelined and dumped by Sen. Ayogu Eze. A house divided against itself cannot stand. It is instructive that when the members of APC reconciliation committee visited Enugu State, Sen. Ayogu Eze was advised to place calls to the aggrieved members and pacify them but he refused because he has been brainwashed with the supremacy of party leaders undermining the strength of genuine members of APC Enugu State.
The Presidential campaign visit provided yet another golden opportunity to Sen. Ayogu Eze to mend fences and reunite the APC in Enugu state but he failed woefully. The Hon. Minister of Foreign Affairs, Mr. Geoffrey Onyeama did all that is humanly possible to downplay any feuds by providing over 70% of the funds for the activities yet allowed Sen, Ayogu Eze to take charge as it were in order to create an atmosphere of friendship by attending joint meetings even though we were already in court challenging our stolen mandate at the primaries. Our resolve was not to wash our dirty linen before our National Leaders who also tried his best to foster peace among the factions during the Presidential campaign visit. He succeeded momentarily as we all obliged his request and co-operated with the Sen. Ayogu Eze's team to achieve massive turnout and well organized outing but that effort was truncated by Ayogu Eze's and his team who totally failed to acknowledge the efforts of our team and even that of the Hon. Minister but took all the credit.
Sen. Ayogu Eze never launched his campaign and never toured the LGAs of the state. Everything points to an orchestrated plan to foist Sen. Ayogu Eze on Enugu APC in order to weaken it and cause us to lose the state to PDP, record has it that he has never invested in APC even during the primaries because he was foist on us. The only visible campaign in the state was the touring of the 17 local government Areas of Enugu state by Honourable Minister Mr. Geoffrey Onyeama, accompanied by D.G of VON, Mr. Osita Okechukwu and all members of Kwusike Political family, an all-inclusive political platform, brainchild initiative of Mr. Onyeama, where of course record has it that on the first visit, Sen. Ayogu Eze sent his thugs to disrupt the rally meant for President Muhammadu Buhari and all APC candidates.
President Muhammadu Buhari fared so poorly in Enugu State compared with Abia State in Eastern Nigeria. Abia State has an incumbent PDP governor, just like Enugu state and Abia State APC also has factional issues yet they were able to deliver one Senatorial seat to APC ,won some House of Representatives and Assembly seats as well as secured over 40% votes for President Muhammadu Buhari because they carried out aggressive campaign rallies round the state, organized an impressive Gubernatorial campaign flag off, which unveiled all other candidates of APC then they sustained it with vigorous LGA campaigns but the reverse is the case in Enugu State; no Guber campaign flag off, No LGA campaigns, rather Sen Ayogu Eze and his camp are preoccupied with chasing after campaign funds only to share amongst among themselves, smile to the bank and disappear, and wait for the next tranche. They have zero passion to deliver votes for our candidates. The result is what we are seeing today!
It must be noted that Sen. Ken Nnamani also tried again to unite both sides by ensuring that both factions get half of the campaign fund to collectively deliver votes for President Buhari and other APC candidates through agents instead of acknowledging his efforts and appreciating him the Ayogu Eze team went to town trying so hard to blackmail him and of course their plan worked, as they succeeded in deceiving Adams Oshimnhole to release the next fund in the tune of over One Hundred & Fifty Million which of course it was obvious that Ayogu used to finally file for appeal against an authentic Guber. Candidate Barr. Tabugbo Ogara. As if all these atrocities are not enough that Ayogu Eze group obtained the second tranche of campaign funds from APC National but yet again neglected the other side as well kept the fund to themselves hence the poor result recorded by Enugu State.
Despite this, I and some members of our camp worked tirelessly recorded success in our polling units. I delivered my polling unit for President Buhari by over 40%(30% for PMB in my Community Amoli,Enyinma  and 30% in my ward 9). I visited the 10 polling units in my community and 4 communities in my ward with my election duty car sticker and tag and spent my personal money since we were starved of funds but I couldn't allow, my political family and PMB to be disgraced in my community. Sen. Ayogu Eze's Deputy couldn't even deliver President Buhari in his polling booth, yet he parades himself as Deputy Governorship candidate, large number of our team successfully delivered PMB in their polls while those with stolen mandates ended up at INEC office in protest ( hmmmmmm).
From all indications, Sen. Ayogu Eze and his team are working for PDP. For instance, Mr. Okey Ogbodo/Ogara faction gave ticket to only APC faithfuls irrespective of their status while the faction led by Mr. Ben Nwoye/Ayogu faction foisted losers of PDP primaries on the APC in Enugu State. Also, Barr. Tabugbo Ogara of Ogbodo faction picked a woman loved by the masses and better positioned to challenge the rival party's ticket as Deputy, while Ayogu Eze chose an unpopular man as deputy against all good counsel. Embattled Ogara spent so much money seeking for justice ( fund he would have ordinarily put into campaign while awaiting support from Presidency ) , Party cabal supported Ayogu , couldn't even put in a dime to herald campaign with all the time he was availed and support he enjoyed, Ogara personally provided his campaign office in a strategic location while Ayogu waited for party leaders to donate a campaign office, Ogara branded over 20 hummer buses months before the primaries with the pictures of President Muhammadu Buhari on them while Ayogu even after he was foist on APC faithful couldn't brand a car until one of the leaders donated 10 buses which he also attached 10 driver to who will everyday return the buses back to his designated location (I laugh), Ogara has been an APC faithful who played a vital role in APC before 2015 election as well as handled and won numerous cases in favour of APC till date while Ayogu on the other hand was in PDP frustrating APC only to emerge a month to primaries to steal our mandate, with these few points of mine, Who is still in doubt now that Sen. Ayogu Eze and his team only joined APC to destroy all that we have labored for?
As for those who lost in the National Assembly elections, starting from Senate to House of Representatives, they should have known before that pride heralds the fall of a man, irrespective of who you perceive yourself to be. They should have consulted widely and met everyone necessary in a zone or constituency where they were seeking to be elected but they were so full of themselves so they ignored people like they don't matter not taking cognizance of the fact that the actual APC members were the ones passing through percussions while the people they are working with (people who lost PDP primaries who were given APC tickets) only have structures under PDP therefore may not have genuine persons to deliver them so they played into the hands of the PDP moles and of course the result was absolute failure then, they went further to embarrass us by constituting nuisance at the INEC office accepting  even before results were announced.  I really sympathise with Some of the innocent House of Assembly candidates that were sent to war with weapons and that led to their helpless retreat at the polls.
On the 5th of February, Federal High Court judgment sacked Ayogu Eze and issued a court order demanding an immediate recognition of Barr. G.T Ogara as the authentic governorship candidate and that wasn't done, when we  reached out to INEC on why Ayogu's name was still on the list thereby disobeying the court order, we were made to understand that it is the duty of the party leadership to send the new names in cognizance to court order. Ayogu Eze was finally expunged from the final publication of INEC list on the 4th of March,2019 without inserting Ogara's name but rather indicated court order/ party yet to submit name of candidates.
Judiciary is perceived as the last resolve of the common man, so I wonder, Party leadership did not obey court order that mandated them to effect changes in the INEC Guber list recognizing Ogara as the authentic candidate , the same party leader assisted an obvious PDP Stalwart to secure judgment in the court of appeal against a known APC faithful.
Ayogu Eze's appeal was argued in the Court of Appeal on the 5th of March after which the presiding justice announced to both parties and all present at the court that judgment will be given after the guber election on the 9th of March with no specific date given and that was it. Surprisingly, we suddenly got a notice that judgment has been rescheduled for 7th of March and of course we instantly perceived conspiracy. To further confirm our suspicions, Ayogu who had billed to return on the 5th after the hearing in appeal court and messages sent out on all APC platform that he will be received at the airport (a plan I tag show of shame, an unremorseful leader who still feel it was necessary that he be received with bought crowd even after he failed to deliver the president at Enugu polls), he suddenly had a change of plan, moved his return to the next day 6th of March, a night before his return, a messages was passed through APC Enugu platform that Ayogu request for their members to converge at his Enugu premises on the 7th of March by 10am while appeal court judgment was billed for 9am while people should also be at the airport to receive him, they added that there will be lots of gift items. However this amounts to a clear case of preempting the ruling of the court judgment before it was delivered, lo and behold, people received him at the airport on the 6th of March and they went straight to his home where they held a meeting to boycott Saturday's election. Well they gathered at his residence on the 7th and immediately after the judgment was given in their favour with note that it was due to technicalities and not by merit, they swung into action and marched to INEC to constitute another show of shame; infact this time with evil intent of indicting an innocent rector. What a shame, Ayogu Eze, what have we done to deserve this from you? Ogara was the one who sent a message to all APC Enugu platforms informing everyone that Ayogu Eze's appeal was successful, yet Ayogu up till now haven't thought it wise to place a call to Ogara even after so many APC members especially from his team have openly advised him to do so. what height of pride and inhumane yet he is been assisted by our supposed National Chairman of APC, Adams. Now Adams let me ask you, are leaders allowed to take sides the way you do? Secondly have you ever made effort to call on the two Guber candidates to foster peace and it fails? Why do you have to disobey High Court order? why are you supporting a man that has never invested a dime against those that have invested so much to promote APC? what kind of leader are you, with your experience in politics, why do you have to believe fabricated lies against an APC faithful and acting upon that? Now that Ayogu has finally brought us shame, instead of us to allow the moles go back where they belong and start rebuilding, you people still want to rub it deeper on us by your horrible boycott plans, so it's now all about Ayogu right? Senate, House of Representatives and House of Assembly hundred percent won by PDP, of what justification will Ayogu win election here in Enugu and even if you are planning to rig, how do you intend to defend such result. Please channel the guber campaign fund to rebuilding APC Enugu State because a ruler like Ayogu Eze lack the leadership qualities to lead aright. Please don't foist an inconsiderate ruler on innocent people of Enugu State; Tabugbo Ogara would have been a better option. I have encountered these two men and God can bear me witness that Ayogu will be worse than Rochas Okorocha. How can he sneak into our party, stole our mandate as well as snatched from over 60percent of it from our worthy party faithfuls without dialogue.
Who will save APC ENUGU State? This question remains unanswered but the tough keep going.