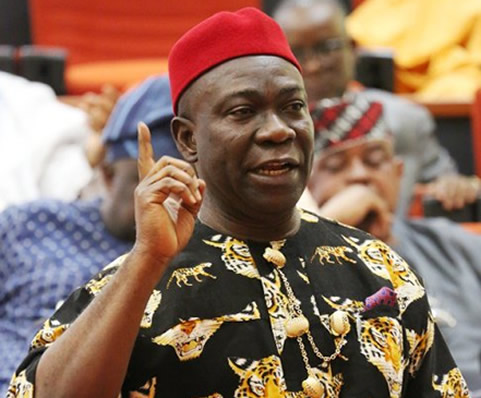 Since the emergence of Peter Gregory Obi, former Governor of Anambra State, as Atiku Abubakar's running mate, last October, the name of the Deputy Senate President, Sen. Ike Ekweremadu has been dragged around. What is being promoted even without facts is that Ekweremadu is not happy he was not the preferred choice. Now, the campaign of calumny has grown to reach that Ekweremadu for his angst does not want to play any role in the Atuku/Obi campaign and wouldn't care if they succeed or fail.

Some of these undertakers have dismissed Ekweremadu's sense of entitlement, querying what he has achieved as a senator representing a senatorial district in the South East to be deserving of even being consulted by the Party, which they say, has done so much for him with little or no reciprocation.
Oh Really?
Come to think of it, in Social Psychology, there is what is called Displaced Aggression. It compares fairly well with an Igbo adage, which goes thus: the chicken leaves the knife, which killed it to make face to the cooking pot. Displaced aggression can occur when someone cannot aggress towards the source of incitement or provocation, so instead takes it out on something posing lesser and behaves aggressively towards another individual that had nothing to do with the initial conflict. This is the fate of Ekweremadu, it seems.
Yes, there is a narrative setting up Sen. Ike Ekweremadu for slaughter. He is being heckled into a devil's alternatives position in the Atiku/Obi dawdling (some with good reasons say floundering) campaign – whichever option he takes he would have to take the blame if the ticket fails to deliver.

So, Ekweremadu has been an underperforming opportunist who has not represented Enugu West nay South East well? It does appear that in politics in Nigeria, the big idea remains to run whoever has anything to offer out of the way. Or, is it that some may be feeling eclipsed by the man's towering profile and should not be left to be the only cock crowing in the yard? Or, is pull-him-down the Igbo way of doing politics?
The documentation of the achievements of Ekweremadu as a senator along with the raving testimonies of communities he brought into light from total darkness is in the public domain. A ranking honourable member from Enugu West told me that about a decade ago; most of the communities in the senatorial district were without light and access roads. But today, 70% of these communities now have light and access roads among other crucial social amenities, courtesy of Ekweremadu. Performance certainly must have another definition for his hecklers.

With over 2000 projects and programmes and thousands of scholarships to postgraduate to his credit, Ekweremadu probably is the all-time performing senator despite the claim of those who, catching at anything, would want Ndigbo and Nigerians to believe that the senator has not done anything to deserve any honourable mention.

Enugu-Onitsha and Enugu-Port Harcourt Expressways as well as 2nd Niger Bridge are the Federal Government projects in South East often called out by such persons to justify their vilification of Ekweremadu. Their argument has been that Ekweremadu as Deputy Senate President for so long ought to have influenced their timely completion.
Such people need to be reminded that Sen. Ike Ekweremadu is a legislator (not President or Governor) and the role of the legislature is to ensure that new and ongoing projects receive adequate funds during budgeting. And a cursory check at past Nigeria budgets would show these 3 critical projects have received billions of naira in appropriation in the last one decade.
However, budgetary allocation is one thing and actual releases and cash backing is quite another. Budget implementation is essentially an executive responsibility. During oversights performed by committees of both Houses of the National Assembly, the much that can be achieved by the legislature is ensuring that the released funds are ploughed into the stipulated projects accordingly.
Let it be known by such detractors that the legislature cannot force the executive arm to release funds, and since 1999 the nation returned to democracy, capital expenditure has been hardly implemented up to 50%.

Now, fairly understanding the workings of government and the roles of legislators in budget formulating, passing, funding, and completion of projects, one can easily see that such narratives being promoted against Ekweremadu and other South East law makers have only glossed over certain facts, thus showing such ill-conceived positions as instigated by grievances over personal losses rather than common good.

They could blame Ekweremadu and other South East law makers only if these strategic FG projects in the South East were not captured and well provided for in the budgets over the years. Apart from budgeting process, a legislator can only lobby and lobby. And I am aware Ekweremadu particularly has done that greatly and several federal projects in the South East came through the efforts of a few like him.
It is equally to the credit of Ekweremadu's sagacious leadership that the South East now boasts of an international airport. It is on record that he led the delegation of the South East Senators to request the long-awaited and politicised Enugu International Airport from the late President Umaru Yar'Adua in November 2007. Yar'Adua instantly directed the former Minister of Transport, Diezani Allison-Madueke, to issue a statement designating the Akanu Ibiam Airport an international aviation facility.

How many know that since the FG said it had no funds to immediately capture the upgrade of the facility in the 2008 budget, Ekweremadu mobilised the Enugu State Caucus of the National Assembly to channel all the funds for their constituency projects to the airport project? Yar'Adua, who was touched by this sheer selflessness and determination, then directed that the funds they so consolidated be augmented to get the project into the 2008 budget.

Even when contract for the airport upgrade was finally awarded, former Minister of Aviation, Babatunde Omotoba, told a rather baffled South East, while on the inspection of the upgrade project in 2009, that he was not aware Enugu had been designated an international airport. Thus, it was after lobbies that led to the appointment of Mrs. Fidelia Njeze and subsequently Senator Stella Oduah (and later Osita Chidoka) as Ministers of Aviation following the emergence of former President Goodluck Jonathan that real progress was made. lt was Njeze's first assignment in collaboration with Ekweremadu that ensured the gazetting of the Enugu Airport by the FG as an international air facility.
Appointments of Senators Hope Uzodimma and Ayogu Eze as Senate Committee Chairmen on Aviation and Works respectively, also brought legislative pressure to bear and were no coincidences with Ekweremadu as Vice Chairman of Selection Committee of the Senate.

It is difficult to find a legislator, who has achieved so much even as a Senate President. Such other projects to his credit include the several federal roads connecting Enugu State and Ebonyi State. The truth is that the reason Jonathan could not construct the East-West Road after six years; the reason Obasanjo could not construct Lagos-Ibadan Expressway in eight years; and the reason Abuja-Minna Road is in bad shape despite producing Generals Ibrahim Babangida and Abdulsalami Abubakar is the same reason Enugu-Port Harcourt Expressway, Enugu-Onitsha Expressway, and other signature projects were not done – executive priority. Those fighting the coming of Nigeria President of Igbo extraction should please note.
Ekweremadu snatched the position of Deputy Senate President from the APC. Since then, the ruling Party has fought tooth and nail to oust him along with Senate President, Bukola Saraki. The Police, the EFCC and the Judiciary have been deployed to hounding Ekweremadu. On the floor of the Senate, the ruling Party offered Ekweremadu the respite of joining the APC as a pre-condition for truce and peace. For his commitment to the survival and repositioning of the PDP, he refused taking the cheap route many like Godswill Akpabio gladly took to peace.

It is on record that the IG's Special Squad invaded his official guest house in search of nonexistent stockpile of arms. Police also held him hostage at his official residence on the day APC wanted to forcefully remove him and Saraki as well as prevent the defection of APC Senators to PDP. Even the Presidential Panel headed by Obono-Obla, a man with questionable WAEC certificate, was also unleashed on Ekweremadu for refusing to disobey the Constitution and kowtow to that body unknown to law.
The FG arraigned him and Saraki in 2015 over trumped forgery of Senate Standing Rules, a crime they weren't even in a position to commit. It didn't also matter that the police investigation report filed as Proof of Evidence didn't mention Ekweremadu or Saraki or that the report was a subject of litigation. FG eventually withdrew the lawsuit since it had no iota of truth against both men.
Yet, Ekweremadu refused to submit to APC or betraying his party, the PDP, the same party, which now postures as if he has no stake in it. Otherwise, why would the PDP constitute the Campaign Council the first time without including Ekweremadu, and rejigging it later grudgingly to include him without any role?

Those who claim Sen. Ike Ekweremadu has not been playing any visible role in the Atiku/Obi campaign should tell Nigerians in what capacity he should be doing so. Are they saying Ekweremadu should just throw himself at the campaign?

If truth be told; the PDP has simply decided to take its chance with the returnee members who once deserted the Party and left it carcass and President Goodluck Jonathan stranded. Who does not know where the rain started beating him will never know where he took shelter. There wouldn't have been any Party to return to were it not somebody like Sen. Ike Ekweremadu. Let him be!
• Dr. Law Mefor is an Abuja based Social Psychologist, Journalist and Author; Tel. +234-803-787-2893; e-mail: drlawmefor@gmail.com