Kwankwaso, Son In-Law Looted Funds For 220km Road To Campaign Against Buhari – Ganduje
The Kano State governor, Abdullahi Ganduje, has alleged that his predecessor, Rabiu Kwankwaso, had colluded with his anointed son in-law Abba Kabir Yusuf to loot funds meant for the construction of 5km roads across the 44 local government areas of Kano and also built substandard projects in the state.
According to Daily Focus, Mr Ganduje made the remarks on Saturday during a visit to the Abubakar Audu Underpass bridge at Gadon Kaya area.
The underpass is undergoing renovation to mend cracks that have destroyed large portions of the bridge.
The governor criticised Mr Kwankwaso for spending billions of naira on 5km roads in the 44 local government areas of the state (a total of 220km) only to leave them as white elephant projects.
"When you see their (Kwankwasiyya) gubernatorial aspirant, ask him where they took our money for 5 kilometer roads. That money was stolen and used to campaign for the presidential primary election, against Buhari, in 2015", he was quoted in a statement by Ameen Yassar, Director-General, Media and Publicity, Government House, Kano.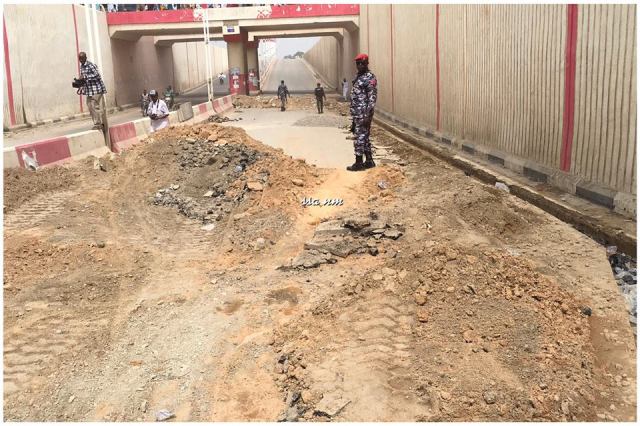 He regretted that the Abubakar Audu Underpass is already facing imminent threat of collapse less than four years after it was constructed, adding that this is due to the hasty manner the project was executed.
"This underpass was hurriedly built and named after Abubakar Audu, an indigene of Kogi state, who did nothing for Kano state. The leader of the collapsing, disgraced Kwankwasiyya, based this project on deception, shaky foundation and false promise. This is typical of the type of inferior quality projects he did", the governor lamented.
"The man said he has done a lot of projects. These are the types of projects they have done, shoddy projects and they want their aspirant to come and continue with such trash.
"Today, God has shown us that the work he did was not genuine work. A lot of money was spent on this thing and you can see now that we are spending money to repair it", he asserted, pointing out that his administration was determined to ensure speedy renovation of the project," he added.
The underpass bridge has already been closed for motorists while the state government has immediately mobilized contractors to the site, to retouch the project to save lives and property.
Mr Ganduje therefore, urged commuters plying the road to exercise patience as the contractor was up and doing to ensure that the underpass was repaired in good time.
In the same vein, he assured that Yahaya Gusau road, which was also started by his predecessor but was abandoned midstream, would be completed to facilitate flow of traffic along the BUK road – Sharada axis in Kano city.
–
Source: https://dailynigerian.com/kwankwaso-son-in-law-looted-funds-for-220km-road-to-campaign-against-buhari-ganduje/