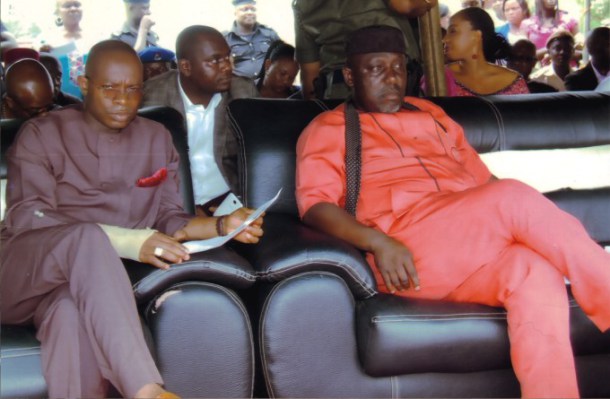 A United States of America-based educationist, Professor Chris Nwokeji has bemoaned the level of decay of infrastructure and economic strangulation in Imo State, saying that Governor Rochas Okorocha's government lacked human face in the effect that all policies and actions seemed self serving.
Speaking with newsmen in Owerri, Nwokeji opined that the state had no hope with the kind of government in place in the state today.
He advised the Imo governor to change and be conscious of the feelings of the people he governs.
Nwokeji, who spoke against the backdrop of general discontent and frustration among the people of the state said Okorocha's administration is lackluster and a mere showmanship.
According to him, "Never in the history of Imo State have the people been so brutalized psychologically, emotionally, economically or otherwise by any government however reckless or unfeeling than now."
He said his brief stay at home had afforded him the opportunity to see how bad things had gone in the state in the past decade.
Waxing philosophical, he queried how the people could watch helplessly as their common till was being plundered.
In his words, "With the level of collapse of the roads in the state, Imolites will be constrained to demand that their governor should be charged with economic sabotage. In fact, the abysmal poor condition of the roads seems to explain that the Okorocha administration has only been pretending on the saddle in the state. I had the privilege to visit some local governments and of a truth, there is no road anywhere. "
The professor also frowned at situation where government elects to play with the intelligence of the people insisting that most actions and words of the governor amounted to insulting the sensibilities of the people.
"Governments exist for the best interest of the people, but it is like Ndi Imo have been shortchanged", he lamented, adding that the most disturbing developments were the seemingly intractable problem of salary backlog, heavy arrears of pension and the planned concessioning of hospitals and ministries.
He said the policies had increased the level of hardship in the state and wondered whether the governor actually understood what governance is all about, especially the principles that guide government.
Nwokeji also condemned in strong terms the current arrangement whereby serving legislators double as chairmen of Local Government Caretaker Committees, saying such is an aberration and a slap on democracy hence exposing the incompetence of the governor. He said the governor seems not to understand the principles on which democracy works, of which the principle of separation of powers is the most prominent.
112 total views, no views today