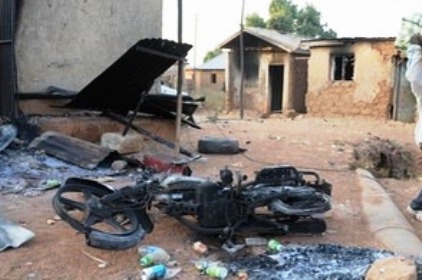 —–vows to sanitize drug dealers, cultists
Idemmili North local government area is boiling as some group has allegedly moved against the
The newly elected Chairman of Littlewoods Development Association, Mr Emeka Ikechukwu Orizu yesterday escaped assasination when about 18 youths attacked him in his office for daring to be elected and his vow to fight drugs dealing, cultism, 419 and armed robbery in Obosi community.
He was attacked but he ran only to sustain axe injury according to him on the neck and leg and has reported to Obosi police station, although he feared they havent done much.
Commissioner of police , Hosea Karma confirmed the incident but said the police has done the needful but lamented the situation in Obosi as each accuses the other of being cult member without him knowing where the truth lies in all the allegations.
He said the genesis of the entire crisis in Obosi lied on Chieftaincy matters as each is laying claims to the throne while other lined up behind their interest but assured the police will not spare anyone found culpable.
On Orizu , he said he received calls from him about the attack and how he escaped and later was informed about the axe attack on his neck even as the DPO Obosi and DCO Obosi personally got report of his case and one went with him to the scene.
Orizu is accusing some powerful citizens of Obosi and mentioned names but CP Anambra Karma was saying investigations are on to nail those he mentioned even though those he mentioned have alleged same offence against him.
On Friday, 12 cultists were arrested by the Anambra state police command at Obosi and detained at Enugu-Ukwu office of the anti-cult arm of the police led by Mr Dickson but were later released to a former police boss in the community allegedly.
This is coming after Obosi Community in Idemmili North local government area elected Executives of Littlewoods Development Association led by Mr Emeka Ikechukwu Orizu as he vowed to stop drugs dealing, cultism, 419 and armed robbery in Obosi community.
Ike-Orizu won Ifeanyi Oforkansi with 51 votes to 36 in a keenly contested election with Charles Edeh , a media chief as returning officer had other elected members as Mr Chimezie Ikpeama as Vice Chairman, Mr Jonathan Emedo as Secretary, Mr A.I Okeke as Financial Secretary , Mr Damatus Oranuba as Treasurer , Mr Harrison Nwafor as Assistant Secretary , Mr Bishop Agu as the provost and Mr Ngozi Egbunugha as PRO.
And in line with his vows , Ike-Orizu inaugurated new committees including Works and planning committee headed by Mr Obunike Obiokwu, Discipline and Reconciliation Committee is headed by Mr Clifford Molokwu and Finance Committee headed by Mr Anane Chukwuwike Azubuike.
But to worsen his predicament, he dissolved the Littlewoods security committee, electricity committee headed by Mr Jack handed over to Mr Nnamdi Ernest. O. and environmental handed over  to Mr Augustine Emeka Ilechukwu but the security committee headed by one Chimezie Ikpeama, from another state refused to hand over to the new chairman Mr Paulinus Ichu.
Already, the previous executive led by Mr Tobenna Udoye effected change of bank signatories at First Bank replacing theirs with that of Ike-Orizu but some faceless group are after Ike-Orizu to kill him. The account was changed on June 2, 2015.
The minutes of the meeting available to newsmen showed that the election was conducted on 30th day of My , 2015 at the premises of  Rev Dr Agu and opening prayer said by 8:13 am by I.K Izuagba.
But Ike-Orizu alleged in a petition to the Commissioner of police, Anambra state listing names of people including Nnaemeka Okeke AIG rtd and Omezie Chukwurah, Chimezie Ikpeama among others conspired to deprive him of taking over the security of the community as they have been using the chairman who have stayed over 13 years on the post in alleged drug dealing, armed robbery and cultism.
He alleged in that petition that Omezie Chukwurah, Augustine Udeozo and others came with some thugs who he identified as cultists referring to AIG Okeke rtd as sending them and that he would never be chairman of Littlewoods despite winning election. He said they threatened his life and that of his family members.
He alleged among other things that an attempt was made on his life on Thursday 25th June, 2015 when he went for a wake keeping as one Igwebuike Ononye and others threatened to eliminate him if he continues to parade himself as Chairman of Littlewoods, alleging that some group of boys trailed him to his house after the wake keep but he was lucky to have escaped their plans and appealed for police protection and arrest of all drugs dealers and cultists in Obosi.
83 total views, no views today