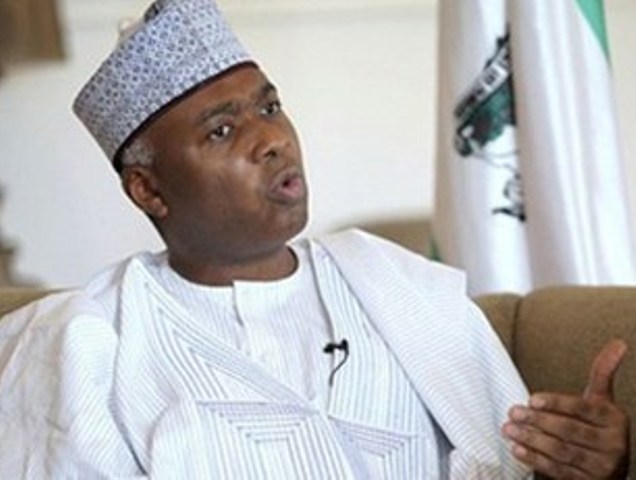 …Asks Police, security agencies to keep off NASS, Senators
It was a shocker and anti-climax for Senators of the   Senate Unity Forum faction of the All progressives Congress, APC, upon resumption of plenary by the Senate on Tuesday as 81Senators passed a Vote of Confidence on the Senate President, Senator Bukola Saraki and his Deputy, Senator Ike Ekweremadu.
The resolution followed a motion entitled "Vote of Confidence on Principal Officers of the Senate" moved on behalf of 81 Senators across party lines by Senator Samuel Anyanwu (Imo East) and seconded by Senator Dino Melaye (Kogi West).
In a unanimous resolution, the Senate also called on the Nigeria Police Force and all other security agencies to stop lending themselves as agents of harassment and intimidation against Senators and their spouses.
According to the motion, the Senate: "Notes with dismay the continued harassment of the Senate and Senators, the National Assembly Management, and spouses of Senators by security agencies of Government.
"Determined to continue to perform its constitutional duties and responsibilities without fear of favour.
"Further determined to focus on matters of interest and importance to the ordinary people of Nigeria in view of the enormous challenges facing the nation.
"Considering the sustained interference in the internal affairs of the Senate by detractors and media propaganda against the Senate and Senators by selfish politicians".
Therefore, the Senate resolved to: "Pass a vote of confidence on (a) The President of the senate, Senator Bukola Saraki, (b) The Deputy President of the Senate, Senator Ike Ekweremadu, (c) The entire Senate leadership as presently constituted" and "call on the Nigeria Police Force and all other security agencies in Nigeria not to allow themselves to be used by any person or persons to harass, intimidate or blackmail the Senate, Senators, and or their spouses". 
113 total views, no views today