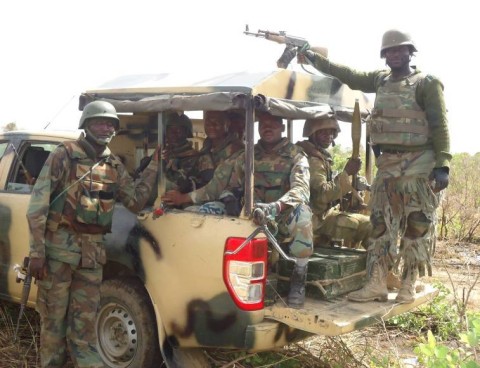 Reeling from the conquest of Gwoza and hastily retreat of the Special Forces of the Nigerian military, the Islamic Jihadist group have begun pillaging the town of Gwoza with careless disregard to the law and order. Information available to 247ureports.com obtained from sources within the area of activity indicate that the Jihadist group has fortified its hold of Gwoza four [4] days into its conquest of the town and has proceeded to launch brazen attack on the police mobile training Centre and has burnt down all standing structures.
It remains uncertain if causalities were sustained. Unconfirmed sources indicate that two people may have died in the process.
Adding gravitas to already bad situation, the Nigerian soldiers failed in its advance into the area of activity. Available information indicates that the soldiers of the Nigeria Army had made numerous attempts at advancing into the troubled area but could not out match the fire power of the rogue Islamic group. The Nigerian soldiers remain camped at a Gwoza suburb called Pulka located about 10km away from the center of activity.
In talking to one of the officials of the Nigeria vigilante group, [Muhammed Gava] who have been acting as supplemental support in aiding the Nigerian security outfits combat the rogue Jihadist group, it was learnt that the Boko Haram has captured people's wives and their female children, and are keeping them as personal slaves. According to Muhammed Gava, the Jihadist group have taken to raping other people's wives and their young daughters – while forcefully ordering them to cook for them and cater to their other domestic needs.
In the absence of any Nigerian security force in sight, the Jihadist group have taken up open banditry –   breaking shops and looting foods, alcohol, drugs and other items.