From Adenike Lucas
–
Questions are beginning to arise over the authenticity of Ibrahim Mustafa Magu's accountancy degree.
Mr Magu's nomination as the 4th substantive chairman of the Economic and Financial Crimes Commission, EFCC was rejected by the Senate due to an indicting report by the State Security Service.
During his poor screening in March, which has been described as a failed job interview, Mr Magu, 53, gave lawmakers a rundown of his education background in an attempt to show his suitability for the role.
At the one-minute mark of the video below, Mr Magu claimed to be a graduate of Accounting. He said he received his degree from the Ahmadu Bello University, Zaria.
"I also had the master degree in Law Enforcement and Criminal Justice in the same institution," Mr Magu said in his boast to senior lawmakers.
Speaking with so much glee, the corrupt police officer added that he had also received a post graduate certificate in corruption studies from the University of Hong Kong.
However, alarming now is the fact that on the commission's website the crack detective, a native of Maiduguri, Borno State, is stated to have "an honours degree in Accounting from the University of Maiduguri."
See Magu's screening video below.
Loading ...
Sources, who have long questioned his certificate claims were alarmed with Mr Magu's display at his screening.
One staff said: "Possibly Mr Magu did not attend university. In fact, from what I heard, he is just using the certificate of a relative who bears the same name. That's why one minute he says he went to ABU and another minute, he went to UniMaid. The lines are confusing."
See the screenshot of the EFCC's webpage below.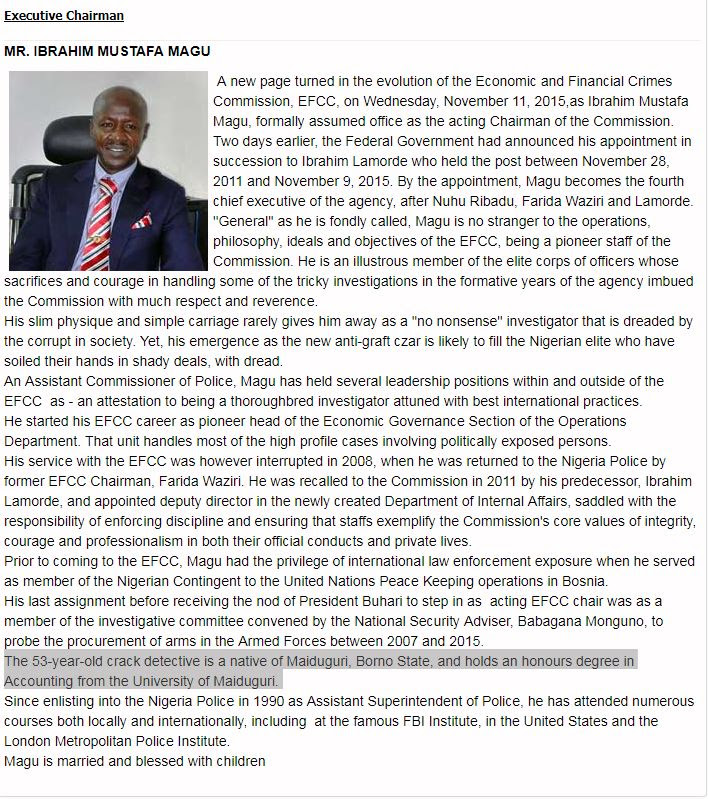 They say there are current discussions in the staff room of the EFCC over Mr Magu's certificate owing to the glaring inconsistency.
Stay tuned.
92 total views, no views today