A twenty-five year old single lady, a Brazil based freelance journalist and a patent medicine dealer are among six suspected drug traffickers currently being interrogated by operatives of the National Drug Law Enforcement Agency (NDLEA) over drug trafficking. The six suspects were said to have been apprehended at the Murtala Muhammed International Airport (MMIA) Lagos with 13.410kg of substances that tested positive for narcotics.
Loading ...
NDLEA commander at the Lagos airport, Ahmadu Garba gave the names of the suspects as follows; Gabriel Chidimma Juliet, 25, caught with 2.900kg of cocaine in duty free bag; Anagbogu Churchill Okwudili, 48, ingested 47 wraps of cocaine weighing 940 grammes and Enenchi Jerome Oguejiefor, 36, concealed 5.500kg of cannabis inside fufu. Others are Ani Kennedy Tochukwu, 32, who packed 21 wraps of cocaine weighing 350 grammes inside jeans trousers; Eletamuzor Celestine Kenechukwu, 28, caught with a kilogramme of ephedrine inside hair attachment and Okpala Vitus Arinzechukwu, 35, caught with 2.720kg of cocaine.
Apart from Eletamuzor Celestine Kenechukwu and Enenchi Jerome Oguejiefor that attempted to export ephedrine and cannabis to South Africa and Dubai others were apprehended smuggling drugs into the country. The suspects attributed their involvement to the financial rewards offered them and the Agency has commenced investigation into the cases.
The only female suspect, Gabriel Chidimma Juliet who resides in Abuja reportedly told narcotic investigators during interrogation that she was given the drug by her boyfriend in the United Arab Emirates. "Since I left secondary school in 2010, I have been trading to sustain myself. I buy goods in Dubai and sell in Abuja. It is unfortunate this time around that cocaine was found in the bag my boyfriend gave to me in Dubai" Juliet who hails from Imo State stated.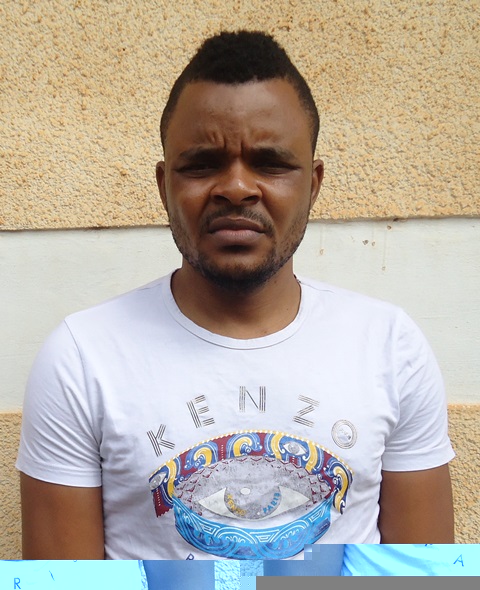 Anagbogu Churchill who is a freelance journalist said that he was frustrated into dealing in drugs. "I graduated from the London School of Journalism in 2005 and I am a freelance journalist. I have been in Brazil for about two years and my standard of living is very poor. My condition was such that I could not afford return ticket to visit my wife and children in Nigeria for about two years. It was frustration from my inability to discharge my responsibility as a father and a husband that led me into drug trafficking" he stated.  Churchill hails from Anambra State.
Enenchi Jerome who is a patent dealer also blamed his friend for his condition. "I was managing a patent medicine shop in Port Harcourt before I travelled to Dubai in search of greener pastures. After seven months of fruitless search for job I returned to Nigeria poorer than I left. This was the beginning of my problems. In my desperate search for a way out, a friend of mine in Dubai requested that I should send cannabis to him and that he will give me money to help myself. This was what happened and I used fufu to cover the drug still it was detected and was caught in the process shipping it" he stated. Enenchi hails from Enugu State.
Ani Kennedy Tochukwu said he wanted to raise some money from drug trafficking. "I am a factory worker in Brazil for about one and half year. My meagre earnings could barely sustain my daily needs until a friend introduced me to drug trafficking. This is my first time" the suspect who hails from Enugu stated.
Okpala Vitus Arinzechukwu who is a mason said that he was working in the village but was not satisfied with his earning. "After my primary school in 1999 I could not further my education due to poverty. I work in my village as a mason but I have nothing in return for my hardwork. I have suffered in life and needed to start another business but I had no money. In the process of looking for help, I met a man who promised to assist me financially. He processed my travel documents and gave me one hundred and fifty thousand naira to bring drug from Dubai" Okpala stated. He hails from Enugu.
Eletamuzor Celestine Kenechukwu said that he was asked to conceal ephedrine in hair attachment by a friend. In his words, "I am from Anambra State but I live in Lagos. I am jobless and desperately in need of money to start a business. I was asked to send the drug to my friend in South Africa who promised to reward me handsomely. Unfortunately, the drug was detected and I was arrested".
Acting Chairman/Chief Executive of the NDLEA Mrs Roli Bode-George in her reaction urged members of the public to avoid wrong association. "The Agency has put in place several measures to prevent drug trafficking. We are also committed to speedy investigation and trial of offenders. Let me call on members of the public to be mindful of the association they keep" Roli stated.