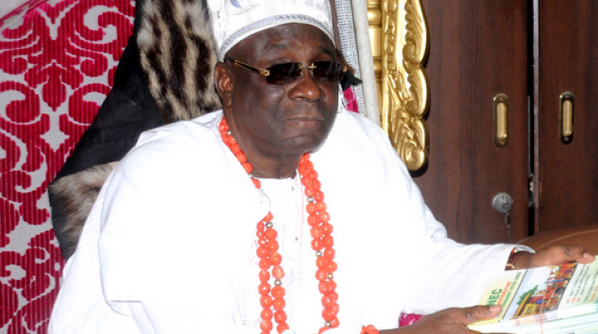 Advertisement
Dr. Josef Umunnakwe Onoh, son of the late Wawa sage and former governor of old Anambra state, Chief C.C Onoh,  has suggested for derobbing of the Oba of Lagos, Rilwan Akiolu, for what he described as a grievous incitement against the Igbos in Lagos.
Onoh Jnr also vowed to drag Oba Akiolu to the International Criminal Court of Justice, ICC, for his statements, adding that the monarch has reduced himself from royalty to peasantry
He stated that Oba Akiolu by his treat of sinking Ndigbo into the lagoon if they vote against APC in the April 11 governorship election for Lagos state, portrayed himself as an ethnic jingoist, incapable of assuming such a respected position as Oba of Lagos.
Onoh said that the security agencies should quickly summon the monarch, stating that for the Oba to have come out to make such "irresponsible and inflammatory comment," he (Oba) may have concluded to make due his threat.
He said that nobody should regard Akiolu's threat as empty, adding that if the Oba allowed to go scott free with such plan to sink the Igbos in lagos, then Nigeria may as well get ready for another round of civil unrest.
Onoh suggested that Akiolu should be stripped of his kingship and immediately arrigned in law court for plot to commit mass murder and civil unrest.
"Let it be known that whether Oba Akilou's threat come to fruition or not, I have concluded to take him to the ICC where he will keep company to the like Charles Taylor and answer to human right charges that will be preferred against him," said Onoh.
He however urged all Lagosians and indeed the entire Nigerians to come out in mass on saturday to vote for candidates of their choice irrespective of party affiliation or tribe.