Unholy Alliance: Why Do Christian Millennials Listen To Secular Music?
---
DOWNLOAD THE 247UREPORTS MOBILE APP
Now Available On:
For a self-acclaimed religious country like Nigeria, it's rather strange that secular music is as popular as it is.
Loading ...
Nigeria sits gracefully as the fourth most populous Christian nation in the world with over 88 million of it's populace as followers of Christ, making it the most populous Christian nation in Africa.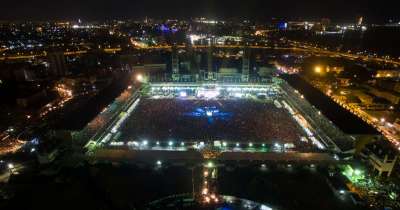 Going by the simplest definition, Christianity is the teaching of Jesus Christ through the guidance of the Holy Book – Bible. The Bible describes Jesus Christ as the son of God and a member of the Holy Trinity that forms the 'God' entity.
Christians communicate with God through prayers and worship. A Lagos based music minister – Dave Bassey described it this way 'Worship is the heartbeat of God and the easiest way to move the hand of God in one's favour is through worship'.
The most common way to worship God is through songs and most churches set aside at least thirty minutes during every service for praise and worship. 'We invite the spirit of God through sincere praise and worship and we must sing songs of worship every Sunday before the pastor mounts the pulpit to preach. It makes it easier for the pastor to connect with God and it prepares the heart of the congregation to receive from God' says Bassey.
Bassey continues, 'Music is a key element in Christianity. God enjoys music; He is the originator of music and he has special angels in heaven whose duties are to continually sing praises, and worship Him with sweet melodies. We are a replica of the heavenly singing angels. We are inspired by the spirit of God to make music that ministers to the soul of men and move the hand of God in favour of man'.
Some call them Gospel singers while others refer to them as music ministers; either way, their mission is clear- to lead men (and women) to God through songs. Music is an indispensable element of the Christian religion.
One would begin to wonder how Africa's most populous Christian nation also stands as the biggest export of African pop music (otherwise called secular or worldly music). Any song that doesn't lead men Christ, move the interest of God or teach men the ideals of Christ is regarded as Secular music. A global audit firm Pricewaterhouse Coopers reported in 2015 that the revenue from music sales in Nigeria was about $56 million and also predicted that the figures will increase by about 40% in four years. Now here comes the shocker; more than 70 percent of this revenue is accredited to Nigerian secular musicians.
Just like secular musicians, gospel musicians also disseminate their records on various platforms for streams, downloads and purchases (for sometimes cheaper rates) but only a handful of them are able to make reasonable sales.
Price they say is a problem only where there is lack of value – so where are the multitude of Christian millennials placing their value? Whose album are they constantly streaming, whose album do they actually prefer to purchase and which musicians are they listening to?
In a bid to find answers to these questions, I conducted a survey on Twitter. 'Do you still listen to gospel music?'
Surprisingly, 88 percent of the participants responded saying yes. The same question was asked of NET Instagram followers and many also responded saying yes. How can it be? How do we have such a huge number of millennials who claim to listen to gospel music and also witness an overwhelming consumption of secular music? How is secular music able to thrive in Nigeria?
I spoke to a 23 year old Christian who preferred to stay anonymous. He is a member of his church choir but also a consumer of secular music. His explanation was: 'Well you know that music sets the mood for different occasions. I listen to Gospel music when I want to pray and worship God. I also sing and listen to gospel songs when I want to fellowship with God and when I'm down'.
I asked again why then do you listen to secular music? 'Like I said before, different songs for different occasions. I listen to some of them (secular artistes) because I am drawn to their personality. You know secular musicians are humans beings too. They have personalities too and some are very admirable'.
Are some of these circular songs not contradicting to the teachings of the Bible? 'I am very selective, and I carefully choose the songs I listen to. Whether gospel or secular, we all have different stories to tell besides everyone cannot be a gospel singer'.
I have heard a lot of church choirs and instrumentalists play the progressions of secular songs during praise and worship hours. 'Yes you know some of these secular songs are very groovy so we draw inspiration from them. Also when you are playing in a church that is dominated by the younger generation, these familiar secular music progressions improves the participation of the audience', said a church instrumentalist who also preferred to stay anonymous.
If the key players of Gospel music (choir members and instrumentalists) have self convincing reasons for consuming secular music, what then do we expect of ordinary members. 'I listen to gospel music only on special occasions; like when I want to connect with God. Nigerian gospel musicians are really improving but there is a lot more work that needs to be done. Diversity is lacking in gospel music. Some of their lyrics are very cliche and most of them sound alike. I have just two gospel songs on my phone' says Gideon a three hundred level student of UNILAG. I inquired; how many secular songs do you have then? 'You don't want to know' was Gideon's response.
Everyone seems to have a self assuring reason for listening to secular music save for Tosin who is a 27 year old self employed graduate of Covenant University. For Tosin, it is hypocritical to say you are a Christian and also listen to secular music 'Those Christians who listen to secular music are hypocrites; I don't think they are true believers. Music is a powerful tool, and those who listen to secular music expose themselves to possible negative influences and foul ideas. It is more than the lyrics; every musician is inspired by a spirit. Gospel musicians are inspired by the spirit of God but I can't say the same for secular musicians'. Are you a gospel musician? I asked Tosin 'No I am not; but I am a child of God,' she responded.
Whether you are guided by strong principles like Tosin, or you fall in the same category as Gideon or you draw inspiration from secular grooves like the instrumentalist or maybe even just listen to secular music based on your mood, one thing is certain many Christian Millennials listen to gospel music but place so much value on secular music.
End Note
The reasons why Christian millennials listen to secular music are indefinite (some of these secular songs are inspirational to some people) but there is however a certain truth in Tosin's verdict. Many millennials might be Christians but are many millennials true believers? Like a multi-choice test, the answers will vary.