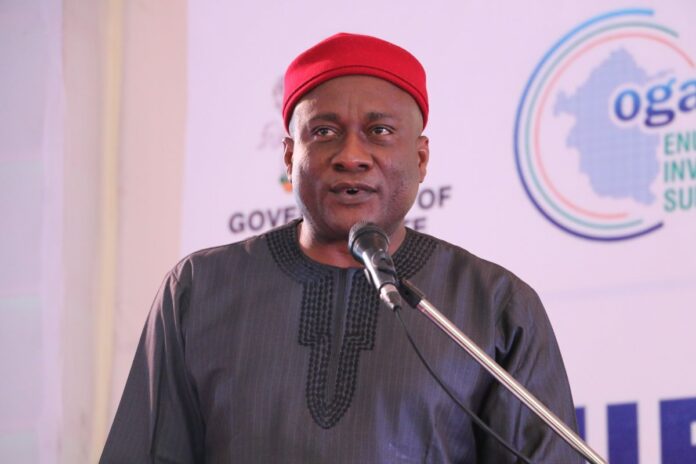 Advertisement
"Except only when we begin to fight for each other in this country, so then can we be a nation." —Chief Allen Onyema
In the face of ethno-religious tension in the country being instigated by tribal chauvinists and crisis-entrepreneurs, the statesmen who are passionately committed to unifying the country by sounding the voice of reason at this critical point, should begin to speak up. This is not the time to remind silent and invariably yield the rostrum to hate speech peddlers and vile propagandists who are bent on stocking crisis by fanning embers of discord. It is time for patriots to stand up for Nigeria and stem the tide of disunity.
I was thrilled by Chief Allen Onyema's statesman's speech at Stanel Entrepreneurship Masterclass program held recently in Awka, Anambra State. The youth-driven event was anchored by quintessential young entrepreneur, Dr. Stanley Uzochukwu, with the aim to inspire up-and-coming entrepreneurs and reproduce more captains of industries and employers of labour. The live Program—aired on a national TV, brought some notable economic titans who have carved a niche for themselves in both private and public sectors.
Advertisement
When it was time for Allen Onyema to make his speech, as one of the guest speakers, he focused majorly on the unity of Nigeria cum nationhood. The Air Peace boss made a clarion call for peace, stability and love for one another in the country and beckoned on the youths to shun hate and their purveyors. He emphasized it categorically that unless and when we start seeing ourselves as one, fight and defend each other's interest as a people binded by one destiny of nationhood, only then shall we have a nation where patriotism will be elevated above tribalism and religious supremacy.
Only then shall we metamorphose from an enclaves of tribesmen to a nation of patriots whose love for their nation defies ethno-religious cleavages and tribal fault-lines. Onyema wittingly and succinctly captured it here with this illustrious example:
"Let an Allen Onyema go to Zamfara and see what is going on there, and come to the National Assembly and the Federal Government, and say: Mr. President, you should help these people of Zamfara; they're suffering. Their farms are not being irrigated. And this is an Igbo man fighting for the north.
Let Muhammed Abubakar come down to the east and say: President, all the federal roads in the South-East are dilapidated. Federal Government you should do something for these South-Easterners. Except only when we begin to fight for each other in this country, so then can we be a nation."
With these inspiring and electrifying lines of phrases, rallied out in a sheer display of oratory prowess, Onyema's speech was interrupted by a loud applause; followed by an overwhelming standing ovation by the audience. Even me that watched on the TV, got enthralled by his speech. This is not the first time he is making such a wonderful suggestion in the form of speech. He alluded to the need for us to start fighting for each other's interest during a similar speech in National Assembly, when he was honored by House of Representatives for saving the lives of Nigerians trapped in South Africa, at the heat of xenophobic attacks.
Chief Allen Onyema also advised the youths, especially from South-East to shun hate, dangerous stereotypes and violence. And not allow anyone use them to perpetrate crisis because if there is war in the country, all the big men and women; together with their families will be out of the country immediately, and leave the masses to suffer. He said:
"Do not let anyone use you for violence of any type or hate. Don't hate Fulanis; don't hate Hausa people; don't hate Yorubas; don't hate your fellow Igbos; don't hate any tribe of this country. The 378 ethnic nationalities is a source of strength for this country. Meanwhile, we have allowed it become an albatross of a kind to us. We should not hate. When you hate, it is like you're drinking poison and expecting somebody else to die for the poison you have taken. That should not be your portion."
In the ebullient speech, Chief Allen Onyema's diagnosis or prognosis of Nigeria's challenges did not infer that we play ostrich, become indifferent and pretend as if there are no issues. Not at all. Instead, he opined that despite the mountainous nature of our national issues, it can be solved using dialogue rooted in love for one another. In the foregoing context, he said:
"Yes, things are awry in this country now. Yes, there are certain things that are happening and are unexplainable but we can tackle it. Solutions are the best. When Niger Delta rose up and took over the entire country, crude oil production went down to five hundred thousand barrels from three million barrels per day, for a country of two hundred million people. That was disaster beckoning; that was when I stepped in. I didn't sit back."
Only few Nigerians are aware of the nationalistic and courageous roles Chief Allen Onyema played in the relative peace being enjoyed in the Niger Delta today. The aviation maven is not given to highfalutin PR in the media. He is not in the habit of blowing his trumpet. What majority of Nigerians knew was that President Umaru Yar'Adua (of blessed memory) heralded peace in the region. But the truth is that, Allen Onyema's NGO called Foundation for Ethnic Harmony in Nigeria (FEHN) conceptualized and midwifed amnesty in Niger Delta.
FEHN was already rehabilitating and training ex-militants being sponsored by multinational oil companies as part of these companies Corporate Social Responsibility (CSR), before Federal Government under President Yar'Adua saw it as a noble initiative and stepped in. FEHN's template in training of ex-militants was literally adopted as national policy which gave birth to what we have come to know as Amnesty Program. Chief Allen Onyema was the brain behind it. But only few Nigerians are aware of this information.
Allen Onyema did not just happen with Air Peace Airline. Between 2005 and 2012, FEHN under his leadership, had trained thousands of ex-militants and other youths. This Foundation played a major role in restoring peace in the Niger Delta. And pushed the nation's oil production up again. Allen Onyema, as a man of peace, has being in the business of peacemaking all his life—the reason the name of his airline—the biggest in West Africa, is called Air Peace. He is saying again: let there be peace!