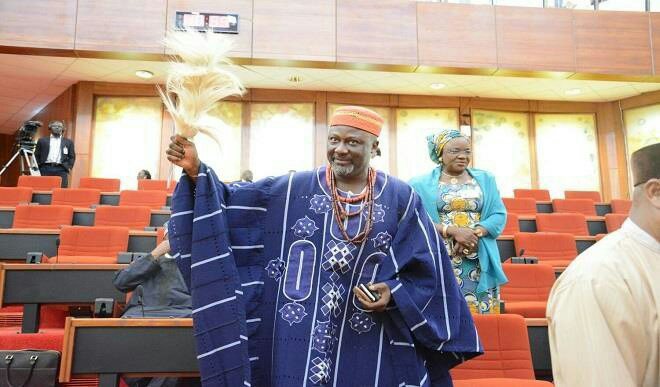 Flamboyant Senator and civil rights activist representing Kogi West, Dino Melaye, has added two feathers to his cap with the conferment of two chieftaincy titles on him in Kogi and Osun States this weekend.
This brings to 22 the number of chieftaincy titles which have been conferred on the Senator, popularly described as the emerging godfather of Kogi State politics.
Melaye who was earlier this year (specifically 
on January 9
), turbaned the Jarman (Chief Warrior/Defender) of Okuta in Okuta-Baruten Local Government Area of Kwara State, would be given the traditional titles "for his contribution towards anti-corruption crusade, development of Nigeria and committed voice of the voiceless."
Among his other chieftaincy titles include Otunba of Bunu Kingdom, Kogi State; Balogun of Odo-Ape; Asiwaju of Oke Ofin and Arogundade of Okagi-Amuro.
His Special Assistant (Media and Communications),  Mr. Gideon Ayodele, in a statement obtained by Senate Press Corps on Thursday in Abuja, said many dignitaries, among his friends, well wishers, intelligentsia and civil rights movements, have agreed to grace the two occasions, which have promised to be a positive boost for Melaye's rising political profile.
According to him, Melaye, who is Chairman, Senate Committee on the Federal Capital Territory (FCT), would be conferred with the title of 
Mayederun of Aduge
 by the Olu of Aduge in Ijumu Local Government Area of Kogi State, 
Oba J.B.O Aladuge
tomorrow
, 
Friday July 8 2016
by 
11:00 am
.
Ayodele said, "The chieftaincy titles are being conferred on him because of his anti-corruption posture and for his commitment to speaking for the masses for many years. Altogether, Melaye now have about 22 chieftaincy titles.
"This is a positive signal for us because Melaye cannot not stop talking, despite threats to his life. He has continued to champion the cause of the oppressed and less-privileged because he believes that in an unjust society, silence is a crime. For him, the determination to free the oppressed and Nigeria State from the pangs of economic cankerworm and political scavengers is a battle of no retreat, no surrender."
Melaye thanked the traditional rulers of Kogi and Osun Stated, for deeming it fit to recognise him, saying, "this honour will further encourage and spur me to continue to champion public interest above personal interests."
99 total views, 1 views today