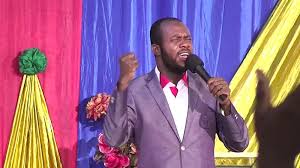 The legal fireworks for the trial of Prophet Fabian Uzodinma (aka Prophet crying in the wilderness ) and two other accused persons facing trial for the alleged kidnap of an Owerri based lawyer, Barr. Stanley Agulanna was stalled yesterday as a result of preliminary objections by their counsels at an Owerri High Court.
The self-styled Prophet, who hails from Aboh Mbaise Council area of the state, was arrested in 2014 for spearheading the kidnap of the lawyer and collected a ransom of about N10million. He was also alleged to have been caught by security agents, who accused him of abducting people's children and using same for rituals  for his clients, who sought for him.
The lawyers of the accused persons, Chief C.O.C Ezerebo and Dr. A.N. Agunwa had challenged the validity of the fiat earlier issued by the Attorney General of Imo state to some private legal practitioners from Owerri branch of the Nigeria Bar Association, NBA.
Leading other applicants for the fiat, the Chairman of NBA Owerri Branch, Barr. Stanley Imo and L. U. N. Nwakaeti Esq. opposed the objection citing many legal authorities.
However, the presiding judge Hon. Justice F. I. Duruoha-Igwe adjourned the matter for ruling on the various legal submissions of counsel from both sides to 4th April 2016.
Other persons facing trial in the matter are Mr Akoma Sopuruchi and Romanus Dike Onyekwere.
Many lawyers attended the proceedings probably in solidarity for their missing colleague who was allegedly kidnapped since 2014. Also in attendance were the relations of the accused persons and suspected members of the Bethel Restoration Ministries a religious outfit owned by the embattled cleric.
Speaking to the press after the court session, the Vice Chairman of NBA Owerri Branch who is also the Chairman of the Human Rights Committee of the branch Barr Fidelis Akponye and the former Chief Press Secretary to the Deputy Governor Imo State Barr Emperor Iwuala thanked their colleagues for trooping out en mass for the trial. They prayed for justice to take its cause in the case.
In her own reaction, the wife of Barr. Agulanna, recounted the trauma she has been subjected as a result of the kidnapping of her husband since 2014. She however, said that she was very optimistic that her spouse would one day come back alive.
It was gathered that the embattled prophet turn wild in the court premises, as he attempted to fight a prison officer for refusing him to eat a bunch of Banana brought to him by a relation.
Many on-lookers who were taken aback because of the scene created by the self styled prophet crying in the wilderness expressed shock at his level of uncivilized conduct, saying he ought to know that no food should be served him in court premises except in the prison custody.
43 total views, 1 views today