Information available to 247ureports.com indicates that the Bauchi State Governor, Barrister Abubakar have successfully pushed the National President of the Bauchi State Union, Comrade Mohd Gamawa. According to available information, the President of the Union threw in the towel after having been frustrated by the Bauchi State government. His official resignation was contained in a March 13, 2016 letter – as shown below.
His deputy, Auwal Dass will take up the responsibilities of the President as an acting President.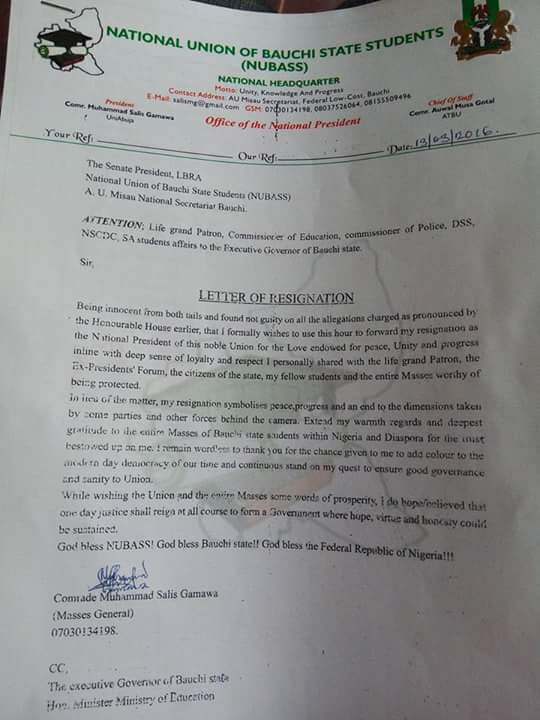 As a caveat, it is noteworthy to mention that the outgoing President of the Student body had found himself on the bad side of the Bauchi State governor when he publicly rejected a N7million gift from the Bauchi Governor. The former student had told the governor to clear the arrears of student scholarships before they could accept the N7million gift. The Governor was not happy with the public spectacle that followed the embarrassment meted to him.
Isaac Boro Fought With Nigeria Against Biafra. Was He a Legend or A Betrayal To The People Of Niger Delta
Betrayal (69%, 414 Votes)
Legend (31%, 183 Votes)
Total Voters: 597
Loading ...
Reacting, the Governor demanded and/or instructed for the student to do a retraction of the said rejection of the gifts. Of which the student obliged. But a day following the retraction, the President was 'illegally' suspended by a non-existent senate body. The then President of the Union was able to withstand the storm – and was returned immediately.
With his return to the realm of affairs at the Student Union, the Governor of Bauchi State adopted a different approach. The Governor opted to blackout all the student union activities from the government roller desk. None of the government own media houses/outfits were allowed to cover student union activities and none of the government official were allowed to attention or support any of the union activities.
The pressure began unbearable. The President opted to take the high road and to bow out to allow the student union not be suffocated by political witch-hunting.
The new acting president of the union, Auwal Dass is reportedly a "boy" of the SA on Student Affairs to the Governor.
Till date, the scholarships to the select Bauchi students remain unpaid.
84 total views, 1 views today