By Joe Chukindi, Awka
Former governor of Anambra state, Chief Peter Obi has flooded the Anambra state capital and its environ with posters of his senatorial ambition.
The colourful posters which carried a smiling picture of the former governor has the inscription, Peter Obi k'anyi choro, Igbo words meaning that 'it I'd Peter Obi that we want'.
Isaac Boro Fought With Nigeria Against Biafra. Was He a Legend or A Betrayal To The People Of Niger Delta
Betrayal (69%, 414 Votes)
Legend (31%, 183 Votes)
Total Voters: 597
Loading ...
Some political analysts however argued that a certain phrase with which Obi is known in electioneering was obviously missing 'are we cursed or are we the cause?'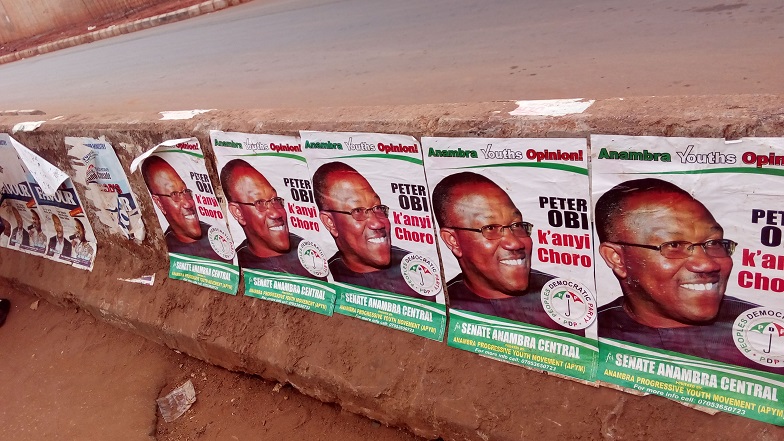 The emergence of Obi's posters is coming at a time when the posters of his arch enemy and political opponent, Chief Victor Umeh has also been defaced in and around Awka capital territory.
Some residents of Awka who spoke to our correspondent said the posters were pasted at night by some young men, but expressed unhappiness that the boys as they pasted the posters, they also tore out those of Umeh to past that of their principal.
Reacting yo the emergence of Obi's posters, chief Umeh who spoke yo journalists at Umunya said Obi foes not qualify to contest in the election and will never do.
Umeh said it was unfortunate the some people are trying to arm twist INEC into fielding Peter obi for PDP in the election, yo the point of going ahead to past his posters every where.
"Obi will not contest this election, not because I am afraid of him or because he will win if he contests, but because he does not qualify to contest.
" Of course if he contests, I will brat him hands down, but the law is very clear that this is a rerun, and only persons and parties that took part in the first election can contest now. I have already appealed the judgment of the federal high court asking that they be included, and INEC is also appealing it." Umeh said.
35 total views, 1 views today