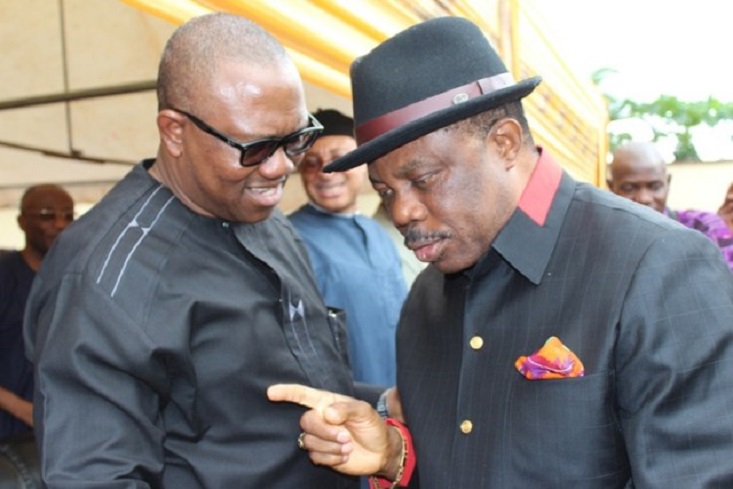 By Joe Chukindi, Awka
Feelers reaching our correspondent in Awka is that the former governor of Anambra State, Chef Peter Obi may have considered dropping his strained relationship with his successor, Chief Willie Obiano, just to humiliate Chief Victor Umeh.
Isaac Boro Fought With Nigeria Against Biafra. Was He a Legend or A Betrayal To The People Of Niger Delta
Betrayal (69%, 414 Votes)
Legend (31%, 183 Votes)
Total Voters: 597
Loading ...
A source told our correspondent that Obi pursuant to this may have told some of his media aides and supporters to soft pedal on how they attack Obiano and his government, but to focus on Umeh who he now sees as the reason Obiano turned his back at him.
The source who refused to have his name in print said, "Obi believes that the reason Obiano shut him out of his government was because Umeh may have given him such advice, and moreover, after fighting Obiano all these years and not achieving anything, the best thing they thought was to bring him close and chase Victor Away.
"The move is on, and I also learnt that Joe-Martin Uzodike will be leading those who will come to Obiano to curry his friendship for their boss, Obi."
Last Saturday, Chief Uzodike had appeared on a radio programme, on Rhythm FM in Awka, and surprisingly, he spoke glowingly of Obiano, unlike him. Uzodike who has been known for his attack on the Obiano government since after he was sacked from the government as Special Assistant rather eulogized Obiano, and vilified Umeh.
He was also short of calling on the governor to distance himself from Umeh as his association with him was bringing his government a bad name.
Uzodike who recalled the he was a classmate to Obiano during their secondary school days in Onitsha said, "Back in school, we had nick names. Obiano was called Billy Martins, while I was Buzuzu. My relationship with him did not start today, we were quite close; and where was Chief Umeh then?
"Even Peter Obi was in our school, even though he was our junior. So this can tell you how close we all were in school."
He also traced the emergence of Obiano into power, saying that he agreed to serve as Obiano's campaign manager because of the closeness between them, and also explained how Obi stuck to his gun, insisting that Obiano will be the candidate of the APGA as against Umeh's wish, which also made Obi to pay the sum of N650million to Umeh to endorse Obiano's candidature.
He implored Obiano to remember all these and see reasons why he should turn Away from Umeh who he described as an opportunist, who is only there to milk him of the state's funds.
In his reply to these, Umeh while interacting with journalists at Umunya after receiving award of Doctor of Political Science said he is not unaware of moves by the Obi camp to turn the Anambra governor against him.
"What they want to do is to make the governor abandon me, so that I will go into the election without the support of the governor, so as to pave way for their victory, but it will not work."
Umeh however did not say if he is aware of the moves by Obi to sent emissaries to Obiano for a peace move.
53 total views, 1 views today