GOVERNMENT OF IMO STATE
PRESS RELEASE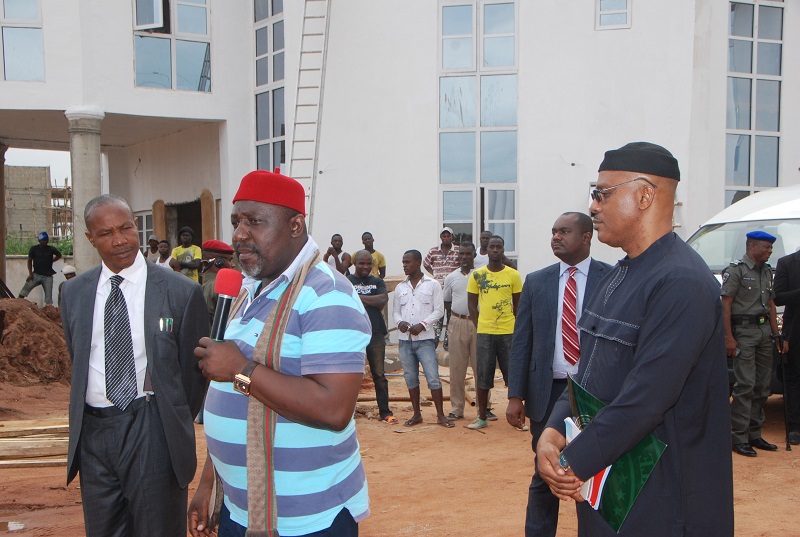 The Imo State Governor, Owelle Rochas Okorocha has advised the Christian Association of Nigeria (CAN), Religious leaders and other Religious bodies in the country to try as much as they can to avoid dabbling into politics, adding that the linking of CAN to the claimed bribery money during the 2015 general election was not good for the Association and all the christians in the country.
Governor Okorocha who spoke when the delegation of the Nigeria Pilgrims commission led by the Executive Secretary, Mr. John Kennedy Opara visited him at the Government House Owerri, said the leadership of CAN and other religious bodies and their leaders should be apolitical especially during elections to enable them carry out their religious and spiritual responsiblities well and without suspicions from certain quarters adding that, as a matter of necessity, the leadership of CAN should discourage its members from negative political involvements, actions and utterances that could heat up the polity, and in the overall interest of the kingdom.
His words "a situation where a religious leader or body favours one political party or candidate and campaigns against the other party or candidate is unacceptable. Such action does not encourage peace and unity among the adherents of the religious bodies and leaders".
The Imo Governor urged the religious leaders and bodies in this country to concentrate more on their divine callings or ministeries and always pray for the good of the nation and her people and also offer pieces of advice when necessary, promising to sponsor more youths to pilgrimage when the economic situation of the state and the nation improves.
Leader of the delegation, Mr Opara commended the governor for his people oriented programm in the state including the free education programme.
He expressed his pleasure at the massive infrastructural developments in the state within the governor's short time in office.
Mr. Opara solicited for financial assistance to enable the board ensure that more people from the state embark on pilgrimage, especially the youths.
Sam Onwuemeodo
Chief Press Secretary to the Governor
54 total views, no views today