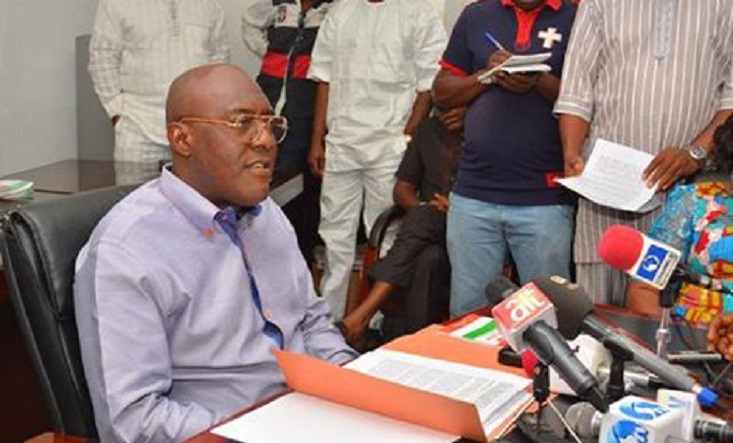 A group, Governance Watch Initiative (GWI) has expressed shock over the Press Release by the National Publicity Secretary of the PDP, Chief Olisa Metuh, on Sunday, against the government of President Muhammadu Buhari and his party, the APC, calling on the party not to plunge the country into crisis.
A statement issued on Monday in Lagos by the national coordinator of the group, Rotimi Ogunwuyi Esq, said it has noticed a series of unwarranted attacks against nation's judiciary by Chief Metuh and his party, an attack, it added was carried to a disturbing level inSunday's statement.
"We are horrified that a party that was until six months ago the ruling party in our
country, and one that was in control of 27 states at a certain time, could so brazenly
seek to instigate anarchy in the country simply because a duly constituted tribunal
upturned the governorship election in Rivers State.
"We recall that when Chibuike Amaechi, then of the PDP, was pronounced as the Governor
of Rivers State by the Supreme Court in October 2007, even when he did not contest
that year's governorship election since his name had been substituted by his party, the
PDP did not think the judiciary was being used by the PDP-led Federal Government of
the time.
"We also recall that under the present dispensation, all the APC National Assembly candidates
in Rivers, who took their cases to the election petition tribunal, lost and heavens did not fall.
We note that Chief Metuh has always been quick to say that his party will provide a credible
opposition, and wonder what is credible in the kind of subversive statements that have been
emanating from the PDP spokesman in recent times.
"We call on the leaders of the PDP who still believe in the tenets of democracy and the rule of law to rein in Chief Metuh before he blacklists the party and instigates chaos in the polity with his unconstrained recklessness. They should tell him there are better ways play opposition than the issuance of crude and irreverent statements.
"We note that being in opposition is not synonymous with abuse of the institutions of government and a frenzied wolf crying, especially for an opposition party that has barely spent six months in that capacity.
"Nigeria is bigger than anyone and nobody, irrespective of his/her grievances, must put the country's democracy in danger just because a tribunal has nullified an election. The PDP must carry its fight to the court room, not the streets."
89 total views, no views today