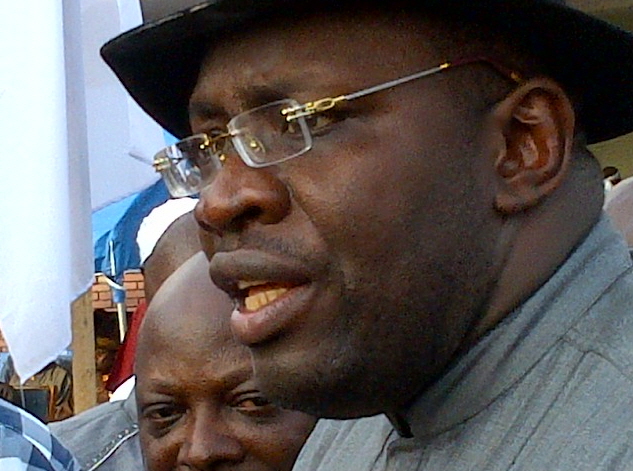 Christopher Uche, Yenagoa
The Timipre Sylva Campaign Organisation has accused the Peoples Democratic Party's governorship candidate in Bayelsa State, Governor Seriake Dickson, of sponsoring a media publication alleging a plot to arrest the All Progressives Congress state chairman, Mr. Tiwe Orunimighe.
This followed reports by some unsigned news organs that the APC governorship candidate for the December 5 election in the state, Chief Timipre Sylva, was persuading the Inspector General of Police, Mr. Solomon Arase, to order Orunimighe's arrest.
The Sylva campaign said in a release Thursday in Yenagoa signed by Mr. Doifie Buokoribo that the false publication was part of a PDP campaign programme based on reckless interference in the affairs of the APC due to lack of achievements to campaign with.
The statement said, "Hon. Seriake Dickson and his party, Peoples Democratic Party, have since the beginning of the campaign for the December 5 governorship election become ruthless interfering busybodies in the affairs of the All Progressives Congress. The fascination with APC and Chief Timipre Sylva is understandable, especially, for a governor who hardly has any achievements to point to after nearly four years in office.
"Besides, Dickson and PDP cannot afford not to be interested in APC, a political party the vast majority of people in Bayelsa State are looking up to for redemption from the current regime of deceit and maladministration.
"For the avoidance of doubt, we want to state clearly that APC in Bayelsa State is united. We and, indeed, the people of Bayelsa, cannot be distracted by the campaign of calumny by a governor and his party that do not have any bankable attainments to share with the people in seeking their votes. We are presenting a united front, with the good people of the state, to accomplish the historic mission of ending PDP's reign of underdevelopment on December 5.
"As for the falsehood put out by Dickson and his party about the APC state chairman, any right-thinking person would know that the publication is a mere frivolity that exposes the distress of a sinking administration.
"First, in their haste to misinform, they confused the name of the Inspector General of Police, calling him "Sunday Arise" – instead of Solomon Arase. They also lied about the age of the deputy governorship candidate of APC, Elder Wilberforce Titus Igiri. We are at a loss how any responsible media organ could be used for such unimaginative campaign.
"Second, authors of the spurious publication alleged a letter to the Inspector General of Police but failed to make any specific reference in terms of the wordings of the said letter, date, and reference number. These are necessary features that must authenticate formal communications with an officer of the Nigerian state as high in status as the IGP.
"We call on the IGP to quickly dissociate his name from this triviality being sown by Dickson and PDP in Bayelsa State.
"We appeal to the teeming APC members and supporters in the state to remain dedicated to the cause of our collective redemption through PDP's electoral ouster on December 5. We cannot afford to bow to any distractions."
43 total views, no views today