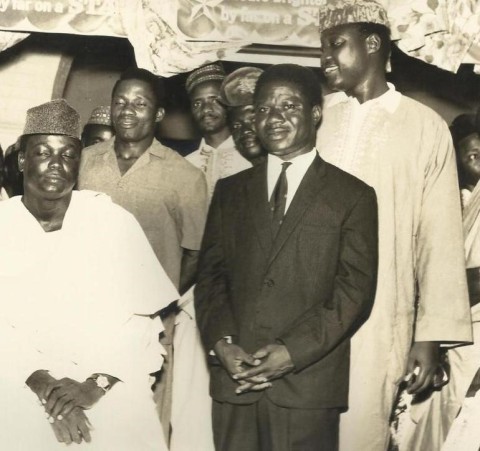 When an elder sows the seed of discord
I wish to submit a rejoinder to the above subject published on the front page of September 5th, 2014 edition of The Nation Newspaper. The above statement by a supposed elder expected to act beyond tribal affiliation was rather disappointing. What basis does he judge the qualification yard stick does he use to know who qualifies to be President of Nigeria.
It is puzzling for elder Clark to tell Governor Sule Lamido "not to speak" where the latter was simply expressing his right to be voted as a bonafide Nigerian.
I am particularly amazed that Clark spoke as if addressing an Ijaw house boy.
Fundamentally, no human being should stop a fellow human from speaking. Whatever intoxicated Edwin Clark into uttering such lowly statement cannot be less of a hangover from an old bully within the Ijaw folks of Niger Delta.
Talking about academic qualification, I wonder if Clark has soon forgotten forgot the numerous national positions Lamido held before he was elected as the Governor of Jigawa State. To be qualified as a minister of External Affairs is enough justification for Governor Lamido's academic competence and acceptance.
Another amazing statement contained in the publication is the mention of late Mallam Aminu Kano as Lamido's mentor. Besides Lamido's academic qualifications, to be associated with the likes of late Aminu Kano's Ideology speaks volume for a man that generously extends his political benefits to the down trodden.
I am a beneficiary of late Aminu Kano's ideology. In the early 50s, I was fortunate as a teenager to attend lectures at late Aminu Kano's residence in company of my peers. Today, the tutorials have helped me immensely in championing the cause of human rights while imbibing the principle of dissociating oneself from such inciting and unguarded statement capable of undermining our unity as a multi-ethnic nation coming from someone who cannot compare to Governor Lamido in every ramification.
If Edwin Clark feels Governor Lamido should not speak, then he must be blind to Lamido's towering achievements in the transformation of Dutse, a former glorious village into a metropolitan town. The construction of an international standard airport, a befitting state university and many other infrastructural feats achieved by Governor Lamido with minimal resources for direct benefits to the generality of Jigawa indigenes no too evident?  Governor Sule Lamido's administration achievements speak lauder than the voice Edwin Clark seeks to silence by his divisive utterances.
Whether it was a slip of tongue to attempt to vocally disqualify Lamido in his Presidential bid or the flippancy nature for which Clark's Ijaw tribesmen know him for, he should be reminded that Governor Sule Lamido has towered above the imagination of the infamous Mr. Clark as Lamido's infrastructural achievements are unequal compared to other states created same time as Jigawa.
While most of Clark's untoward statements may not be supported by President Goodluck, but the tolerance from the presidency can be considered on age ground for the self-styled Ijaw Leader who has since lost regard for his age. On the other hand, President Jonathan's self virtue might have been dwarfed by some of his indiscipline aids causing disaffection in some quarters.
My candid advice to Mr. Clark and Nigerian Elders who refuse to quit the stage while the ovation is loudest is to rethink and pave way for the younger generations.  They should desist from heating the polity with their inciting statements capable of brewing hatred among Nigerians and remember that only God remains perpetual.
If not for selfish/self assertion to perpetuate, when I was covering Nigeria Civil War, as War Correspondent/Intelligence Analyst 1967-1970 I interacted positively with the power that be then under Brigadier Samuel Ogbemudia (rtd) Mr. Clark as I know him, was not positively assertive in the governance of Mid-West State except brewing Ijaw tribal sentiments.
I wish to strongly appeal to Mr. Clark to be elderly in his comments on national issues no matter the level of to avoid heating the stage for President Jonathan.
Ahmed Adoke
Km 8, Okene-Lokoja Road,
Nagazi Uvete, Adavi LGA,
Kogi State.
0803349895