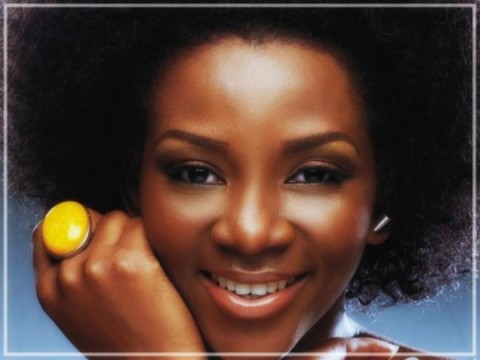 Genevieve Nnaji, Nigeria's most popular and sought after actress in the ever growing Nollywood industry have demonstrated over time that audacity and tenacity of hope coupled with the grace of God  can bring one to an enviable place in life despite initial difficulties and stigmatic experience.

Genevieve Nnaji, going down memory lane was that single parent at the age of seventeen, put in the family way by an irresponsible prince resident in Lagos, who, according to reports, denied both the pregnancy and the paternity of the lovely daughter. Reports have it that the man came crawling back years later begging for forgiveness and seeking for love from both Genevieve and the daughter he abandoned.

Genevieve Nnaji was that young girl of seventeen who after some flings of sexual immorality, discovered, about four months later that she was pregnant. According to her interview with a news medium years back, it took her mother seven months to discover that her daughter was pregnant. According to Genevieve "The pregnancy was seven months gone before my Catholic mum discovered it. She couldn't believe it," How can she be pregnant when she was "very careful" according to her still remain a mystery to her till date. When a test confirmed it, her parents were disappointed but stood their ground against abortion. "I didn't feel anything. I didn't even know till I was about four months. It was there, but I was still in shock. I didn't believe it".  She further explained how she blamed herself thus "I think I was pretty much hard on myself then than my parents or people. I was harder on myself, really. My parents reacted the way any parent would react – disappointed. I didn't know. My mother discovered it for me. I didn't know anything really. She discovered it for me and it was too late, we couldn't do anything and we're Catholics and I'm glad I didn't do anything funny really." 
Explaining why she didn't want to commit murder and fornication all at the same time, Genevieve stated that "Getting rid of the pregnancy was an alternative then, but it was too late, because not until I was four months before we discovered it and so it was not what we could do, and my dad was like, 'it's a child for Christ's sake. God knows why he wants to bring that child into life". We are Catholics and it's just that conscience, you do wrong once and doing another would not make the first right. So, you either correct your mistake by doing the right thing. If I was pregnant, and then have an abortion, it would have been like murder after fornication! So, that was basically wrong." 

Genevieve with the scolding, rebuke, as well as resignation to fate of her parents, was able to rise up to become a shining star in Nigeria's contemporary film industry. Genevieve rose beyond the heartbreaking disappointment of irresponsible men, taunts of friends, condemnation of close family acquaintances, and disillusioned remarks from church members, to occupy an enviable place in the annals of the entertainment industry in Nigeria. The Abor-Mbaise , Imo State born actress from  a middle class parent comprising  a banker dad and a teacher mum made news between 1998 and 2002 when she became the wonder girl of Nigeria's movie industry,  Nollywood. Since then she has won awards both locally and internationally and is being adjudged as the most popular actress in Nigeria. She is the most celebrated actress in Nigeria and had gotten rare reviews in international magazines and news media. She is however not new to acting, having featured in the then poplar soap opera "Ripples" from when she was eight. 

This is where the audacity of hope  young  Genevieve came in. Everyone has one sad tale or the other to tell in life. While some are self inflicted, others are as a result of the deceptions and wickedness of men. It is easy to condemn a girl put in a family way by an irresponsible randy man, not man enough to own up to responsibility. While for some it is unwanted pregnancy, for others it is a divorced marriage and yet for others it is childlessness in marriage.  Rape, early widowhood also carries great  disillusionment. Some have been jobless for more than usual time and everybody in the neighborhood adjudged them lazy, suspicious, idle and every act of criminality in the neighborhood was attributed to them. That in itself cases self depression and low self esteem.  Some were battered in a failed marriage and everyone attributed the failed marriage to them. People make mistakes in life and it is expected that the next person who cares helps the fallen to stand. However, where nobody is willing to help, one must rise up , shrug off the disappointments and look up to God for a new beginning and surely with help from above, one is assured of a glorious bounce back .

A girl I came to know of in the year around 2007 was faced with a somewhat similar situation with our own Genevieve. This girl, a graduate of University of Jos by name Glory was betrothed to a man who refused to cut off ties with old girlfriend and after traditional marital rites began, the former lady resurfaced and the new one was abandoned with eight month old pregnancy. This girl from a decent Assemblies of God Church background, after traditional marriage, l  did not wait for church wedding before commencing some sexual exercise which resulted in pregnancy. The man abandoned Glory, after some domestic manhandling and she was forced to live with her brother to deliver the baby. With the help of highly understanding brother and equally understanding brother's wife, she was shielded from a taunting mother. Also with the input of understanding gospel ministers and pastors  God brought around her, Glory was able to pick up her life again with her lovely daughter and moved from jobless to a petty sales girl to a clerk in a construction site to an accounts officer in a thriving Bureau De Change and Micro finance Bank. In 2012, a man from Port Harcourt came and snatched her in holy matrimony.
  This homely and intelligent young girl in early twenties with lots of acumen upstairs would have been rubbished by an irresponsible man .
Another Lady by name Favour lost her pastor husband few months into the marriage in 1999 or so then she was a student of Enugu State University of Science and Technology (ESUT). Though men wrote off the young widow of about twenty years with her four month old pregnancy, she put behind the widowhood, put her trust in God and became fervent in her church activities in Winners Chapel. Her good nature attracted some young suitors from where she prayerfully chose a handsome young man who accepted her with the son from the previous marriage. Both have been happily married since 2012 with three more lovely kids. Favour has helped lots of women having challenges in their marriage to find their footings, restoring peace to broken homes. Thus the devil that wanted to destroy he destinies of Glory and Favour failed woefully.

In contrast, a sad situation confronted me as I was stepping out of a commercial bank in ,Abuja sometime arond 2007. A girl who in my estimate cannot be more than 16 years of age and carrying a baby which appears slightly above one year plus accosted me. Both the girl and the baby looked unkept, tardy and distressed. This girl asked me for financial assistance so that she can go back to Umuahia , in Abia State and beg her parents to accept her back since her efforts to relocate with her Akure born runaway boyfriend had failed. This girl whose parent according to what she told me, were staunch Christians, was impregnated by an Akure man who came to Umuahia to do a sub-contract job with a firm. This man denied the pregnancy and as the contract was over he absconded from Umuahia. The parents of the girl were informed months later that the man currently owns and drives a taxi  in Abuja and they threw their daughter and the son out of the house , asking her to locate the boy's father and marry him . According to her brief narrative, she came to Abuja to seek for her son's father turned taxi driver but the man refused to be seen. All her efforts to locate him met brick walls and the man who should help locate the runaway friend was playing hide and seek, probably on the instructions of the taxi driver.

Having been toyed by her man's friends for some weeks, sleeping in dangerous places with a baby boy,the distraught girl decided to go back to Umuahia and in her own words " beg my father and mother to forgive and  accept me back". I assisted her with some thousands of naira and she embarrassingly knelt down on the kerb on a  busy Gwarimpa Estate road in thanksgiving for my kind gesture, not minding that passers by were equally embarrassed. I hastily disappeared from the scene, pondering over her impoverished and pitiable her situation that a few thousands of naira could bring such relief.

The world is full of mistakes, and people fall into all manners of traps that bring regrets, embarrassments, denials and stigmatization. The devil uses such to keep lots of people in bondage, destroys destinies and ushers in life of regrets. Irresponsible men, women, cultures, norms, government and policies have brought untoward embarrassment, pain, sorrow and damages to people but one must decide not to allow such blur a glorious future.

The Bible states  
"Brethren, I count not myself to have apprehended: but this one thing I do, 

forgetting those things which are behind, and reaching forth unto those things which are before

, I press toward the mark for the prize of the high calling of God in Christ Jesus."( Philippians 3:13-14 ) I counsel those who found themselves in any situation that has brought some form of embarrassment, pain, depression, shame and stigmatization to take the advice of the Scripture, ask for forgiveness, forgive oneself, forget the past and move on with life.  Parents, friends, family members, church members and colleagues must not hesitate to help out after initial corrective outbursts.  All dogs eat shit, but the dog that carries shit in the mouth is easily identified as the shit consumer, so says a Biafra proverb, therefore, beyond the compulsory initial condemnations, where necessary, those at the receiving end of irresponsible men, women and cultural practices needs all the support they can get. Where the support is not coming, the affected must not condemn self. Jesus said to that adulterous woman"
 Neither do I condemn thee: go, and sin no more"( John 

8:11

)  and that should be our attitude.

Genevieve Nnaji is a classic example of how a young girl refused to give up in herself, and with the support of disciplined but understanding parents, was able to overcome a painful past and forge on unto glory.  She is the face of hope from hopeless situations. She overcame psychological, emotional and intellectual trauma to land herself a glorious future. Genevieve had shown that with God on one's side and with audacity of hope, a great testimony could come out of life's worst depressing moment .


Obinna Akukwe

profetobina2@yahoo.com