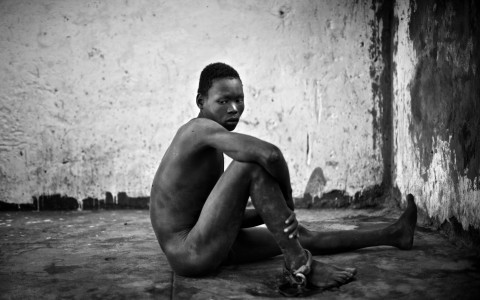 From Nweke Nweke, Awka
International Association of Human Rights Challengers, Anambra State Chapter is battling to compel the Nigeria Police, Okpoko Division to arraign local vigilant group men, the Chairman and vice Chairman of Chimezie officiating market Okpoko, Ogbaru Local Government, Anambra state in court for having dehumanized two women in the market.
The chronicles of human rights abuses in the form of torture and extra judicial killings by Chimezie officiating market and the local vigilantes have been condemned by all and sundry as the women who said they were in the market to transect business were held on mere allegation of having stolen one handset [mobile phone] and some cash.
The security men, acting blindly to the alleged directives of the market leaders, stripped the two women naked and tied their hands to their back, tortured them with cutlasses and paraded them around the market naked.
247ureports. com learnt that the Chairman of the said market further ordered the security men to force the women into a standby Wheel Barrow, forced cutlasses into their private parts without ceasing and paraded them around the market without tangible evidence of what the victims were accused of.
The woman who raised this false alarm, which led to the process of dehumanizing of the house wife and a widow according to sources later, said she later found her phone.
However, it took the kind of intervention of Okpoko police division to rescue the two women after a face off with the security men who said they were instructed to hand over their victims to Nigeria Naval instead of the police.
Speaking on the barbaric development, Nweke Nweke, Fellow, International Association of Human Rights Challengers, Anambra State Chapter said they will end in nothing to ensure the justice is served.
It was discovered that the Chairman of the market whose identity was not known at the time of filling this report was accused to be moving Ghana Must Go bags around police station aimed at bribing the policemen so as to kill the matter.
When contacted, the Divisional Police Officer of Okpoko Police Division, CSP Emeka Ugwu said he was incapacitated by the court strike. He vowed to charge the case to court immediately court's strike is called off.