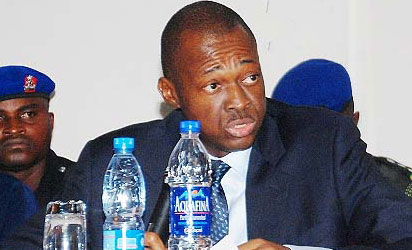 By Larry Martians

Despite  speculations of Ebola virus in Enugu more facts still coming
out though the Enugu state government has established four designated
quarantine centres that would take care of any discovering of the
deadly Ebola virus in the area.
.
The development created tension in the state due wednesday,s
announcement by the Minister of Information labaran Maku, that one of
the nurses who  treated the late Liberian, who died of the disease
recently in Lagos left Lagos for Enugu, despite government's warning
against the trip.
 Meanwhile the state Commissioner for Health, Dr. George Eze while
briefing Journalists on Thursday in Enugu said that the Nurse and her
husband has since been deported back to lagos were they reside.

"It was when she came down to Enugu, according to her and her husband
that she started having symptoms. It was then that we were informed
and we isolated her and her husband and decontaminated the house and
took her back to Lagos".

 Dr Eze Also named the quarantine centres to include District
hospitals Ikem, isi-uzo council area, Oji River, Nsukka and Colliery
hospital Enugu. Adding thatthe woman who is under surveillance were
taken back to Lagos alongside her husband by personnel of Centre for
disease Control from the federal ministry of health.
 While making clarifications, further said that the 21 persons that
had contact with the Nurse while in Enugu are now under surveillance
in their various houses and not quarantined as reported in some
segments of the media, because they have not shown any symptom of the
deadly disease.
  Dr Eze further disclosed that the building were the couple stayed in
Enugu before being taken back to Lagos has since been decontaminated
by the Disease Control team.
  The Enugu state number one health officer, had appealed to the media
to endeavour to report the Ebola issue accurately so, as not to cause
unnecessary panic and tension in the state and Nigeria in general.
  He assured that the state government will continue to handle the
Ebola issue in accordance with laid down procedure by World Health
Organisation WHO.
   The Health Commissioner, equally revealed that the federal
government has concluded plans to relocate the mobile diagnostic
Centre in Irua, Edo state, to Enugu for  handling of the deadly
disease.